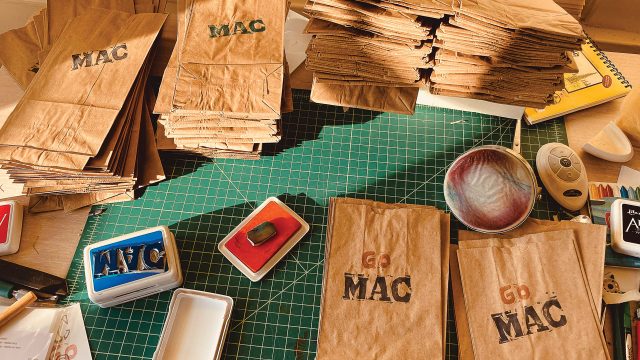 Last fall, the new first-year student-athletes in Macalester's Class of 2024 formed their first connections with Mac alumni—just 24 hours after arriving on campus—thanks to a welcome event via Zoom, hosted by the Alumni Board's Athletics Working Group (AWG), part of the board's After the Game series of events designed to connect alumni with Macalester athletics. In the conversations, alumni athletes shared memories and tips with the students about their own college experience.
The organizers' goal was simple, says AWG chair Abby Dos Santos '01: "We just wanted to show the students that we're here: alumni are here for them. You'd think it'd be too early to share that message, but it helped. They're starting college in a pandemic, and that comes with anxiety and uncertainty. We wanted to reach out to the new families and make sure they know there's this network of graduates here to support them."
Two months later, the annual Student-Athlete Career Social moved online to the Remo platform and drew more than 100 students and 30 alumni volunteers for a networking program. Alumni athletes shared career advice with current student-athletes, which was hosted by the college's Student-Athlete Advisory Committee (SAAC), Alumni Engagement and the AWG, Career Exploration, and Athletics. Later in the fall, the AWG collaborated with the college's M Club to show their support by creating Scots Care packages for student-athletes.
For Dos Santos, who played volleyball as a student and now works as a law librarian in Washington, D.C., the remote events this fall have opened up possibilities for the AWG and the Alumni Board more broadly. "We have an opportunity to connect with a lot more alumni because we can do it virtually," she says. This winter, for example, the AWG is partnering with Athletics to host alumni team events via online gatherings.
And whether the opportunities happen online or in person, the Alumni Board's focus remains consistent: fostering more meaningful connections for alumni—with other alumni, with the college, and with current students. "It doesn't feel like that long ago that I was a student, but it was, so being able to connect through the Alumni Board is just a great experience," Dos Santos says. "In the current state of the world, I've been looking for ways to reach out, and connecting to Mac has really helped get me through these past couple of years. I want to help promote alumni engagement, so other people can share that experience."
Get Involved
It's an isolating time for many of us, and the Alumni Board's Athletics Working Group wants to help you expand your network. Whether you're interested in reconnecting with other alumni-athletes or creating new connections with student-athletes, reach out to the Athletics Working Group: [email protected].