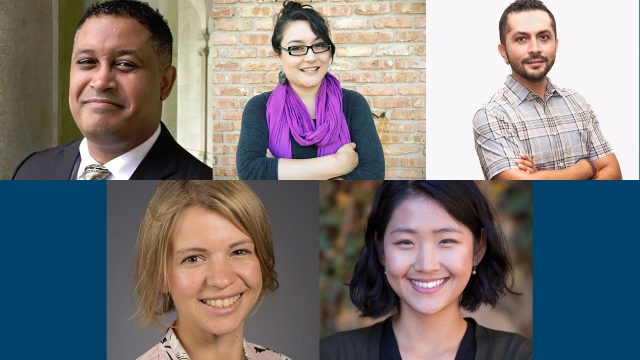 St. Paul, Minn. — Five new tenure-track faculty members representing a broad range of disciplines will be joining Macalester in the coming months. They are: Walter Greason, History; Kirisitina Sailiata, American Studies; Xavier Haro-Carrión, Geography; Maria Fedorova, Russian Studies; and Hannah Kim, Philosophy. 
Professor Greason will be the next chair of the History Department. His research focuses on economic history, specifically the origins of the transatlantic economy in the 18th century. Dr. Greason has written six books, including Industrial Segregation and Cities Imagined: The African Diaspora in Media and History. He is currently working on a book manuscript about the transnational history of industrialization and how industrial markets evolved in the late 19th and early 20th centuries. His recent digital humanities projects The Wakanda Syllabus, The Racial Violence Syllabus, the Sojourners' Trail online educational game received global attention. Dr. Greason will teach classes on African American history, Black women's autobiographies, and historiography. As a teacher, his goal is to show students how to utilize traditional research practices in order to make their work accessible to global audiences in the 21st century. Prof. Greason has been on the faculty at Monmouth University for the past eight years, where most recently he served as chair of the Department of Educational Counseling and Leadership. Born and raised in New Jersey, Dr. Greason received his BA in History from Villanova University and his doctorate in History from Temple University.
Professor Sailiata situates her research at the intersections of U.S. empire, Native Pacific cultural studies and the environment. Her current book manuscript is called The Making of Samoa Amelika which traces the emergence of the American Samoa territory as a legal and cultural project in the early 20th century. She also recently co-authored an article on transnational feminist movements in the Pacific. As a Consortium for Faculty Diversity Postdoctoral Fellow at Macalester since 2019, Dr. Sailiata will continue to teach courses on contemporary Indigenous visual culture, Native Feminist theory, and race, environment and law. Prior to her arrival at Macalester College, she was a UC President's Postdoctoral Fellow at UCLA. Dr. Sailiata received her MA and doctorate in American Culture from the University of Michigan and is a Class of 2006 Macalester alum. 
Professor Haro-Carrión is a land change scientist whose research focuses on the intersection between human-driven land change, climate, and biodiversity. He is currently collaborating on two research projects, one with wildlife ecologists and the other with hydrologists, looking at how animals and plants are affected by various landscape characteristics in coastal Ecuador. A Berg Postdoctoral Fellow at Macalester since 2019, Prof. Haro-Carrión will teach courses on remote sensing, geospatial analysis, and the geography of Ecuador and Latin America. Born and raised in Quito, Dr. Haro-Carrión received his BS equivalent in Biology from Pontificia Universidad Católica del Ecuador and his MS in Biology and his doctorate in Interdisciplinary Ecology with a concentration in Geography from the University of Florida.
Professor Fedorova is an expert in transnational history of agriculture with a particular  interest in the circulation of knowledge and technologies between Russia and the world in the 20th century. She is currently working on a book manuscript about the exchange of agricultural knowledge and technologies between the U.S. and Soviet Union during the 1920s and 1930s. She's also working on a smaller-scale project about the history of the toaster and the baking industry after World War I. Dr. Fedorova arrived at Macalester in 2019 as a Wallin Postdoctoral Fellow in Russian and Modern European History. She will teach courses on Russian/Soviet history; food history; history of science; as well as Russian language classes. A Moscow native, Prof. Fedorova came to the United States as a Fulbright Fellow, receiving an MA degree in History at Washington State University and a Ph.D. at the University of California, Santa Barbara. 
Professor Kim is an expert in the philosophy of fiction, philosophy of art, and Asian philosophy. One of her forthcoming projects will explore the philosophical debate over the differences between music and language. At Macalester, Dr. Kim will teach courses on the philosophy of language, the philosophy of the mind, philosophy and literature, and Asian philosophy, as well as introductory courses and senior seminars. In the classroom, she likens her role as a teacher to that of a soccer referee, where her job is to create the boundaries for discussion and guide students as they pass their ideas around to each other. Dr. Kim grew up in Nevada, Korea, and Maryland. She received her BA in Philosophy and English from Emory University, M.St in Philosophical Theology from University of Oxford, and her doctorate in Philosophy and Comparative Literature from Stanford University.
Learn more about Macalester at macalester.edu.