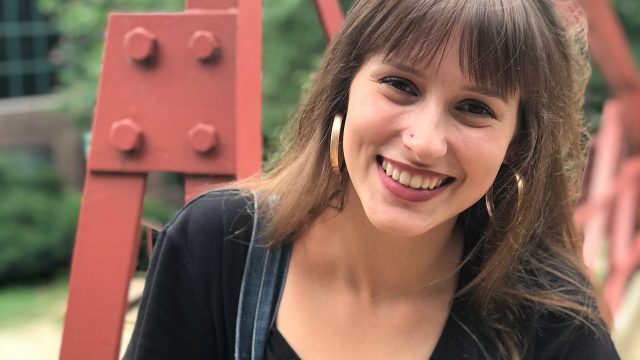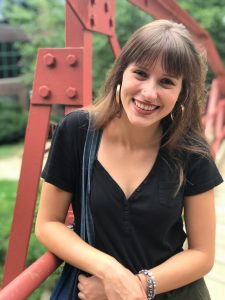 St. Paul, Minn. — Vivian Bauer '21, of Takoma Park, Maryland, has been awarded a Thomas J. Watson Fellowship. Each of the 42 recipients from this year's class of Watson Fellows receives a one-year stipend of $36,000, plus health insurance and student loan assistance, to pursue original projects outside the United States. 
Bauer, a linguistics major with minors in art history and Portuguese, plans to travel to Brazil, Portugal, Cabo Verde, Angola, Mozambique, and Timor-Leste. For her project, entitled "Art is for Everybody: Looking Beyond Museums in the Lusophone World", she will explore how Portuguese and the local indigenous languages intertwine in a post-colonial context, as well as discover new ways that museums and community art spaces can be more inclusive and accessible.
"I grew up with museums and they were really helpful for me as an experiential learner," said Bauer. "But I know that that's not the case for everyone. And so I want to see what different tools work to make these creative spaces more exciting and have more of an impact on their local communities."
Among the stops on her year-long journey will be one at Instituto Inhotim, a contemporary art museum and botanical garden in Brumadinho, Brazil. She's also been in touch with two organizers of youth-oriented art spaces in East Timor. 
"I'm hoping to talk to different curators and organizers, as well. It kind of depends which country I'm going to," said Bauer. "Throughout my life, I've been really interested in museums, art history and languages from around the world, and I want to see how all of these play together." 
Due to the uncertainty around international travel because of the ongoing coronavirus pandemic, Bauer's timeline and itinerary are still up in the air. But the Watson Foundation has been accommodating, granting deferrals to all fellows who are unable to depart safely by August 1st. 
"I feel like it's really unlikely I'll leave this August, so I'm hoping that I will leave a year from August," she said. "I know I just have to be patient. I know that I'll be going sometime soon."
Bauer said she'll be ready whenever that opportunity finally comes, thanks in no small part to her experience at Macalester. 
"My professors inspired me so much," she said. "I came to Macalester and I started with Portuguese my first semester and I was like, 'Oh, I really like this!' And then I moved into art history and linguistics, which were also my interests. My professors were always very open-minded and supportive in letting me do final projects that incorporated all of these interests, usually about Brazil!"  
Bauer said she hopes her Watson Fellowship adventures will reveal new paths for her post-college life. 
"I'm kind of seeing this as an opportunity to really look at community arts spaces, museum spaces and see maybe if it's something I want to continue my career in," she said. "I want to do something that's creative, maybe related to art and music in some way, but I'm hoping that this experience will help me explore and figure that out." 
In 1961, Jeannette K. Watson established the Watson Foundation in honor of her late husband, Thomas J. Watson, founder of IBM. The Watson Fellowship is awarded annually to graduating seniors who are nominated by one of 41 partner colleges and universities. According to the Foundation's website, the program's goal is to provide opportunities for graduating college students to "explore with thoroughness a particular interest, test their aspirations and abilities, view their lives and American society in greater perspective, and, concomitantly, develop a more informed sense of international concern."
Learn more about Macalester at macalester.edu.