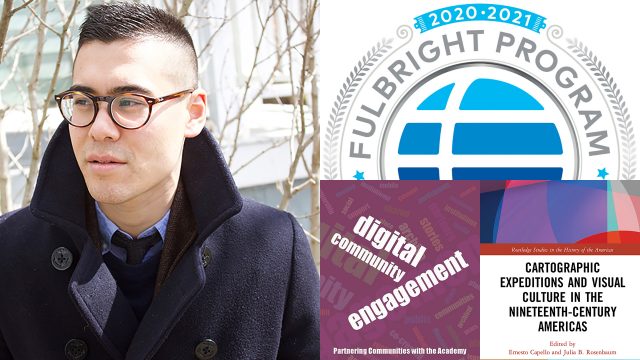 Maccolades is a new monthly round-up of the most recent accolades and accomplishments earned by members of the Macalester community. Below are highlights from March 2021. 
A high literary honor from Canada
English professor Michael Prior received the Canada-Japan Literary Award, a prize of $10,000 Canadian, for his book of poems, Burning Province. Awarded once every two years to two books, the prize recognizes literary excellence by Canadian writers, including those who "write a work on Japan, on Japanese themes or on themes that promote mutual understanding between Japan and Canada." Inspired by the wildfires that scorched British Columbia in 2015 and 2017 and his grandparents' experiences of Japanese-Canadian internment during the Second World War, Prior's collection explores intergenerational memory, cultural trauma, and mixed-race identity. The LA Review of Books called Burning Province "ferociously beautiful." 
Partnership between Macalester and Rondo community leads to award-winning book
In the 1960s, construction of Interstate 94 ruined the historically African American neighborhood of Rondo in St. Paul. A few years ago, Macalester partnered with community leaders to help preserve the neighborhood's history. In an event called History Harvest, Rondo community members shared their artifacts and stories with Macalester students, who digitized the memories. The event showcased how digital projects empower communities through collaboration and became one of the case studies in the book Digital Community Engagement: Partnering Communities with the Academy. This month, the National Council on Public History awarded it "Best Book of the Year" and a $1,000 prize. Two of the book's co-editors are Paul Schadewald of the Civic Engagement Center and Rebecca Wingo, a Mellon Postdoctoral Fellow in Digital Liberal Arts at Macalester from 2015-2018. The editors are donating the prize money to the Rondo Center for Diverse Expression to support Rondo's commemorative plaza. Opened in 2018, the plaza is the nation's first public memorial dedicated to a community destroyed by public action. 
Keeping the Fulbrights flowing
Macalester was named a top producer of U.S. Student Fulbright awards for a fourth consecutive year. Seven Macalester seniors from the Class of 2020 and two recent alumni received 2020-21 Fulbright scholarships to teach English or conduct research abroad. Since its inception in 1946, over 400,000 people have participated in the Fulbright Program and returned with an expanded worldview, a deep appreciation for their host country and its people, and a new network of colleagues and friends. With host countries ranging from Azerbaijan to Brazil, we are proud that our students are representing Macalester and the United States as cultural ambassadors during the program's 75th anniversary year!
New book charts connections between mapping and art in the Americas
Ernesto Capello, a professor of history and Latin American studies, has co-edited a new collection of essays called "Cartographic Expeditions and Visual Culture in the Nineteenth-Century Americas." The volume represents the first transnational and hemispheric analysis of 19th century cartographic aesthetics, and features the multidisciplinary perspective of historians, geographers, and art historians. Among the questions the collection explores are: How does scientific knowledge get translated into the visual and disseminated to the public? What are the commonalities and distinctions in mapping strategies between North and South America? The book is geared toward an academic audience — upper-level undergraduate and graduate students, as well as academic professionals, says Dr. Capello. But he says there are hopes to turn the book into a digital exhibition to make it accessible to a wider audience. 
How to be considered for future Maccolades
If you've recently earned an award, fellowship, or honor and would like it to be considered for inclusion in next month's Maccolades, please let Communications & Marketing know by filling out this Maccolades form. For recent book publications, please use this book publication form.