Emma Verges '21, an international studies and Russian studies major, at Macalester from Wynnewood, Pennsylvania, answers a few questions about her study abroad experience.

Destination: Yaroslavl
Last spring I studied in Yaroslavl, Russia. After a brief orientation in Moscow before heading to Yaroslavl, I signed a language pledge, thus committing to only speak Russian for the duration of the semester-long program. Unfortunately, my time abroad was cut short due to COVID-19, so I was only in Yaroslavl for just over a month. Naturally, I could not maintain the language pledge from home, but I finished my courses over Skype with my professors and enjoyed every hour of class in Russian. All things considered, it was an incredibly rewarding experience.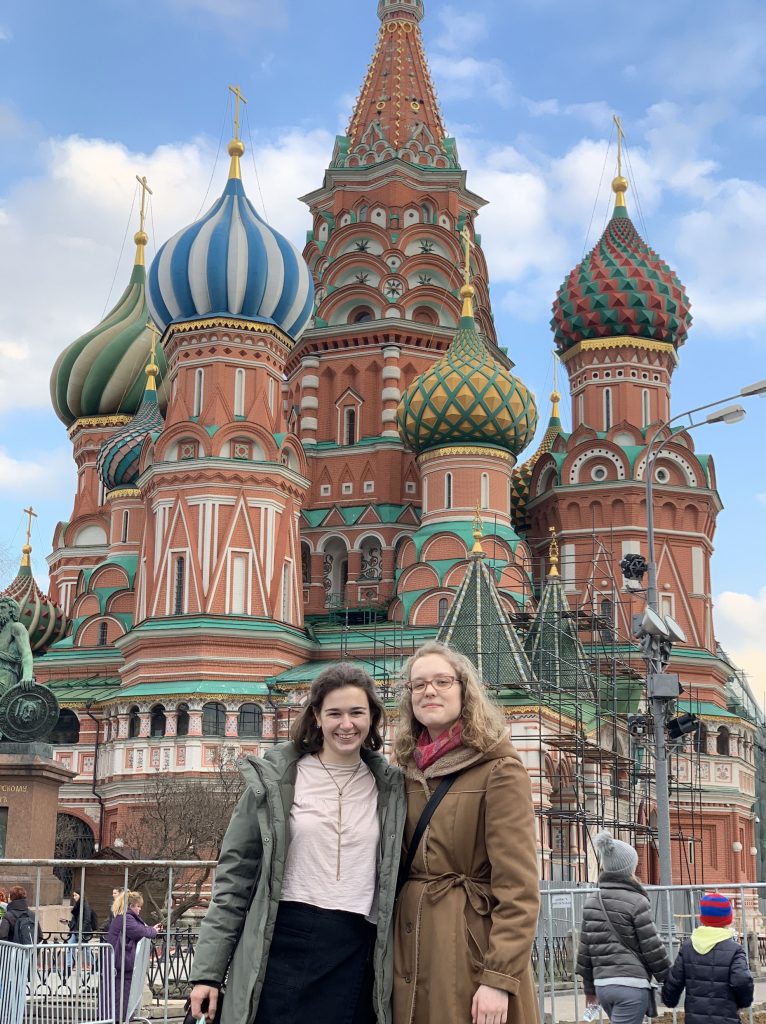 My typical day
I lived with a host family: my host mom, host brother, host sister, and two cats. Mornings were quiet. My host mom would leave breakfast on the stove and head to work before I was up. Once up and ready, I would have a quick breakfast and walk to school. I got into a habit of walking everywhere, mostly because it was a nice way to become familiar with this new place. Admittedly, I had initially been too intimidated to take the bus. My first trip by bus felt triumphant. After classes at the university, I liked to settle down in a café and get started on homework. I also joined a nearby gym where I could escape the cold to run and lift most days. By the time I would return home from the gym, my host mom was usually back from work and getting started on dinner. Evenings in with her were the highlight of my time abroad. 
I had dinner every night with my host mom. We would catch up on our days, she would help me with my homework, and sometimes we would play board games. Later in the evening, I would rejoin her in the kitchen and we would talk for hours over tea and cookies. 
Coursework
Almost all of my classes were one-on-one with my professors; two classes were with another student. I took classes in grammar, phonetics, cultural linguistics, politics, and history. Cultural linguistics was my favorite class, although politics was a close second. My cultural linguistics class tremendously built my Russian vocabulary. I also studied common Russian expressions and cultural nuances that helped me with my everyday interactions with people. For instance, I learned why most strangers do not smile at one another in passing in Russia. This is not rude. In fact, I found that if the opportunity arose to strike up a conversation, many people were patient with my broken Russian and incredibly friendly.  
Extracurricular
I played the piano growing up, so I signed myself up for Thursday piano lessons in the city. The music school was kind enough to let me come in on Saturdays as well to practice. My piano teacher was patient with me and we got along very well. My main project was Bach's Toccata and Fugue in D minor. 
Advice
Before heading to Yaroslavl, I was lucky enough to hear from older teammates on Macalester's Women's Cross Country Team about their experiences abroad. They were very open about challenges surrounding mental health and well-being when living somewhere new and adapting to a different routine. They admitted that a semester abroad comes with its unique set of challenges. There may be times when you really have to slog through. Particularly being in such a small program, I was quite lonely. It took me much longer to settle in than I had expected. Having my teammates validate that I might feel that way at times before I went abroad was really comforting, which is why I want to be upfront about it and validate for others who will study abroad that it is OK not to be having the time of your life every second that you are abroad. That said, the semester was incredibly rewarding and I learned a lot about myself and what I need to thrive moving forward.
What's next
I have been accepted as a scholar for the sixth cohort of Schwarzman Scholars. This is a fully-funded, one-year master's degree program in global affairs at Schwarzman College at Tsinghua University in Beijing. The program begins in August, just a few months following my graduation from Macalester. After completing the program, I hope to pursue a career in diplomacy.