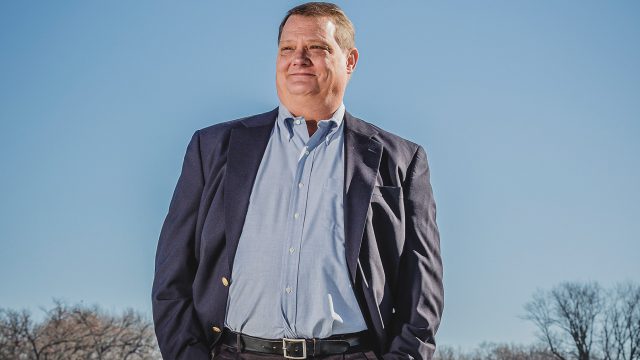 By George Spencer / Photo by Bob Stefko
On an overcast day in August 2019, Steve Trkla '83 piloted an electric boat toward the imposing Manhattan skyline. He wasn't alone. As he neared Battery Park's North Cove Marina, news helicopters buzzed overhead, and small boats carrying reporters from CNN and Fox News trailed behind. Surrounding him were 17 sailboats, harnessing the wind to traverse New York's harbor.
They had come to escort the Malizia II, the zero-carbon racing sailboat that carried 16-year-old Swedish climate activist Greta Thunberg on the last leg of her 15-day journey across the
Atlantic. Thunberg, who had been invited to address the United Nations General Assembly, had opted to travel by boat to reduce carbon emissions on her trip. A flotilla of sailboats, each representing one of the U.N.'s Sustainable Development Goals, had met her at the mouth of the harbor. Thunberg invited Trkla to join them in his company's electric boat.
Trkla made the high-profile journey because he is president of the U.S. division of Torqeedo, a German company that is the leading maker of electric motors for watercraft. Its name is a mashup of "speed" and "torque," the force a motor exerts. Torqeedo motors power both commercial and recreational boats, including kayaks, yachts, ferries, and barges. Admirers call it "the Tesla of the water."
Trkla, a former software sales and marketing executive, is leading a revolution in boating. Electric motors currently power about 2 percent of boats, but that share is predicted to grow rapidly in the coming years. Torqeedo hit $40 million in sales last year and is projecting $100 million in annual sales by 2025.
"An electric drive fits the way many people actually boat," Trkla says. "It's quieter, cleaner, and easier. You can have a normal conversation and enjoy the sounds of nature. No more leaking, stinking gas cans, oil changes, or driving around looking for ethanol-free fuel. All you do is plug in at night. The next day your boat is charged and ready to go."
Growth mindset
Trkla left the software industry for Torqeedo, joining the company in 2007 as its second U.S. employee, because he sensed it was a great career opportunity and it aligned with his previous experience growing startup companies. The early years were exhausting, yet exciting. Boat makers, dealers, associations, and government officials all wanted to meet him. "Everyone was talking about green power. Getting an audience was not difficult," recalls Trkla, who then spent 70 percent of his time on the road.
Today, Torqeedo has sold more than 100,000 motors, and he supervises 21 employees in the company's office in Crystal Lakes, Illinois, near Chicago. A political science and law and society major at Macalester, Trkla credits emeritus history professor Paul Solon with teaching him the value of personal stewardship. In an "Origins of Modern Constitutional Systems" course in Trkla's senior year, Solon returned his first paper slashed with red ink and "a big 'See Me' with big exclamation points."
Trkla felt invigorated by the personal attention. "I learned so much from him that semester," says Trkla, who was also a Mac football wide receiver and a high hurdler on the track team, where he met his wife, MaryKay Gallagher Trkla '86. "The education I got at Macalester forged my personality and leadership skills going forward, and that kind of experience drives me today."
Electric outlook
Europe will convert to electric boats faster than the U.S., Trkla says—in part because the U.S. recreational market is "still a very go-fast culture," and electric motors' benefits don't include top speeds. He notes changes happening in the commercial market, though: Torqeedo's recent projects include converting the San Antonio River Walk's 44 boats to electric power, as well as similar transitions for water taxis in other cities.
Today's electric boats remind Bill Yeargin, president of powerboat maker Correct Craft, of cell phones in the 1980s. "They were big and hugely expensive, and their batteries didn't last more than a few short calls," he says. But over the years they became more compact, powerful—and ubiquitous. "That's what's happening with electric boats, except it's going to happen much faster," he predicts.
That shift will first require a major advancement in batteries, says Electric Boat Association of America executive director Tom Hesselink. Trkla agrees—and with lithium battery technology already changing rapidly, he looks forward to the "magic point" when smaller, lighter, and higher-density batteries pack the same punch as gas. Trkla foresees an avalanche of boat builders changing their boats' designs to better mesh with electric technology.
"We have definitely seen the paradigm shift, and it's taking place dramatically," he says. "We have blazed the trail."
George Spencer is a freelance writer based in Hillsborough, North Carolina.