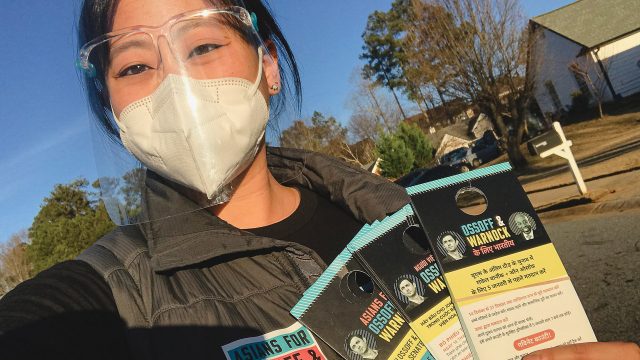 On her last day of canvassing outside Atlanta before the January U.S. Senate runoff election, Lisa Hu '15 sketched a blue Georgia on her rental car. "I have been drawing the outline of Georgia in my journal since the November election," Hu wrote in a Facebook post that day, "and now here we are. Almost there."
Hu had traveled from California to advocate for Senate candidates Rev. Raphael Warnock and Jon Ossoff through Seed the Vote, a Bay Area-based project dedicated to organizing frontline communities and supporting electoral work in swing states. After previous work with Seed the Vote, Hu trusted the organization to place her with grassroots organizations that invited, trained, and could absorb and mobilize a surge of volunteers as part of their statewide strategy with coordinated local leadership.
And thanks to the coalition's strict COVID-19 precautions, volunteers were able to connect with voters in person. Hu canvassed with the Asian American Advocacy Fund PAC in Atlanta's northeastern suburbs, part of a group that knocked on 100,000 doors statewide before the runoff. On Election Day, she volunteered with Asian Americans Advancing Justice Atlanta as a nonpartisan poll monitor. "I wanted to build power specifically in my own communities by organizing Asian American and Pacific Islander folks," says Hu, whose grandparents and other family in Georgia motivated her decision to go. "I work in policy. I don't identify as an organizer, so it felt really exciting and humbling to step into this new kind of role for the final stretch. Meeting people where they are at—in terms of language, location, culture, the priorities they care about most—is imperative to galvanizing action. And organizing should drive policy work."
Over eight days, Hu knocked on doors, answered questions, and handed out literature in English, Chinese, Hindi, Vietnamese, and Korean. She listened and talked with hundreds of voters about issues including COVID relief, health care, education, and immigration. And those conversations stayed with Hu long after her last day of doorknocking, and long after Warnock and Ossoff gave victory speeches and Hu returned to her job in Oakland as the Greenlining Institute's energy equity program manager. "I'm so honored and grateful for all the deep multiracial solidarity work, the strategic brilliance of long-term organizers, and the joy in our BIPOC coalition," she says.