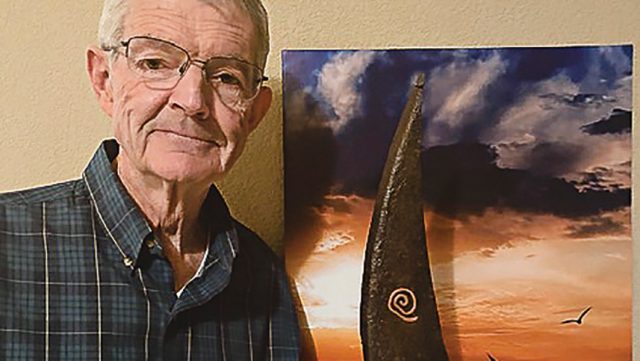 Bruce MacMullan '69 is a banker turned self-described "scrap metal impressionist." A decade ago, he retired from a successful 37-year career and embarked on a new path, exploring art for the first time to express his ideas and social commentary. "I use only recycled materials on every project, and each became a story on its own," he says.
His latest sculpture is Ceaseless Quest for a Safe Harbour, which grew from an old auto transmission and a discarded cistern cover. "This is my attempt to symbolize the earth's current status as a sort of neglected 'ghost ship' that has oftentimes floundered aimlessly for the last few hundred years," MacMullan says. "The current, critical condition of our ship has us listing dangerously toward inevitable destruction due largely to careless disregard. How can we envision a lasting continuance of Earth's original hospitality as a safe and secure home for all of its people?"
MacMullan's art practice isn't the first time he's changed direction. That started back at Macalester, where he switched majors from history to business to English literature. And his path at Mac wasn't always easy—in fact, it often wasn't easy. "I was an average student in high school and was simply trying to carry on a family tradition when I first enrolled at Mac," MacMullan says. "Frankly, I was pressed from day one to simply stay afloat."
When MacMullan got word in his last semester that he would indeed receive a diploma, he felt like he had "just turned my first real corner of life," he wrote decades later in his 2014 memoir, Zero to Sixty: Memoirs of an Inexplicable Scot. That experience was formative, despite—or perhaps because of—the struggles. "For students of all types and potentials, Macalester remains a substantive scholastic environment with a very effective manner for building character, perpetuating career success and creating decent citizenship that moves us all to a better place," he says.
That's MacMullan's goal now with his art: to inspire hope and action. "Fortunately, there now seems to be a significant, renewed movement of global consciousness with a true belief that we can still accomplish many of our most critical goals before our singular 'carrier ship' permanently runs aground," he says. "As my own life nears an end in the very foreseeable future, I trust that proactive world citizens of means and influence will never let up until Mother Earth can once again adequately sustain herself."