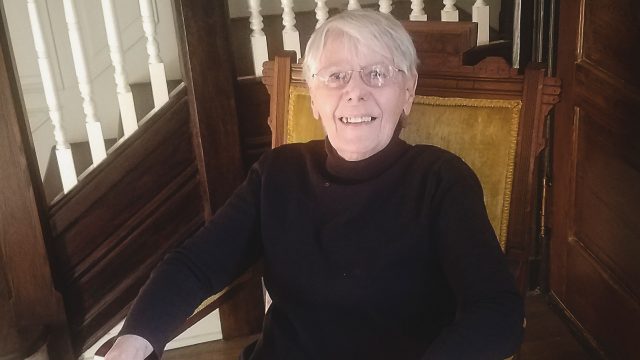 By Daniel P. Smith 
Over the last six decades, Mary Ann Grossmann '60 has led a compelling professional life as a writer and editor with the St. Paul Pioneer Press.
She sat in gilded chairs at New York City fashion shows.
She traveled from one Middle East palace to another by royal helicopter.
She chatted with the likes of U.S. President Jimmy Carter, iconic author Kurt Vonnegut, and feminist pioneer Betty Friedan.
She penned the obituaries of her parents as well as her husband.
"Whatever came, I took it in stride," Grossmann says. "You take the good with the bad and I'm certainly not complaining."
Encouraged to write by various English teachers throughout her formative years in West St. Paul, Grossmann pursued a journalism degree at Macalester—"Tuition was $300 a semester, and my mother about flipped," she recalls—and met her husband, the late Tom Thomsen '60, in Dean Huntley Dupre's French Revolution class.
When she landed a job with the UPI wire service in Minneapolis before graduation, she walked into a male-dominated world, emboldened by parents who encouraged her to pursue her passions. While Grossmann's metal finisher father and shoe-peddling mother were simply thrilled to call their daughter a college graduate, her pastor's wife disapproved of a young woman entering a most "unladylike" profession.
"Ladies didn't go into journalism," Grossmann laughs.
Grossmann, of course, happily bucked tradition, a spunky soul who joined the St. Paul Dispatch and Pioneer Press in April 1961 and never left.
She inhabited a front-row seat to journalism's—and society's—evolution.
She watched the Dispatch, the city's afternoon paper, vanish and a newsroom of ringing phones, clacking upright typewriters, cigarette smoke, and the occasional argument cede to the digital revolution and a prevailing hush. Still, the job's principal directive—to capture someone's story—never changed.
"Talk all you want about mechanics, but that's what journalism's really about," says Grossmann, whose first front-page story for the Pioneer Press revisited the famed Armistice Day Blizzard of 1940.
Grossmann served as Women's Department editor for two decades, overseeing its transition from covering society—weddings, fashion, nonprofit galas, and the like—to features, which included reporting on issues such as feminism and abortion.
"That wasn't easy because the men running the paper, a bunch of World War II veterans, wanted change, but didn't want any trouble," she says.
In 1983, a boss banished Grossmann to the books beat, where he assumed she would succumb to the boredom. As luck would have it, the Twin Cities literary community exploded around Grossmann. Small publishers like New Rivers Press, Graywolf Press, and Milkweed Editions emerged. The Loft, the largest writing center in the world, grew out of Minneapolis's Dinkytown neighborhood. Renowned authors and their agents prioritized a Twin Cities stop on national tours.
"Being sent to books turned out to be my revenge story because the dullest beat at the paper became the most fascinating," Grossmann says.
Though she retired in 2001 from full-time work at the Pioneer Press, she continues filing copy for the newspaper, largely reviewing books and highlighting authors. Her bylines now stretch into the thousands.
"I couldn't even venture a guess," Grossmann says of her story count, though she acknowledges that some hand-spun tales remain more memorable than others.
---
"Good will enfolds women's group"
— November 19, 1977 —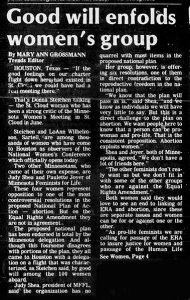 Grossmann ventured to Houston alongside thousands of other women for the first White House-sponsored National Women's Conference. Though designed to unite women and provide those from differing backgrounds an opportunity to share their hopes and perspectives, which Grossmann noted in her November 19 story introducing the conference, the gathering quickly devolved into intense arguments about divisive issues, such as abortion and LGBTQ rights. Deluged by the tension, Grossmann escaped to a dog show in the Sam Houston Coliseum's basement where she hugged a Saint Bernard before returning to the conference.
"Professionalism should kick in, and it does, but I needed a break," she says of the contentious conference.
"Women 'kicking up a fuss' in state's first bank strike"
— December 17, 1977 —
On a frigid winter morning in rural Willmar, Minnesota, Grossmann covered the first day of a groundbreaking, 400-plus day labor strike in which a small group of female employees picketed against inequities and discrimination at Citizens National Bank. The so-called Willmar 8 would soon draw the attention of The Wall Street Journal and The New York Times, turning a bright spotlight on their small town and their cause.
"I remember the women picketing through two different winters in bulky snowsuits and I saw them get stronger and stronger," Grossmann says. "I also saw the strike divide a small town where everyone knew everyone."
"A bang-up conclusion: Rowling brings Harry Potter series to a satisfying end"
— July 22, 2007 —
Grossmann devoured the 600-plus pages of the final Harry Potter book so she could hustle an immediate review into the paper. Some devoted Potterheads charged that her resulting 620-word report discussing Harry Potter and the Deathly Hallows should have carried a spoiler alert.
"I stayed up all night reading the book and wish I hadn't, because it would have been a better review if I had taken my time," she admits. "Journalism is often a balance between being quick and being better."
"'Archaeology rock star' discusses Tut"
— June 11, 2011 —
An archaeology lover, Grossmann begged her bosses for an assignment covering Dr. Zahi Hawass's visit to the Science Museum of Minnesota to celebrate the "Tutankhamun: The Golden King and the Great Pharaohs" exhibit. When Hawass, the celebrated Egyptian minister of state for antiquities, arrived with his entourage in a hall designed to reflect a temple, Grossmann admits the energy of the moment devoured her objective journalist side.
"I said to Dr. Hawass, 'If it weren't so unprofessional, I'd hug you.' And he said, 'I think we should,'" Grossmann recalls. "Sometimes in this business, you can get a little starstruck."
"Michelle Obama returns to the Xcel Energy Center"
— March 14, 2019 —
Grossmann beams when recalling Michelle Obama's 2019 visit to the Twin Cities as part of her tour for Becoming, the former first lady's bestselling memoir. Grossmann's recap captured the event's bustling energy, Obama's candor, and the undeniable optimism consuming an arena dominated by a multigenerational sea of women.
"There was something in this huge room that was so palpable, yet so invisible, and I found myself reaching for words I didn't have," Grossmann says. "It was all affirmation of how one lovely and decent person can make a difference."
---
Daniel P. Smith is a Chicago-based freelance writer.
Images courtesy of Leslie Grossmann and the Minnesota Historical Society, with permission from the Pioneer Press