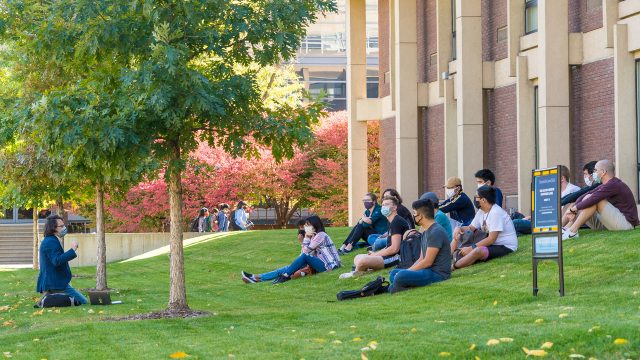 St. Paul, Minn. — On May 15, 481 seniors will start the next chapter of their lives. During what is already an exciting yet uncertain time, the toll the pandemic has taken on the global economy has left many 2021 graduates anxious about what the future holds. 
Mindy Deardurff, dean of Career Exploration, offers some advice and reassurance, plus a helpful reminder that one of the many perks of being a Macalester alum is a lifetime of career support. 
Q: How would you describe the overall job market for 2021 graduates right now?
Boy, this is so hard to talk about because the question is: Do you put it in context to the pre-COVID job market or do you put it in context of the Class of 2020 job market? If you put it in context with the Class of 2020 job market, it's great. If you put it in context to the 2019 job market, it's not where that was, but it is really starting to rally. Organizations are seeing a post-COVID world and are telling us that they are ready to hire. More cautious employers may not hire the same volume, but they are hiring. Salaries might stay consistent with what they were last year versus going up like they would have pre-pandemic, but I think that's temporary.
What we don't see, and this happened in the last recession, is employers shutting down hiring completely and rescinding offers. I think employers are really seeing this as kind of a blip, and they're trying to hold steady because the hiring market right up to the pandemic was so competitive that I think employers are worried that if they totally back out, their brands are going to suffer and it's going to be really hard as soon as things open back up. 
And then there are areas that need talent really, really badly. We're seeing demand in technology, education, and healthcare. There are certain pockets where the pandemic has actually created a boom.
Q: What other positives are you seeing right now?
One thing that I think is super interesting for students is the geographic flexibility. It used to be that students were really concerned about needing to be in a particular place. And if you didn't want to move to, say, San Francisco and pay for rent in the Bay Area, you just didn't look at opportunities in California. A lot more places are allowing remote work now, and so students can look at companies they may not have ever looked at because there's that flexibility to be more location agnostic. And the creativity that that brings in your search versus having to narrow down to a geography early in the process is pretty exciting.
Q: What are some of the top challenges that you're seeing soon-to-be graduates facing right now?
I think one of the biggest challenges that they're facing is just getting started. It's been so hard this year. Their heads are just trying to get through academic work because it looks so much different. We expect to see many more students into the summer than in a usual year, and that's ok. We're here and ready for them!  
Q: At Macalester, we offer lifelong career services for alumni. How unique is that? 
Our lifetime career services are very unique. We support students all the way through their career lifetimes. And so a senior can graduate and a week after graduation, they can come back and see us and we can help. And that's a huge benefit to our service model in this particular environment. If you need a week to decompress, or a month, or you want to go and do something that's more like an internship for six months after graduation and then come back and do a more traditional job search, we got you.
Q: What about internships?
The interesting thing about internships is that so many students lost opportunities last summer. So now we've got this class of students who may be scrambling and who normally would have had an internship experience under their belt going into a full-time job search. 
The good news is that we reacted quickly last summer and offered students creative alternatives — virtual internships for academic credit, micro-internship opportunities like Mac Project Corps and career skills programs like MacExplore. 
One thing that I think is very unique about us at Macalester is that, being in the middle of the Twin Cities, students often have multiple volunteer experiences or internship experiences by the time they graduate versus the one experience between junior and senior year. Because we're so close to things, they can do those during the academic year or as part of work-based learning in a class. This positions our students well for the full-time search, even if they missed the traditional junior-to-senior year internship.
Q: Given the limitations we've all been under during the pandemic, how would you recommend new graduates account for the last year as they market themselves?
In our coaching appointments, we have been talking with students about their "pandemic story." What did you do during this time? 
They don't need to have gone out and started a nonprofit, but they may have gone home and helped care for their younger siblings, or they may have pieced together two part-time jobs to try to make it happen. They may have done this really awesome project as part of a class. And so use that to tell your story!
I think the misnomer in the job-search process is that the only thing you can talk about is internship experience. And there are so many transferable skills that come from the life experience that students have had in this past year. They shouldn't forget about that gold.
Q: What other career advice are you giving graduates as they strike out? 
Connect with people. The hidden market for opportunities is where it's at, especially in challenging markets. So talk to a career counselor, talk to the alum a career counselor connects you to, talk to your faculty members. Use your career center to build yourself that web of people who you can start reaching out to, because, again, those are the opportunities that never get posted anywhere. Using your alma mater and using the connections from that alma mater to look for opportunities is really important. 
And it feels really scary, but again, we're there to help walk you through that, because the first time you do it, it's going to feel weird. That's really, really normal.
Also, there's no one, single path. This generation of students is earning the beautiful gift of being able to tolerate ambiguity. There's no first, second, third, fourth step, that's not how the world works. And so it's a hard lesson to learn, but a really valuable one. 
---