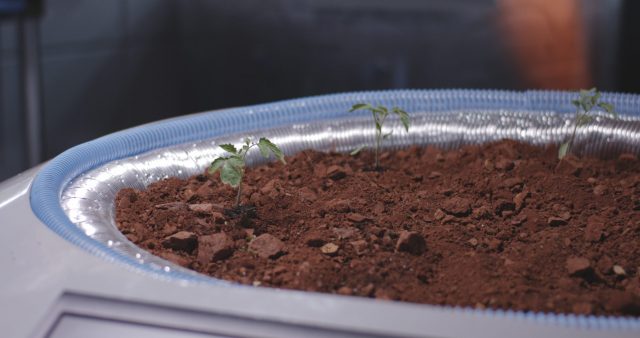 What does it take to design your own major at Macalester? We spoke with Francesco Pecere '22 (Milan, Italy) who is pursuing an Individually Designed Interdisciplinary Major (IDIM) in astrobiology.
"Saying that we are the only one in trillions of other planets is kind of being human-centric."
—Francesco Pecere '22
What is astrobiology?
Astrobiology is comprised of astronomy, biology, and chemistry. The basic definition of astrobiology is the search for life outside of Earth. I am interested in life outside of our solar system, and the concept of panspermia, that is, life beginning somewhere and going somewhere else. For example, on Mars, there could be a valid argument made that life originated on Earth and then got to Mars through meteorites or something like that. The opposite—that life originated on Mars or somewhere else in the solar system and arrived on Earth—could also be valid. When someone asks me, I usually say I am doing aliens. It's not really aliens—it's just looking for molecules in the atmosphere of a planet.
Why are you passionate about searching for life in the universe? 
What really fascinates me about it is that I don't think humans are that special. We are right now because we are the only life form we know in the universe and on Earth. If we were to find other examples of life, it would shift our importance…and impact every aspect of society, not just biology, chemistry, physics, but also theology, psychology, and everything in between. It's going to affect humans a lot more than any other discovery. 
There is this great book, Revolutions That Made the Earth, that describes everything that had to happen for humans to develop. We can't assume that Earth was so special. The assumption is that Earth is an average planet, and there are many other planets, many other solar systems, many other galaxies, and many other galaxy clusters. I think that saying that we are the only one in trillions of other planets is kind of being human-centric. 
What's the best part about studying astrobiology? 
If I do end up going to grad school for astrobiology, by the time I'm out of grad school, it's going to be a much more developed field…The new Perseverance rover that landed on Mars in February is supposed to be looking for things like signatures of life on the Mars surface. That definitely advances astrobiology. It's a fast-growing field and it's grown even since I started here at Macalester.  
What do you do outside of academics?
I am one of four chairs of Queer Union, and I am president of the Bridge Club.
After you graduate in 2022, what's next for you?
I am going to be taking the MCAT in May or June and applying to medical school. But I'm also going to be applying to grad school. I would love to get into a PhD program in astrobiology specifically, but there are not many in the U.S. right now. I'm also looking at summer research experiences. There is a lab that focuses on the transition between unicellular and multicellular life, which is one of the main steps for life—multicellular, intelligent life—to occur. That's what I'm looking for. Ideally in astrobiology, but anything between biochemistry, evolutionary biology, and organic chemistry.