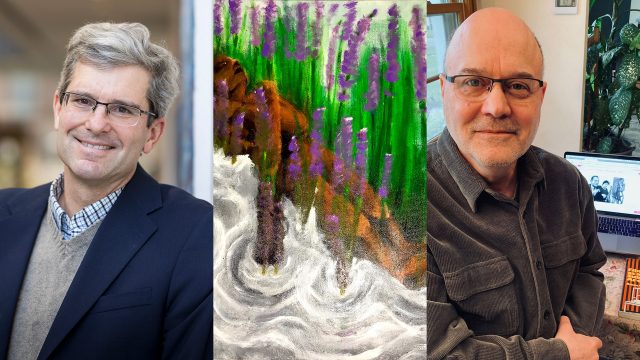 Maccolades is a monthly round-up of the most recent accolades and accomplishments earned by members of the Macalester community. Below are highlights from May 2021. 
Painting for Pride: An international student's pandemic story
Huong (Jess) Nguyen '24 was awarded a $500 art grant from Family Tree Clinic and the Minnesota Department of Health to create art for their Pride Month exhibition in June. The exhibition asks artists to reflect on the unique stressors and grief of this last year within LGBTQ+ communities. Jess' painting meditates on her experience leaving Macalester and returning home to Vietnam during the COVID-19 pandemic, where she must hide her queer identity from her family. She hopes to capture the trauma of students, particularly international students, who were forced out of accepting communities and back into the closet during the pandemic. "I'm glad I'm able to share my experience through my art with the LGBTQIA+ community in St. Paul," says Nguyen. 
Hungry for food security, geography professor earns fellowship to complete book
Geography professor Bill Moseley has been awarded a University of Montpellier Visiting Scientist Fellowship for the Fall 2021 semester to advance his research project entitled "A Geographic Revolution: Prioritizing Food Access and Agroecology in African Development." 
Montpellier, France is the site of the French Agricultural Research Centre for International Development and a base for many of its Africa experts. Professor Moseley's book project will critically review the history of food security and agricultural development policy in Africa and lay out a vision for future prosperity. The fellowship covers housing, an office, a monthly stipend of 3,000 euros, and the return trip. "I am excited to have the time to pull together 20 years of research into a book that is accessible to broader audiences," Dr. Moseley says. 
Happy 100th, Amos Vogel! Professor contributes to retrospective on media trailblazer
Media and cultural studies professor Michael Griffin contributed recollections of his work with Amos Vogel for the retrospective exhibition, "Amos Vogel – 100 Years of Subversion" at the Austrian Film Museum in Vienna. The online exhibition, celebrating what would have been Vogel's 100th birthday, includes publications, lectures, films, testimonials and selfies by many of the artists, scholars, and students who worked with Vogel during his long curatorial, media activist, and teaching career in New York City and Philadelphia. As a teenager, Vogel fled Vienna with his family following the Nazi annexation of Austria in 1938. He founded Cinema 16, which became the nation's largest membership film society, and directed the first New York Film Festival at Lincoln Center. He was a leading proponent of the independent art film movement in the United States. Dr. Griffin worked as Vogel's assistant, and then teaching associate, for six years at the University of Pennsylvania.
How to be considered for future Maccolades
If you've recently earned an award, fellowship, or honor and would like it to be considered for inclusion in the next Maccolades, please let Communications & Marketing know by filling out this Maccolades form. For recent book publications, please use this book publication form.