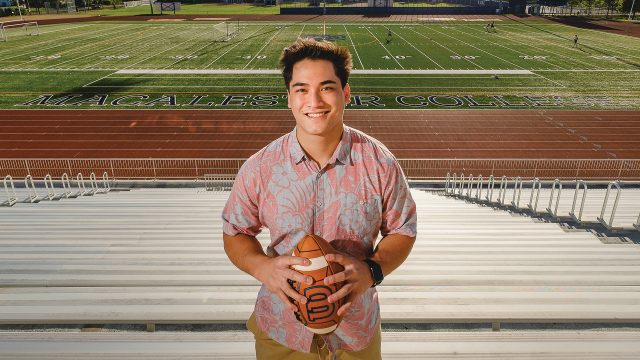 Last spring, Kai Akimoto '22 was unexpectedly and abruptly back home in Tamuning, Guam, navigating his sophomore year amid the COVID-19 pandemic more than 7,000 miles away from Macalester's football field. And yet his coaches' advice was still ever-present. 
"Something Coach Jennison tells us all the time is, 'You have to shape your life, or someone else will,'" says the biology major, a running back who led the Scots in carries and rushing touchdowns in 2019. "And we also practice controlling what we can control. I didn't want to be a bystander." 
Taking that wisdom to heart, Akimoto soon began applying his biology and chemistry education to public health work. He started volunteering with the U.S. territory's contact tracing effort and almost immediately realized that the pace wasn't matching demand among the island's 160,000 residents. "We were writing everything down by hand with pen and paper," he says. "I started to worry that if infections continued at their current rate, we weren't going to be able to keep up. People weren't getting their test results back in an efficient way, and that became very discouraging for them." 
Then Akimoto helped with COVID testing in Guam's villages, first collecting patient information, then doing the actual swabbing. Again, he noticed that doing everything by pen and paper was slowing down the work. "I realized that we needed to remove ourselves from the analog process and try to digitize this," he says. "If we could do that, we'd be able to increase Guam's surveillance testing, give people test results faster, and fight community transmission more proactively." 
Akimoto was also interning at an outpatient care clinic, and he brought his idea to clinic staff, who connected him to the business development department, which set the idea in motion. He immersed himself in the program's development. 
By fall, he was juggling Mac classes that met at 12:30 a.m. and 6:30 a.m., Guam time, with working on a team that helped launch a platform that, indeed, digitized the appointment process and helped people set up testing and navigate contact tracing more efficiently. "It's not anything new—but it's new to Guam," Akimoto says. "And I'd say it's essential, but on Guam, we're limited in that kind of resource." 
Akimoto returned to St. Paul this past winter to study for the MCAT and take his classes during the day—and prepare for a modified football season, which included two scrimmages this spring. This summer, he's back in Guam, joining the effort to apply the digital platform to increase the territory's vaccination rate. Akimoto had imagined a career in medicine before the pandemic, but the past year's work clarified his direction and timeline: after seeing firsthand Guam's shortage of health care providers, he wants to become a physician as quickly as possible so he can contribute to health care on the island. 
And that extends another lesson from football. "Sports has helped me realize that everyone needs to contribute as best they can, so the whole community can benefit," Akimoto says. "If there's something you can do, you've got to step up and put in the effort."