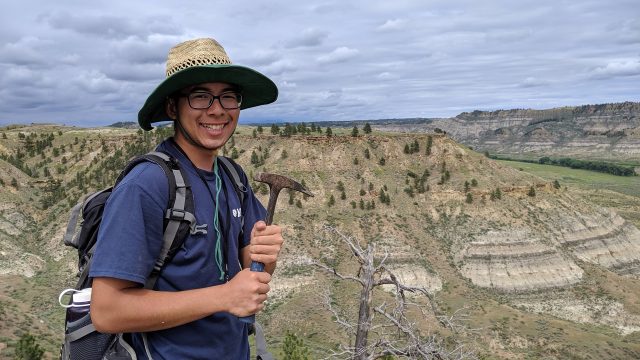 Saint Paul, Minn. — Among paleontologists, it's something like a cliché to say your career inspiration was the moment you first laid eyes on a dinosaur book as a young child. For geology major Sun Tun '22, that wasn't quite how it went. Sure, he fell in love with the prehistoric beasts in first grade just like many others, but it wasn't until he arrived at Macalester that he really began to imagine himself studying dinosaurs for real. 
"After seeing my first dinosaur, I was pretty much like that couldn't be me. There's nobody that looks like me that does that stuff," said Tun, who moved with his parents to Saint Paul in 2006 from Thailand. Tun was born in a refugee camp there, his parents having left their home in Myanmar to escape the military junta's ongoing persecution of the Karen population, one of the nation's many ethnic groups.
But after taking a first-year class called "Flying Dinosaurs and Walking Whales" and with encouragement from mentors like the class's instructor, Prof. Kristi Curry Rogers, Tun dove headlong into the earth sciences. 
"It wasn't until college and all the field trips I went on, including going to the Upper Missouri River Breaks National Monument in Montana with Professors Kristi Curry Rogers and Ray Rogers the summer after my first year, that finally told me I have a chance at this and I should take it," he said. 
Now the rising senior is the first student in the nation to receive the Society of Vertebrate Paleontology's (SVP) inaugural Futures Award and the $5,000 summer research stipend and professional mentorship that come with it.  
According to the SVP, the Futures Award was created because vertebrate paleontology, like many geoscience fields, has poor representation of scientists who are Black, Indigenous, or members of other racial and ethnic minority groups. In recognition of the need to increase access for underrepresented groups, the SVP established the award to support summer research experiences for undergraduates from underrepresented minority backgrounds.
Dr. Curry Rogers, who is a recognized leader in the field, echoed the need for more diversity. 
"Vertebrate paleontology, just like many other geoscience fields, suffers from a predominately white perspective," she said. "We've learned that the underrepresentation of scientists from BIPOC and other marginalized groups  in the field isn't due to a lack of interest, but is more built upon a lack of resources and opportunities, and a lack of role models." 
For Dr. Curry Rogers, students like Tun are the future. 
"He's exactly the sort of smart, creative person who has potential to make important contributions to our field," she said.
This summer, Tun is using the research stipend to examine fossil egg shells from an area of Montana called the Judith River Formation in an effort to try to reconstruct the ancient biodiversity that once inhabited the area. As he went on to describe the methodologies in scientific detail, his eyes lit up. 
"It's cool stuff," he said. "I don't think every day you get to hear a person who says, 'Yeah, I'm looking at eggshells from 75 million years ago.'"
For Tun, he not only has dreams about making an impact in the field but to also inspire others who come after him. 
"Children look up to who they can see," he said. "If I'm here for awhile and another BIPOC student who has a similar background as me or identifies as Southeast Asian  sees me doing this, they'll be like, 'Well, if Mr. Sun can do it, I can do it.'"
Learn more about Macalester at macalester.edu.