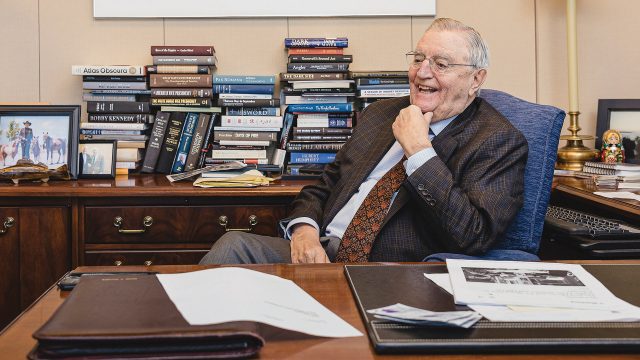 By Rebecca DeJarlais Ortiz '06
When Harry Char '51 enrolled at Macalester in 1948 midway through the year, he was renting a room off campus—until he got word one day that a spot had opened up in a Kirk triple. His roommates would be two upperclassmen, one of whom was Walter "Fritz" Mondale '50.
At first, Char thought he'd simply lucked out by being assigned a roommate who didn't actually spend much time in the room. Mondale had been part of the group that brought then-Minneapolis mayor Hubert H. Humphrey to campus in 1947. By the time Char moved in, Mondale was immersed in Humphrey's Senate campaign. "He was so consumed with helping Hubert Humphrey get elected that he was gone from dawn to evening almost daily," Char says.
But over the semester, the two did connect, and for Char, it lingers as a quiet reminder of a time-honored Macalester hallmark: the chance to live with, and learn from, people whose backgrounds and perspectives diverge from your own experiences. "We were so different," Char says. "When we were free together, we'd visit and talk, mostly around politics. Fritz was a devoted and faithful, politically gifted Democrat. I was from Hawaii, then a territory with Republican leanings." With Hawaii having no elected voting members of Congress and a governor appointed by the president, Char says politics seemed removed from his daily life before Macalester.
In addition to Humphrey's successful Senate campaign, 1948 also marked a presidential election. One day, Republican candidate and overwhelming favorite Thomas Dewey's motorcade was scheduled to drive by Macalester's campus. "I was anxious to be there to cheer on our next president, and as I was leaving, Fritz asked me why I was rushing off," Char says. "His admonition 'You're wasting your time' didn't deter me."
In November that year, Democratic incumbent Harry S. Truman won in a shocking upset. "I should have listened," Char says. "Fritz was so stable and sensible with political affairs."
This past spring, the Macalester community mourned the loss and celebrated the legacy of former Vice President Mondale, who died April 19 at the age of 93.
Although Mondale only attended Macalester for two and a half years, his time on campus was formative. He quickly gained a reputation for political advocacy and organizing on campus before delving into the political landscape beyond 1600 Grand. In Mondale's first semester, his peers elected him class president, and he later chaired Macalester's Students for Democratic Action chapter. He also competed in speech and debate, sang baritone in the men's chorus, and traveled to England as one of 10 students selected for the Student Project for Amity among Nations (SPAN) program.
At Macalester, he told writer Nick Coleman in a 2017 Macalester Today interview, "I became more committed to progressive ideals, better educated about why they were important. I started to get a glimmer of history and of what people can do when they work together. And I started to wake up . . . I got an excitement about the decency of public policy that has stuck with me ever since."
Because of financial challenges, Mondale transferred in his junior year to the University of Minnesota, where he would also later attend law school, after serving as a corporal in the U.S. Army. In 1955 he and Joan Adams Mondale '52 were married by Joan's father, longtime Macalester chaplain Rev. John Maxwell Adams, in the college's student center. Then he began his career as a lawyer, she worked in art galleries, and the couple started a family.
What happened next is well-chronicled in state and national history. Mondale dedicated himself to decades of public service, including a term in the White House as President Jimmy Carter's vice president and his own run for president in 1984. He kept an even keel through highlights and challenges alike, including tumultuous turning points and transitions for the Democratic party.
And over the years, the Mondales stayed connected to Macalester, returning for events ranging from Commencements and Convocations to lectures and class visits. At Convocation in 1993, President Carter presented his vice president with the college's Board of Trustees Award for Meritorious and Distinguished Service. Joan served as a Macalester trustee from 1986 to 2007, returning to campus for board meetings even when the family lived in Japan during her husband's service as U.S. ambassador. After Joan died in 2014, Macalester renamed its art building and donors established a scholarship in her memory.
"My relationship with Macalester has remained strong all these years, through many different presidents of the college," Mondale told Macalester Today in 2017. " . . . I think Macalester has been one of the most important experiences and influences in my life. And I think that thousands of people who have gone there over the years would agree. The opinions they shaped there may be different, but there's something about the civility and the excitement, the ideas, the growing respect for learning, for reading and trying to move your understanding about issues forward."
Now the college and the country reflects on Mondale's extraordinary commitment to public service, and a legacy at Macalester that spans nearly 75 years since he was elected freshman class president. Even early on as a student, Mondale had big dreams—and he tipped off his Kirk roommate Harry Char to those aspirations. "At 20, Fritz was so dedicated to public service that on occasion he confided to me his early hope toward national election," says Char, now 92 and writing and painting back in Hawaii after a long career in education and the U.S. Coast Guard and Naval Reserve. "He was an outstanding senator, and a great vice president and public servant."
Mondale's Public Service
1960-64: Appointed Minnesota's attorney general, then elected to a second term
1964-76: Served as U.S. senator
1977-81: Served as vice president under President Jimmy Carter
1984: Ran for president with Geraldine Ferraro as his VP pick, losing to Ronald Reagan and carrying only Minnesota and the District of Columbia
1993-96: Appointed U.S. ambassador to Japan by President Bill Clinton
2002: Replaced U.S. senator Paul Wellstone on the ballot after Wellstone died in a plane crash days before the election; lost narrowly to then-St. Paul mayor Norm Coleman
In His Own Words
Over six decades, Vice President Mondale returned to campus regularly to talk with students, from class sessions to Commencement speeches. The following reflections are excerpted from remarks from those visits.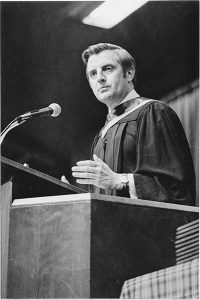 "As Americans, I think we realize that we are in the midst of what can only be called a profound crisis of confidence and spirit. . . . I think we realize that we are under pressure, under challenge, perhaps like we've never been before. In a real sense, we see dangers that I don't think we expected to see. Dangers that erode the fundamental value of our vote, dangers which challenge our constitutional processes, and the enforcement of the law, and perhaps most fundamental of all, dangers which challenge what we thought was our most fundamental reliance on the truth, which comes from the top leaders of American society. These events have eroded public confidence to the point that virtually every poll that one looks at shows that the American people increasingly do not trust their government, do not trust the free processes of our society, and do not believe what public leaders tell them. And society cannot prosper or survive on that kind of cynical diet. As Lincoln once put it, with public sentiment, nothing can fail. Without it, nothing can succeed." –Commencement, 1973
"I am told that today's graduates are known for their generous voluntary community service. Keep it up; we really need it. But our nation needs something else from young Americans: we need your involvement in politics; you need to vote. The great issues affecting your lives will be decided by government but your generation has strangely decided not to participate. In a recent study over 60 percent of college students had volunteered for community service but only 36 percent of you voted in the 2000 election." –Commencement, 2003
"The toughest speech I ever gave in my life, I gave right under that basketball hoop there [in the Mac fieldhouse], to a crowded, angry group of students and citizens from this area, who were troubled about my position and the Vietnam War. And I came home to do something that's very hard for us to do in politics, to stand up and say 'I'm wrong.' 'I'm wrong and I had to change my mind,' because it was wrong. And what I did, millions and millions of Americans did. We had pursued a course which was not sustainable and a tragedy in human lives, the tragedy in the divisions in American life, the tragedy in terms of the poisoned dialogue on the American campuses, was something that polarized this nation for nearly 20 years thereafter." –Convocation, 1981
"In every respect we are becoming one people around this globe. That's why education to learn about this world is so important, and that's why Macalester's work is so sacred. We must assume our global responsibilities beginning in college." –Convocation, 1993
"I don't believe this country can compromise with the truth. I think the truth should be a minimum essential ingredient for the election of any decent person to public office from the lowest level to the highest level. Without truth, the American people cannot act responsibly on public policy. You can't pass a law against lying, but you don't have to elect liars. And this is something that the American people must decide on their own as voters and citizens. And it's something which the graduates and the sponsors of Macalester College should have no trouble accepting." –Commencement, 1973
"I urge you strongly to take action. To get involved in the great issues, step across that line, and make a difference." –Commencement, 2015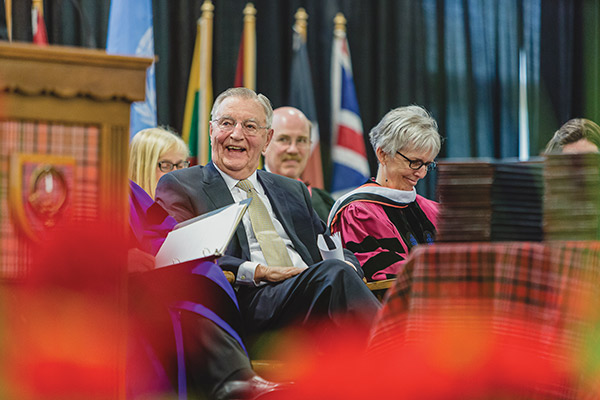 Back to Class
Professor and political scientist Patrick Schmidt teaches and researches public law and American politics, including American legal and political development. We asked him to reflect on the contributions, and the challenges, of Vice President Mondale's decades in public service.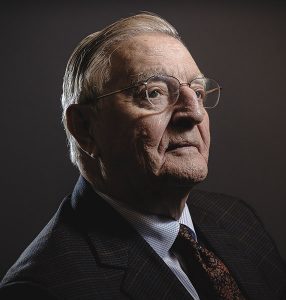 Political platform: Mondale was a progressive in the New Deal tradition, and he will always be remembered as a coauthor of the 1968 Fair Housing Act, a major piece of civil rights legislation. But even by that point, Mondale had built an impressive record on civil rights and a wide range of policies to work toward a more just society. Although as vice president and ambassador he built a legacy in the international arena, his heart was always with seeking a more caring, even moral country in its domestic affairs.
Minnesota impact: For decades, Mondale stood as a living monument to the state's culture of good governance. There was never a whiff of scandal around him; he embodied the idea that public service was a noble calling and that government was about people working together to make the community better. He carried that torch for his mentor, Hubert Humphrey, and picked it up again when Paul Wellstone was tragically killed just days before Election Day in 2002.
National presence: To students of national politics, Mondale's term as vice president transformed that office. His broad set of responsibilities, including international diplomacy, and close working relationship with President Carter influenced nearly all his successors. The words issued by former President Carter after VP Mondale's death, that he considered his "dear friend…the best vice president in our country's history" is both a beautiful testament to their relationship and actually a plausible claim. And as one marker of who he was, we should always remember his choice to put the first woman, Geraldine Ferraro, on a major party ticket.
Challenges: While Minnesota remembers him with great fondness, and especially his decency and political values, in a national perspective, we would have to take account of some of his weaknesses: he was personally charming and funny but came across as especially wooden when set against the "Great Communicator" of Ronald Reagan. Also, he led the party at a time when the party was struggling with its identity. By the time he stepped into the 2002 Senate race, some saw him as a representative of a different age, and as a candidate of nostalgia rather than a vision for the future.
With hindsight we understand: Politics needs great people, but individuals can't stand against the tide. Mondale was a leader of the party at a transitional time for progressives, who were splintered after 1968 and vastly out of favor during the Reagan era. Unfortunately, when telling the story of Mondale's life in politics, one chapter will be his overwhelming defeat as the Democratic nominee in 1984. With distance we came to understand that it didn't really matter who the party nominated that year.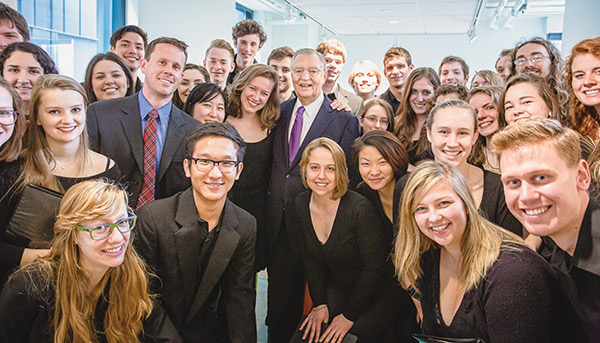 Mac stories
"One of the things that always impressed me about Fritz was his taking a very courageous stance against the Vietnam War. Fritz started out as a supporter, then fairly rapidly began questioning it. In 1969, when I was vice-chair of the Minnesota Young Democrats, he came to Macalester to speak at a rally against the war. My memory of that day? You couldn't pack any more people into that fieldhouse. If fire marshals had come around, they would have had a fit. It was a rambunctious scene, and Mondale gave a great speech, which was well-received by Macalester students." –Peter Fenn '70
"Although I didn't know Fritz and Joan when I was a student, Macalester is a small family, so we met each other at various gatherings over time. I spent six years on the Minneapolis City Council, and the first time I was sworn in, in 1978, my brother and sister-in-law came to the ceremony. Fritz was vice president at the time and happened to be in Minneapolis that day, and the city council president called to ask if he wanted to swear in the new council. I'm in the audience with my brother and sister-in-law and my fellow council members, and Fritz comes walking down the aisle. Everyone turns to watch him walk in, and then he looks at me and says, 'Hi, Sally.' And I stammered, 'Hello, Mr. Vice President,' and he walked on. My brother grabbed my arm and said, 'Do you really know the vice president?!' I thought he was going to faint. That's typical of the person Fritz was, though: gracious, giving of himself, just a delightful guy." –Sally Howard '58
"In my junior year, I received the new Joan Adams Mondale Endowed Scholarship, which supports students in the arts because Joan Mondale was so active in the art world. I got to spend some time with Vice President Mondale in the ceramics studio. He knew a lot about ceramics, and that was a surprise for me: I didn't expect someone like him to know what makes a good bowl or plate, and he was picking up pieces to test the weight and look at the technique. I gave him a bowl that I had made—probably my favorite at the time—and he told me he was going to eat his cereal the next morning in that bowl. I was very surprised but also very honored: some people think ceramic pieces are artifacts that belong on shelves, but when people tell me they're going to use the pieces that I make, it means a lot to me." –Egzon Sadiku '16
"When the studio art building was renamed in 2014 in Joan Adams Mondale's honor, I heard Vice President Mondale speak at the rededication, and I immediately got a sense of his presence. And I had this idea: what if he came to speak about his work in Japan with one of my classes? It would be so amazing. At that time I felt like a very young professor, and I was so nervous to approach him. But I figured it couldn't hurt to ask. So during the reception, I approached him, planted my feet, and waited for my chance to introduce myself and tell him about my class. What impressed me so much then, and in all the steps that followed, was his commonsense graciousness. His interest was very natural and vivid: he wanted to visit the class, and he wanted to talk to students.
Later that year, he visited 'Narratives of Alienation,' my class about how modern Japanese fiction registers a sense of distance or exclusion from the world. My students prepared questions and were really excited. I saw them also dealing with a disconnect they observed: how the person sitting in front of them had been part of so much history. They had a lot of questions about that. He carried all of his experience with him, yet he was able to listen and talk with students candidly and directly, with curiosity about their perspectives. Despite all of his accomplishments, he was a human being first. I understood better then how he was a hero for a lot of people. I saw it up close." –Professor Arthur Mitchell, Asian Languages and Cultures