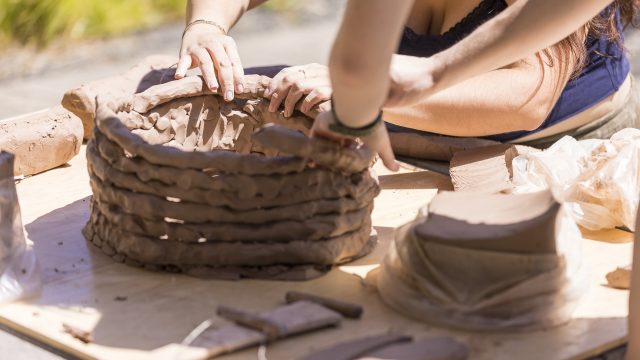 "My interest with this course is in reintroducing students to the idea that we have a physical world, which is something we've been very removed from this year."
—Professor Summer Hills-Bonczyk
Minnesota's abundance of water—the Mississippi and Minnesota rivers and more than 10,000 lakes—also makes for an abundance of clay.
"You usually find clay deposits on riverbanks and at the edge of lakes. There is, actually, a big clay deposit less than a mile from Mac, at the very end of Summit Avenue," says Professor Summer Hills-Bonczyk, a ceramic artist and assistant professor of art.
When she developed her new studio art topics course, Wild Clay, she was inspired by contemporary clay artists who are working with wet clay as opposed to fired finished objects as art. With the pandemic still ongoing during the college's summer session, she also wanted something more Covid-proof. Students working with wet clay don't need access to potter's wheels or to kilns. They are encouraged to work outdoors and provided with simple tools to identify wild clay in their own areas.
"The term 'wild clay' typically refers to wild harvested clay," says Hills-Bonczyk. "With this class, the term 'wild' is considered more broadly. In addition to harvesting clay, and gaining a deeper appreciation for the geological origins of this material, we are also approaching the creative process from more of a performative and temporary perspective. We don't necessarily need to fire the clay and create a finished object to make art. We can create site-specific installations and document them through photography or video and recycle the material afterward."
Students worked together on group installation and performance projects as well as creating their own individual performative sculptures.
Malini Basu '21 (Kolkata, India), an environmental studies and studio art double major, had never taken a ceramics class. "I was pretty stuck in the stream of producing objects in sculpture class or producing graphic work or illustrations," she says. "I was interested in pushing my comfort level and trying performances—going with the flow of the material."
For Basu, Wild Clay is different. "These projects are more about engaging with the clay's properties and trying to pull those strands into your own work," she says. For the group performance, she and two classmates were exploring the idea of archiving touch and what's been done to the clay.
Over three hours, Elyssa Cook '22 (Cassel, Calif.), an English major, constructed a clay cocoon on campus as her performance piece, gradually enclosing herself in the vessel. In her artist's statement she writes, "The name, 'A Cocoon, A Tomb,' reflects the duality of self-isolation. Emerging from the pandemic and the longest period of isolation I've experienced, this performance helped me realize that I can celebrate who I've become while simultaneously mourning the person I was before the pandemic."
Later in the session, the class took a field trip to the Lilydale Brickyards—the remnants of an old brick factory near the Mississippi that has a mountain of clay. When the Brickyard clay is fired, says Hills-Bonczyk, it has a khaki color, but in its unfired state it is a beautiful jade green.
"I tell my students that you can't always think your way into making something, sometimes you just have to touch it and make it; engage with the material and process and see what happens" she says. "It's developing that muscle memory and learning to connect with the physical world through a sense of touch. That's a very embodied way of learning. My interest with this course is in reintroducing students to the idea that we have a physical world, which is something we've been very removed from this year."