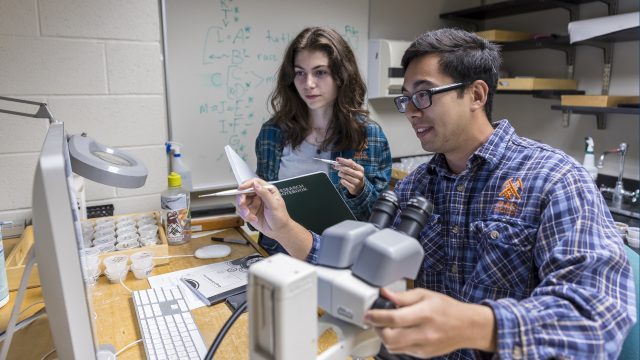 Summer for many Macalester students means time spent digging deeper into research projects with professors. Almost 80 percent of students report doing an internship or research project by the time they graduate. Professor Kristi Curry Rogers and Ray Rogers along with students Julia Ricks and Sun Tun worked on extraction of vertebrate microfossils from sediment, identification of vertebrate eggshells in sieved samples, and preparation and analysis of fossil eggshell diversity in localities from the Judith River Formation of Montana.
Kristi Curry Rogers, biology and geology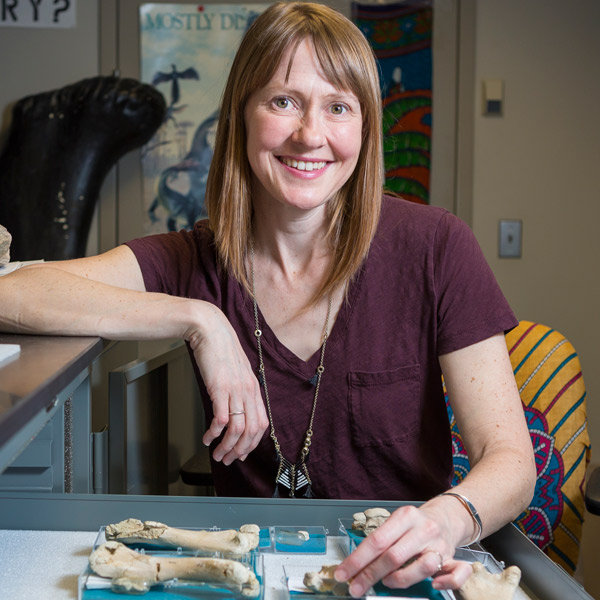 Sometimes animal bodies don't get lucky enough to make it into the fossil record, but other signatures of their lives can. In this case, we are identifying a broader array of species that inhabited ~75 million year old, swampy, coastal ecosystems, by identifying tiny little fragments of eggshell. This work is a part of a long-term project that geology professor Ray Rogers and I have had, based in the Judith River Formation exposed in the Upper Missouri River Breaks National Monument in central Montana. This summer we pushed our focus into teeny-tiny fossilized eggshell fragments, which preserve a much broader array of animal diversity than we had only by looking at the more commonly preserved little bones and teeth. This is an exciting new area of research for us, and helps paint a more realistic picture of life (and death) in these ancient ecosystems.
What's a general day look like as you help students complete their work? Ray and I connect with our students every single day, checking in to see what cool things they've discovered under the microscope, having them give talks to share their work with the rest of our research group, figuring out ways to analyze the chemistry and microscopic internal anatomy of these eggshells without destructive sampling, and talking through research papers and methods as we go.
What three items are essential to this work? A dissecting microscope, the tiniest paintbrush you can find trimmed down to a single tiny bristle or two for picking up miniscule fossils from sediment; patience combined with curiosity—the extraction process is challenging and tedious work, and it takes just the right mindset to work as hard as these two students have been all summer!
What advice would you give to students who would like to find a research experience? Research shouldn't just be treated as a job—research is something that you must be passionate about, dive into with all of your curiosity and intellect, and to make any real impact you should be excited to carry your work forward after your short summer experience is over.
**
Julia Ricks '22
Carnation, Washington
Why is this important to you/to the world?
This project is really time travel if you think about it. It's really powerful to be able to look at an ecosystem of animals that lived 75 million years ago just by searching carefully through some old mudstone. Understanding ecosystem dynamics of the past can help us understand our modern ecosystems. Learning more about natural history can help humans understand their own place in the natural world and in their evolutionary history.
Describe your best day
I really liked the day when my friend visited the lab and I got to give them a tour. Lunch was provided from Everest on Grand, one of my favorite restaurants, and then I got to sit outside and work on my poster in the rock garden. After, I spent time looking at eggshells under the SEM (our first real in-depth look at our eggshells) which was special.
What do people get wrong about this subject?
People assume that all of the important work happens with the really big T. rex bones, when in reality, a lot of the smaller-scale projects can tell us more about a broader ecosystem.
What is your most surprising discovery/learning so far?
It's fascinating how all of the different egg-layers produce a different mineral structure inside their eggshells. The eggshell is so much more complex and intricate than I originally had thought, with pores to let the embryo breathe and different structures for eggs that are laid in different places. It's really an amazing example of evolution.
Go-to research snack
Honey mustard Snyder's pretzels
Best research soundtrack
Either funk music or podcasts about cults and conspiracy theories
**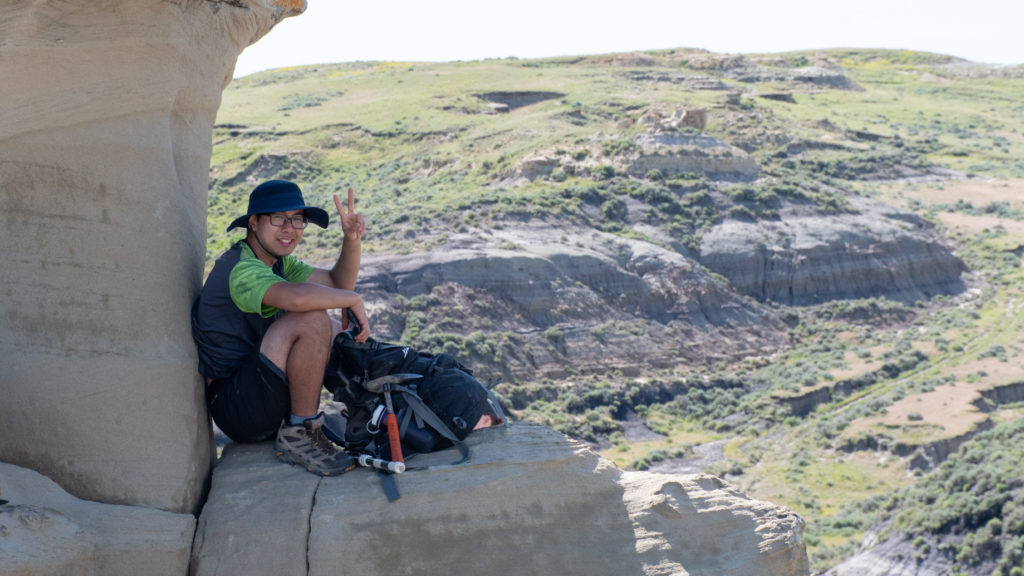 Sun Tun '22
St. Paul, Minnesota
Why is this important to you/to the world?
Honestly, fossil eggshells are the most nebulous things in the world and the millimeter to sub-millimeter ones we work with are so microscopically small, if you were to sneeze, snort, step, or swallow one then the whole summer research project would have been sabotaged. However, to me, it's the knowledge and understanding that eggshells of any sort were once part of a whole egg and an animal had to have laid that egg sometime in its life. We worked with eggshells from 75 million years ago and the animals that once laid the eggs, whose eggshell we find in sedimentary rocks, are extinct forever. Therefore it's extremely humbling to know that there were countless worlds before the human one we see today, and all life, no matter how great or small, is temporary. I'm not too sure of how important fossil eggshells are to the world, but I would like to say that this opportunity has taught me to be a better listener, to be more organized, and challenge myself in learning about something I never thought I'd ever care about.
Describe your typical day
My day actually begins at home with my family since I live in the North End of St. Paul and so I always help my parents out before they head off to work, then I send my brother off to summer school at his bus stop before finally going to the bus stop myself and catching the 65 on Dale St. to the 63 on Grand Ave. I arrive early to the lab to clean and organize my lab room space before we start. The mornings consist of picking fossils under a microscope and searching for fossil eggshells and once we find some, we record them in our lab notebooks. On Wednesday and Friday, I go to the virtual Dinosaurs mod 5 class to be a TA and help out Professor Kristi Curry Rogers. After this, I take my hour lunch break and try to go eat with some friends upstairs at the Chem or Bio Department. In the afternoon, we have meetings with our research team to update on where everyone is in their project. We do more fossil picking in the afternoon under the microscopes, but also focus more on reading scientific literature. Once work is done, I clean up my lab and then go catch the bus to go home.
My best day consists of the Biology Department hosting free lunches for all students and faculty and staff doing research in OLRI this summer. Here I get to interact with everyone and ask about their research as they try to explain it in simple terms. I do my best to do the same and it just feels really nice to see everyone be back in such a big space like SMAIL, without masks on, and smiling while enjoying their lunch breaks.
What do people get wrong about this subject?
People confuse archaeology and paleontology. And it's not their fault at all. Both professions allow you to dig up the past, it's just that one allows to you see human history and civilization on this planet and the other allows you to see more of the natural worlds that included plants and animals.
Three essential research items
Research notebook, dissecting microscope, and Silver Ultra Mini Pointed Round 2400S Paintbrush.
Go-to research snack
Sunchips (Garden Salsa Flavor)
Best research soundtrack
"Forget You" by Ceelo Green
Curious about other research projects at Macalester? Keep reading. Up next: Dear River,