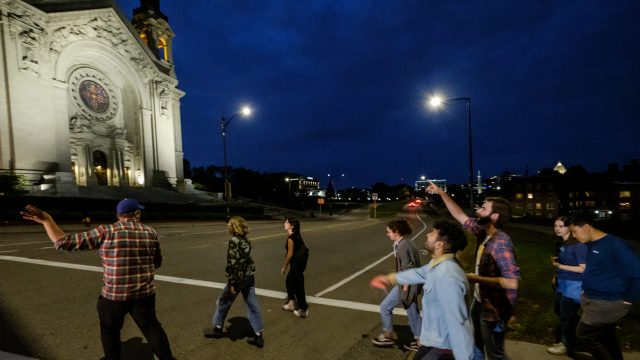 By Alexandra McLaughlin '16
In October, Anna Turner '22 stood on Selby Avenue with her classmates, imagining St. Paulites using streetcars as transportation a century ago. It's an important layer of Minnesota's history: During the peak of streetcar commerce in the 1920s and early 1930s, more than 500 miles of track crisscrossed the Twin Cities.
"Streetcars were a huge part of how certain neighborhoods emerged and how people were moving around the city," Turner said. 
On a recent field trip with her Urban Studies Colloquium class, Turner caught an unexpected glimpse of the bygone streetcar era. A historian and writer named Bill Lindecke led the class around St. Paul. He shared his expertise on Pedro Park, the downtown skyways, and the Cathedral of St. Paul, where he pointed out a boarded up streetcar tunnel.
"I'm starting to think a lot more about how museums interact with the urban landscape and either engage or ostracize certain populations in a city."
—Anna Turner 
Turner was amazed. "I was under the impression that there's no evidence of the streetcar's existence anymore," she said. "Lindecke gave us a fascinating alternative history of St. Paul that you don't get in the typical geography class. We felt like we were getting to see all these secret spots." 
As the culminating experience for the urban studies concentration, the Urban Studies Colloquium gathers seniors together to reflect on their path through the concentration. They assemble a reflective portfolio that can be shared with potential employers, graduate schools, and their families. 
The course isn't taught by just one professor. History and Latin American Studies Professor Ernesto Capello serves as the faculty lead alongside a rotation of professors from geography, educational studies, history, sociology, educational studies, and political science. Meeting all the faculty involved in urban studies helps students understand the depth and breadth of the subject. 
Five seniors are enrolled this semester, making it a tight group. 
"We all end up in the same room at the end of college, we're all very interested in cities, but the ways we've gotten to that discipline are so wide-ranging," Turner said.
The course encourages students to dig into their past course papers, but also their artistic work, such as photographs, poems, and music, to reflect on urban studies as an interdisciplinary field of inquiry and advocacy. 
Turner, who interned at the Weisman Art Museum in Minneapolis, is considering how arts and culture enter urban space. 
"I'm starting to think a lot more about how museums interact with the urban landscape and either engage or ostracize certain populations in a city," she said. 
The themes of her classmates are expansive and interdisciplinary: food justice and grocery store access; health disparities in cities due to redlining; and transit justice and cyclist rights. 
"We all light up when talking about our themes," Turner said. "It's the kind of class where all you're doing is reflecting on the things you care about within the discipline," she said. 
Capello explains that while the professors set the structure, the students shape the course around their interests. 
Students organize an end-of-semester colloquial event around an issue of pressing importance in the contemporary urban scene. Last year, students talked about building digital communities in the midst of the pandemic. This year's event looks at the importance of student protests within urban scenarios. 
An overarching goal of the course, Capello notes, is to demystify the process of career exploration and help students consider how urban studies might fit into their next steps. 
"It's unlike any course I've taken at Macalester because it is really about synthesizing all the work that you've been doing within the concentration over four years," Turner said.