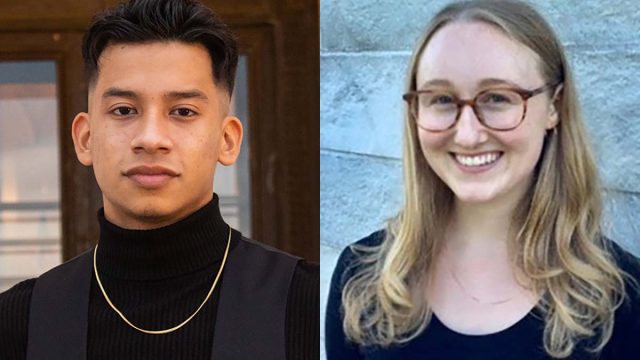 St. Paul, Minn. – Juan Galicia-Diaz '22, from Little Rock, Ark. and Alisa Folen '22, from Portland, Ore. are this year's recipients of the Harold S. Geneen Charitable Trust Scholarship. The annual $30,000 award is for students majoring in economics or political science who are interested in studying and promoting responsible corporate management and governance.
Galicia-Diaz is a co-founder of the Latinx Student Union and a political science major. He has also completed internships with U.S. Bank and J.P. Morgan Chase. "These two experiences have influenced my decision to understand corporate social responsibility and establish equitable frameworks that hold the commitments of firms accountable," said Galicia-Diaz. " Since the police murder of George Floyd and the global uprising, many companies and organizations have vocalized their support to uplifting and investing in Black communities. My interest is to not only hold these commitments accountable, but to embed these commitments into the values and systems of organizations."
Folen is co-president of the Women in Economics club and an economics major. "I don't think many of today's corporations contribute to the health of society," said Folen. "This fuels my interest in seeing corporations drastically reduce their carbon footprint and follow through on their equity commitments. I am interested in responsible corporate management because it is essential to forcing companies to be sustainable and to enact real change."
To be eligible for the scholarship, students must (a) be a U.S. citizen or permanent resident, (b) be a rising junior or senior, (c) be a political science or economics major, (d) have documented financial need, and (e) demonstrate a strong interest in promoting responsible corporate management. 
In addition to alleviating some of the immediate financial burden of attending college, the Geneen Charitable Trust Scholarship may help position students for careers after they graduate. For Galicia-Diaz, he said he plans to continue at J.P. Morgan Chase with the hope of participating in the bank's Fellowship Initiative, which is a three-year mentorship program designed to empower Black and Latinx men and prepare them  for college and careers. "This transformational and generational impact is what I strive for — a career that doesn't build barriers but bridges to overcome obstacles," he said. 
As for Folen, she said she's not certain what comes after Macalester. "But even if I don't work directly in corporate management, I intend to apply the mission of this scholarship and the lessons I have learned about sustainable business practices in every organization I work for," she said. 
About Harold S. Geneen 
Harold S. Geneen was the former chairman of ITT from 1959 to 1977. When he stepped down as chief executive at the end of 1977, ITT was the 11th-largest industrial company in the United States with more than 375,000 employees and $16.7 billion in revenue. According to the New York Times, Geneen's management style and practices were widely imitated.