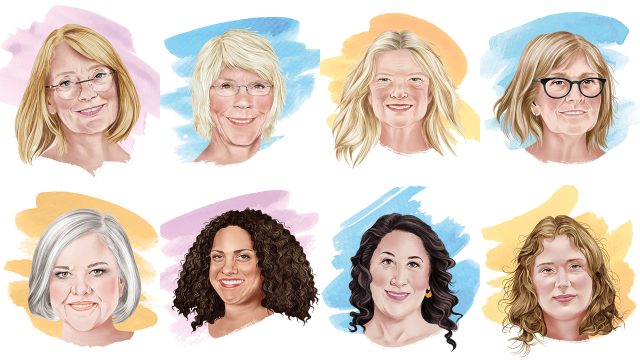 By Julie Hessler '85 / Illustrations by Débora Islas
Tennis legend Billie Jean King calls Title IX "37 words that changed everything." The landmark law, passed in 1972, banned discrimination on the basis of sex in federally funded education programs, revolutionizing women's sports at Macalester and across the nation.
Before Title IX, Macalester's women athletes competed against each other in phys ed classes and intramural competitions and occasional matches against other college women. The Mac Weekly describes a 1960 Christmas show put on by the women's Aquatic League, featuring synchronized swimming and diving exhibitions. Women also were cheerleaders ("Holler Girls"), rope jumpers, and "powder-puff'' football players who played or performed at half-time during men's games. A 1971 Weekly story recounts the experience of the women's tennis team: "With the tight money, the team, unlike a nameless men's organization, has chosen to do without uniforms, and sought a schedule consisting largely of home and local meets to save on traveling. Only tennis balls have been furnished, and any extras, such as entry fees, etc., have come out of the players' own funds."
After Title IX, women's teams, with budgets and other resources, gradually began to compete and, finally, thrive. At a Reunion 2022 panel, scholar-athletes, coaches, audience members, and President Rivera reflected on women's sports before and after Title IX. Read edited excerpts from their conversation.
No expectations
I was interested in golf…but along the way I took a tennis class with Coach [Ralph] Lundeen. I was good enough that he suggested maybe I could play on the intramural team, but after a couple of weeks, it was clear that I wasn't really good enough. So I said, "How about we form a golf team?" He was very helpful in thinking about that. He let us practice, if we wanted, with the men's team. He invited us to go on the spring trip with the men's team. My parents wouldn't let me go…I had no expectations coming in about having a women's team. I had to start a team in high school but then had trouble finding teams to compete against. At that time, Macalester, like other colleges, was very different from today, as some of you know. For example, we had hours. Women had to be in the dorm at 11 p.m. The men could stay up all night, and we had fifteen minutes of grace time per semester that we could be late. It was a very different environment in all sorts of ways.
There were about four of us who had found each other and played golf occasionally. The University of Minnesota had a team and we asked to play them. They invited us to their course. It was early spring and still quite frosty, with the grass sticking up through a thin layer of snow. But, we were determined to play our match. We did horribly. After the round, we all gathered in the clubhouse where we were thankful to find hot chocolate and a roaring fire in the fireplace. We were never able to secure another match with their team or any other. —Carol Wolf Runyan '72, professor emeritus, University of North Carolina, Gillings School of Global Public Health
An awesome major
For a short timeframe, Mac had a physical education and kinesiology major. That was my major, and it was awesome. Two years after I graduated, I was accepted into a master's program in athletic training at Indiana State University. There were only two universities in the U.S. that offered a master's in athletic training, and neither accepted women when I graduated from Mac! I was one of the first twenty-five women who were certified as an athletic trainer. I thank [former coach and athletic director] Sheila Brewer and [former athletic trainer] Tom Copeland for that, as I built the love for that while I was here. —Muriel Gilman '72, professor, Bemidji State University, Dept. of Physical Education, Health and Sports
Unlimited opportunities, for some
As a kid I played golf with my family. My brothers followed me to Macalester in the two years after I was here. They were all three-, four-star athletes in high school. They had unlimited opportunities to play sports and did. They and their friends also had fantastic opportunities for scholarships, with leadership recognition, for a big boost into the world ahead as people who had participated and been engaged, and had a lot of experiences that were helpful for them on their way through life. —Cherie Doyle Riesenberg '72
The wave
I played volleyball here for four years, and also ran track and field for two years. Little did I know when I first came in '79 that it was one of the first years of any varsity-level sport at Macalester for women. You could start to feel a little wave coming. You could see women wanting to play sports. Being on the volleyball team, I came in with a pretty strong group of girls, and we were all very serious about playing and competing at a high level. Sheila Brewer did a lot with advertising and marketing to make the volleyball and track teams stand out. —Smoak Mueller Vitek '83, head volleyball coach, Rosemount High School
Undies and Uppies
At Mac, I played—well, there weren't a lot of opportunities—but I did whatever my friends were doing. I went to swimming practice, and I must have competed a couple times. I played tennis. We played powder-puff football, of course—freshman and sophomores were the Undies, and when you became a junior, you were on the Uppies team. And Carol [Runyan] tells me that I played in a golf tournament. —Muriel Gilman '72
Beyond athletics
One of the fun things about Title IX is that it goes beyond athletics. I was the second woman to be elected to the presidency of the student government here at Mac. There have been a lot of things that were possible because of Title IX. Women were able to use that as an instrument to get involved, be recognized, and carry on positions. It's been phenomenal. I could go through the list of firsts I've been able to do in my career, including breaking the glass ceiling of being president of the American Military University. A lot of that has to do with Mac. —Kate Houghton Zatz '82, acting president, American Public University and American Military University
Motivation and pride
I was born before Title IX was passed, so I really saw its effects on my own childhood in terms of what was offered to play when I was in grade school, versus what was available to me in high school and in college. And now, as a mother, I see a difference in terms of what sports have meant to my own daughter, who started playing a sport at age four that she could imagine playing professionally if she excelled at it enough. That made a big difference in terms of her motivation and the pride she took in her sport. —Suzanne Rivera, president, Macalester College
Mental health
There is a priority of mental health in D3 athletics and specifically at Macalester, which is part of why I came here. The coaches and staff care about me as a person before they care about me as a player, and I know that I can go to them if I need to. Because I am a student-athlete, we all know that the "student" comes first and my courses will take priority. Just knowing that everyone cares for me really helps. I know I can advocate for myself when I need to take a step back from soccer, and when I need to adjust my priorities to make it all work because we are a high-achieving group. —Sarah Hamilton '23, member of Macalester's women's soccer team
History lessons
I went back and read some of the history of Title IX. I was surprised at how many challenges there have been over the years, and I was completely unaware of that. I think we need to be teaching everyone about the history of not only their sport, but sports in general, and how these issues all interweave, and not take anything for granted. I've had many graduate students over the years who have said to me, "Oh, feminism. That was your era. We don't have to think about that." They may be changing their tune a little bit right now in light of Roe v. Wade. But, I think we haven't done enough to educate about the history of how some of these issues evolved so that we can sustain progress. —Carol Wolf Runyan '72
A better path
When we first started, the Association for Intercollegiate Athletics for Women (AIAW) was the governing body for women's sports. It was a tremendous organization. AIAW was really about building a blast of energy around women's sports. They were developing women athletes, developing the love of sport, and starting to build some history. My senior year, we went NCAA. It was a totally different experience. One negative about Title IX and NCAA is that we followed the path of men's sports when I think women with AIAW were creating a better path. A big part of it was, "How did we as a group get better?" Now with a lot of sports, if you're a fellow coach you keep secrets to yourself, instead of coming together and making everybody better. It's just a really different culture. —Smoak Mueller Vitek '83
Changing paradigms
There are a lot of paradigms that have existed in the way that sports are organized, and it's very difficult to change. I'm hoping that women, as they gain economic, social, and sports experience and all these other things just like in other fields, will bring that experience to bear on the larger world of sports and athletics. —Cherie Doyle Riesenberg '72
Life off the pitch
One of my teammates helped start Pride Athletes at Mac this year for LGBTQ+ athletes. A lot of my teammates and I have been taking part in that. Another teammate is on the BIPOC Mac Student-Athlete Collective Board. One of the cool parts about being here is seeing what everyone else is doing off the field and off the court. It's awesome to see how everyone is trying to make a
change in the world, and also making themselves better people while we're here, as well as trying to be the best athletes we can be. —Sarah Hamilton '23
Little wins in everything
Today there is a lot of support around providing resources for the women's teams and just being able to go out and recruit, see athletes at a young age develop over time, and then also make sure that they're developing as humans. It's important that we get to know our student athletes as more than just athletes. Being there for them when they need help. It's not yelling at them, it's talking about, "Hey, what's going on? Is everything okay?" It's not only about winning. There are little wins in everything that you do. —Tashina Steggall, associate head track and field coach, Macalester College
Hall of Famers
Sheila Brewer and Patricia Wiesner played pivotal roles in the growth of women's athletics at Macalester.
Sheila Brewer
In 1983, Sheila Brewer became the first woman to serve as athletic director for both men's and women's sports at a MIAC institution. During her 32 years at Macalester, she also coached several women's sports, and had great success guiding the Scots' volleyball team. Brewer's 1980 squad won 58 matches, captured both the state and Region 6 tournaments and finished seventh at the AIAW national tournament. In 13 seasons, Brewer recorded 350 volleyball victories and won three MIAC titles. Brewer was inducted posthumously into M Club's Hall of Fame in September 2022.
Patricia Wiesner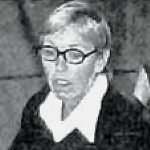 Patricia Wiesner's teaching career at the college spanned 35 years. She taught tennis, ballroom dancing, yoga, first aid, water safety, downhill skiing, and the history of physical education. She directed the college's synchronized swim shows in the 1950s, started the women's cross-country team, and supervised the cheerleaders for 23 years. She coached tennis, volleyball, swimming, field hockey, and basketball, and was Macalester's first women's athletic director. Wiesner was inducted into M Club's Hall of Fame in 1988.