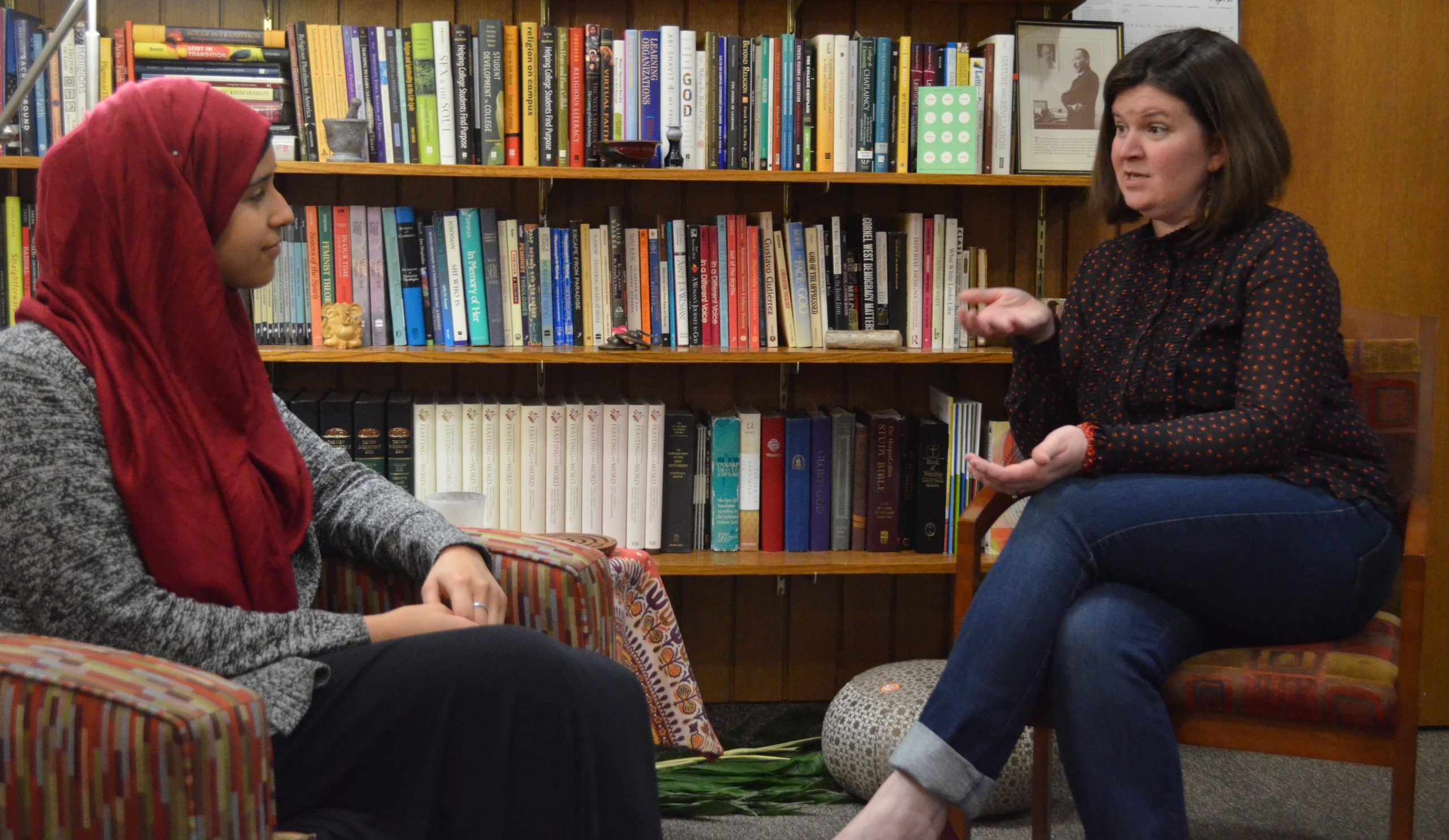 Chaplains are available for connection one-on-one or in small groups.  We welcome all members of the Macalester community to seek support or accompaniment around whatever is active or present in your life. People often come see us about relationships, questions of identity (religious, cultural, gender, sexuality), conflict, loss and grief, sense of belonging, discernment about purpose and meaning, or significant life decisions.  We welcome conversation through whatever worldview you most comfortably and authentically inhabit.  Chaplains are a confidential resource for Title IX and other personal matters.
We invite you to contact one of the chaplains directly.  For more information contact [email protected] or 651-696-6298.
Macalester also offers counseling services at the Laurie Hamre Center for Health and Wellness. To speak to a mental health counselor after hours, simply call the Hamre Center for Health & Wellness phone number: (651) 696-6275. Then press "2" and you will be connected to ProtoCall, a free phone counseling service that Macalester provides for students.
Spiritual Direction and Care
Spiritual direction is the process of accompanying people on a spiritual journey. Spiritual direction exists in a context that emphasizes growing closer to one's spiritual aspect, higher power, or God.  Stated otherwise, spiritual direction explores a deeper relationship with the spiritual aspect of being human. Simply put, spiritual direction is helping people tell their sacred stories everyday and understand the great gift of their life in a new and more profound manner.
Spiritual care provides support for emotional and spiritual needs during moments of acute struggle or crisis, regardless of an individual's faith or non-faith background.  Spiritual care accompanies persons as they reestablish their own sense of well-being and wholeness.
The chaplains and staff of the Center for Religious and Spiritual Life are available to offer spiritual support on a one-on-one basis. We invite you to email us for more information, or call us at 651-696-6298.