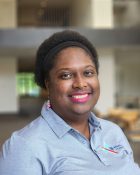 Assistant Director of Residential Life - Staff Development

[email protected]
she/they

Where did you grow up?
I was born and raised in Waterbury, CT, then moved to New York City at the age of 10, where I spent most of my life.


What are your main responsibilities?
Engaging with and helping develop young people! Outside of work, paying back my student loans (yikes!).


What do you love most about Mac?
So far, it's how thoughtful, kind, and revolutionary people are.
 What is your favorite hobby?
Creative writing! I've written poems, songs, blog articles, essays, novel manuscripts, you name it. I prefer ink and paper, but typing is way more convenient.