Reunion Updates: Class of 1970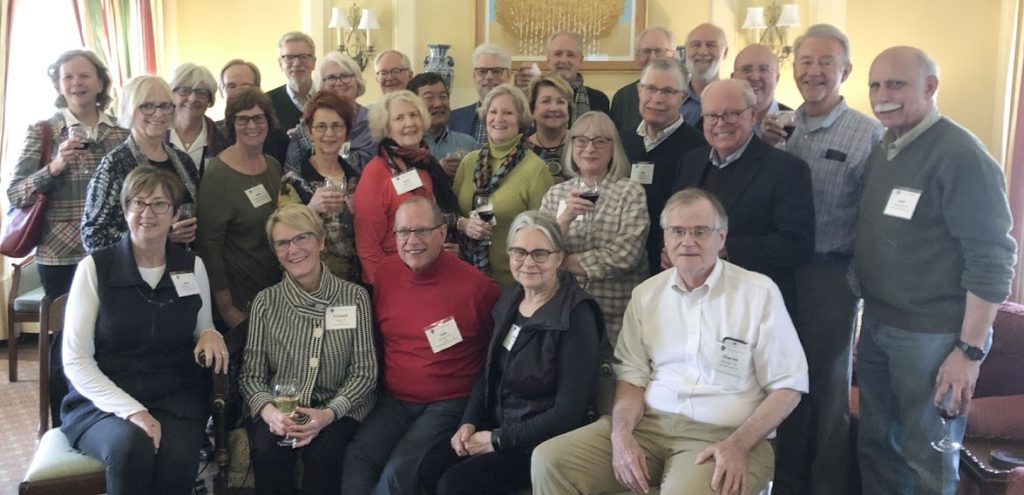 Hello dear friends,
At this most difficult time, with so much unknown, there is one thing we do know:  there is an abundance of care, compassion and concern for our friends, family and fellow 1970 Mac classmates.  We celebrate one another and look to a better time when our community, our country and the world will come out the other side.  May it be sooner rather than later.
As you know, our 50th Reunion cannot be held on campus this June. Given our country's current COVID-19 reality the decision was important to make early. The Mac staff and Planning Committee recently met virtually (ZOOM) and are currently working to come up with ways we might still honor and celebrate our Class. We are considering all options. If an 'in-person' Reunion becomes feasible in the future, you will be the first to know. We aren't making immediate decisions at this time since this crisis is still unfolding. However, here's what we do know: The Planning Committee (in the picture above) will stay the course for the foreseeable future. 
Our three amazing teams and the Mac staff that support them, are meeting to figure out how we will move forward. The Communication Committee is committed to staying in touch with you for the long haul. Look for 'Mac Half Century' Newsletters, Email Newsletters and new content on the website. The Program Committee is thinking about 'virtual' programming and ways all of us might connect with the several Class of '70 programs that were already 'under construction'. The Gift Committee sends thanks for the generous support we all have given the College in honor of our 50th thus far. The stories of how Mac changed lives and expanded horizons are probably no surprise, but they are truly moving. We know this crisis may bring new challenges to the College and we know we all will be there with support. 
Mac Friends, please know that we were all looking forward to seeing you in June. Now more than ever our friendships and connections matter. We have been making phone calls and writing letters to classmates all over the country and world. We all agree these refreshed and new connections have been a real gift. Now is a good time to reach out to your Mac friends for support and encouragement. And please don't put off posting your own  update on our Share an Update or Memory with Classmates page and adding your voice to the other pages on the right-hand side of this note. It is one way we can still 'see' each other and catch up on our lives. 
Perhaps, in the long run, our Class will become closer and our 50th celebrations more meaningful because of this challenge. We are all thinking about you and your families and friends. We lived through turmoil before and we know we are resilient. However, these times are unprecedented. Please stay safe, reach out to friends and be healthy. 
Your Reunion Chairs,
Mary & Peter
Share an update or memory with classmates!
The online form is now open for classmates to share an update or memory from your time at Mac. We look forward to hearing from you!
Recent submissions: Jim Burho, Peter Fenn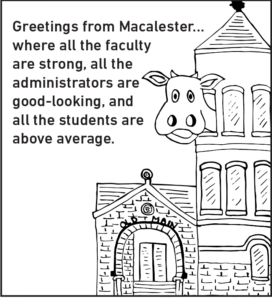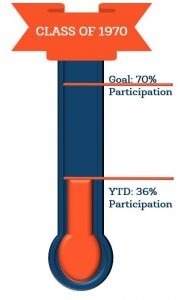 Help us reach our goal of 70% participation. Gifts of all size matter!
Overall Goal: $6MM
YTD: 73% to goal
Macalester Fund Goal: $500,000
YTD: 65% to goal
James Wallace Society Members Goal:
15% of class
YTD: 9% of class
Stay connected
Be sure to update your contact information with Macalester to ensure you receive important communications about the reunion. Most communication pieces will be sent via email, so Mac needs to have a valid email on file for you. You can submit your address update via MacDirect or to by email alumnioffice@macalester.edu
QUICK LINKS
Learn about Planned Giving at Mac
Remembering Classmates
Search the Archives
Share an Update
Show & Tell
SWAP Blog
Where Have You Been?