A trip down memory lane. Test your knowledge of what happened during our Freshman year by answering the questions below.
Trivia #1
According to an editorial in the September 25, 1964 Mac Weekly, Freshman orientation was quite a success. Praised were such innovations as "the Twin Cities bus tours, T.V. presentations, and more departmental programs." However, according to the writers, what important feature was missing?
Who returned to Macalester as a staff member in the fall of 1964? This person was a 1953 graduate of Macalester who after graduating studied at St. Mary's College, St. Andrew's University, Scotland, then Union Theological Seminary, New York, and later the Free University of Berlin.
What new building was dedicated on May 17, 1965?
Need a little help in finding the answers? View the Mac Weeklys below:
Mac Weekly – September 25, 1964
Mac Weekly – October 2, 1964
Mac Weekly – May 14, 1965
Trivia #2
A column in the September 17, 1965,  Mac Weekly stated the price for a package of of tickets to what event would cost $192 (plus $1.00 for mailing)?
The results of a survey released in the Oct. 15, 1965 Mac Weekly showed "YES, Macalester students have come out in favor, though not unanimously" to the distribution of what on campus?
A letter to the editor of the Mac Weekly April 1, 1966 suggested that the administration was not concerned enough about of a group of  679 students.  Which group was the letter writer referring to?
Need a little help in finding the answers? View the Mac Weeklys below:
Mac Weekly – September 17, 1965
Mac Weekly – October 15, 1965
Mac Weekly – April 1, 1966
Trivia #3
Which drama major classmate went on to be a production executive on, among other films, Grumpy Old Men, The Mighty Ducks, and A Perfect Storm? Hint: Directed Who's Afraid of Virginia Woolf as a senior project in February 1968?
See the answer below
Lynn Niederfeld Morgan is our production executive. Lynn had a 30+ year career in the film and television industry working her way up through the ranks.  attached file describes her directorial debut.Catch Lynn at Reunion. She is but one of our many classmates with great stories to share.
MacWeekly_February 16, 1968

Trivia #4
Which one of our classmates participated in the 1968 Winter Olympics in Grenoble? What sport and events were involved?
Trivia #5
According to the Sept. 15, 1967,

Mac Weekly which of our classmates was engaged to marry with the token of engagement being a red Schwinn bicycle rather than a ring? Find the answer here.
The Mac Weekly  Sept. 22, 1967 reported that there were the two "bad" regions of drug traffic in the Twin Cities?  What were those regions? Find the answer here.

What kind of collusion with the college administration was hinted at in the

The Mac Weekly, January 19, 1968? Find the answer here.
Extra bonus question:
Which of our classmates was nominated for the Nobel Peace Prize and in what year?
MacWeekly Articles from Classmates – A Look Back
SPAN article by Evelyn A. Early
September 29, 1967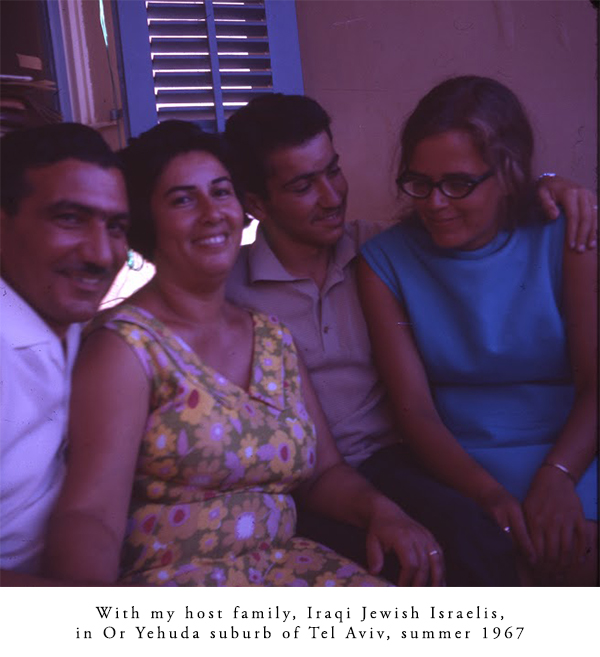 SPAN took me to Israel in summer 1967 to research relations between Middle Eastern and European Jews. After cruising Greek islands waiting for the '67 War to end, we arrived Tel Aviv with American Jews ebullient over Israel's victory. Though naïve then about the Arab-Israeli conflict, I did register Israeli annoyance that Americans celebrated the Sabra (native-born) triumph.
I roomed with women soldiers teaching literacy in a desert town. Kiryat Gat was proud of its "Glickson Quarters" designed to promote assimilation of recently arrived Middle Eastern Jews. In a Tel Aviv suburb, I lived with an Iraqi Jewish family. The mother was a kindergarten headmistress; the father, a director of education; the son, more nationalistic than many Sabras.
Back at Macalester, feeling alienated, I wrote: "Talking to people seems impossible . . . Now I understand why my boyfriend avoided me when he returned from SWAP."
SPAN launched me into Middle East anthropology with a master's on Lebanese Shi'a, a doctorate on traditional Egyptian women, and a post-doc on Syrian popular culture. After a decade of university teaching, I changed careers to become an Arabist diplomat, directing culture and media programs in embassies from Khartoum to Damascus.
Who knows what my "without SPAN" career would have been? To those who bought the SPANwiches we hawked Thursday nights, thank you!

Read Evelyn's Mac Weekly article written 50 years ago for more on her Or Yehuda experiences.
See SPAN colleague Jim Janetta's poem based on his SPAN encounters the same year – Mac Weekly – September 15, 1967 
Interim, Term Courses
How many of your Interim courses do you remember? Four, three? To help you recall these memories, view the PDF files below.
January 1966
January 1967
January 1968
A special thanks to Ellen Holt-Werle '97, library archivist, and Jayne Niemi '79, college registrar, for their help in providing archival information that helps us revisit our years at Mac. 
Note that a copy of the interim from 1965 was not found. If you have a copy of the document, please connect with Ellen directly – she would love to add this to the collection: holtwerle@macalester.edu