Class of 1970 Survey Results Program
We are pleased to provide this special zoom recording of the Class of 1970 Survey Program. The event was held on October 12, 2020. You can also download the survey results in PDF.
MacCafe: Conversations on Peace and Conflict Transformation with Martha McManus '70
Hear from Martha McManus '70 about her work empowering people to make a difference in our world. Martha is the 2020 recipient of the Charles J. Turck Global Citizen Award for her work to restore communication and resolve conflict in disrupted communities around the globe. This event was held on November 13, 2020.
Man & His World Discussion with Professor Henry West
We, the Class of '70, were the last Mac students privileged to experience and/or endure 'Man & His World' — a  daring educational experiment in its time. Watch for the first time or relive the discussion hosted by Jackie Hopkins Falk with Professor Henry West. This event was held on March 9, 2021.
View the Man & His World Survey Results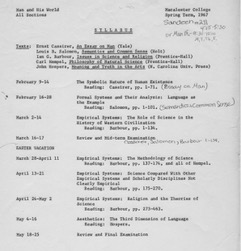 Stay up to date with the latest news and stories written by fellow classmates.