Dear Mac Class of '72!
Getting to 50 years is about to happen! Now What?
Seems like only yesterday we were standing on Grand Avenue, on the lawn, or in Old Main hoping to make a difference in the world. Here we are, 50 years later, with diverse experiences out of that shared time frame. Now What?
At the same time, it seems like ages since we've shared stories and experiences and seen the people we'd love to see and catch up with each other. Now What?
Our Class of 1972 50th Reunion is less than a year away. June 2-5, 2022. That chance to reconnect is within reach. We hope you'll save the date and stay tuned.
Now What? Looking Back—Moving Forward captures what to expect from Reunion 2022. Somebody pointed out most of us will be 72 when we celebrate our graduation from Macalester that took place in 1972… an ironic twist to a unique set of years both in our own histories and in the country's. 
In initial Reunion planning meetings, team members reminded each other of how much change we saw at Macalester: mandatory chapel to co-ed dorms, the initial steps toward a more diverse campus, and a sharper focus on what it means to be a global citizen.
Changes haven't abated during our lifetimes. And all signs point to it continuing at a rapid pace.  We want to celebrate that, reflect on that, and, yes, be a part of what's next.
Now What? Looking Back—Moving Forward. Most of all we think you'll want to see friends, laugh, share and be inspired for the years to come. We're building the weekend around that idea. Plus, there'll be updates from the college and time to hear from today's Macalester leadership, students, and staff. 
We look forward to engaging with you in the run-up to Mac Reunion 2022. Most of all, we look forward to seeing all of you in person that weekend and getting back in touch after so long. Make plans now to join us and to stay tuned in the weeks and months ahead.
Anne Lewis and Paul Olson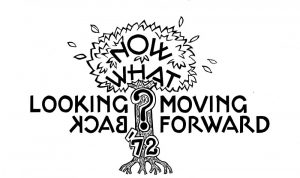 Class Information
Stay Connected
Be sure to update your contact information with Macalester to ensure you receive important communications about the reunion. Most communication pieces will be sent via email, so Mac needs to have a valid email on file for you. You can submit your address update via MacDirect or to by email to alumnioffice@macalester.edu