Join us for a special insider opportunity to learn about Macalester student leadership during a pandemic. Take part in live virtual programming and explore a specially curated collection of student videos, podcasts, and performances created during the last year.
Zoom links to the live virtual sessions and the link to the recorded content will be sent by email closer to the event date.
If you have any questions or prefer to RSVP by email or phone, contact Dorothy Jordan at djordan2@macalester.edu or 651-696-6855. We hope to see you on June 23 and 24.
Schedule of Events
Wednesday, June 23
Noon – 1:30 p.m. CDT (via Zoom)
Brief welcome and senior staff updates
"Student Leadership at Mac"
Faculty/staff panel Q&A hosted by Rick Grubb '73, Trustee

Duchess Harris, Professor, American Studies
Donnie Brooks, Athletics Director
Hana Dinku, Director of Diversity Education, Leadership & Inclusion, Department of Multicultural Life (DML)
Laurie Adamson, Director, Office of Student Leadership & Engagement (OSLE)
3:15 – 4:30 p.m. CDT (via Zoom)
"Ethnic Studies and Campus Activism"
American Studies pilot course with Professor Duchess Harris and Hana Dinku from the Department of Multicultural Life

Featured speaker Shelley Carthen Watson '82, Trustee Emerita
Thursday, June 24
Noon – 1:15 p.m. CDT (via Zoom)
Group conversation with Professor Duchess Harris and students. Q&A moderated by Andrew Brown, Vice President for Advancement

Opportunity for participants to debrief, commune, and reflect on the panel, class, and recorded student content
Learn about ways to support and engage with students as volunteers, donors, and career helpers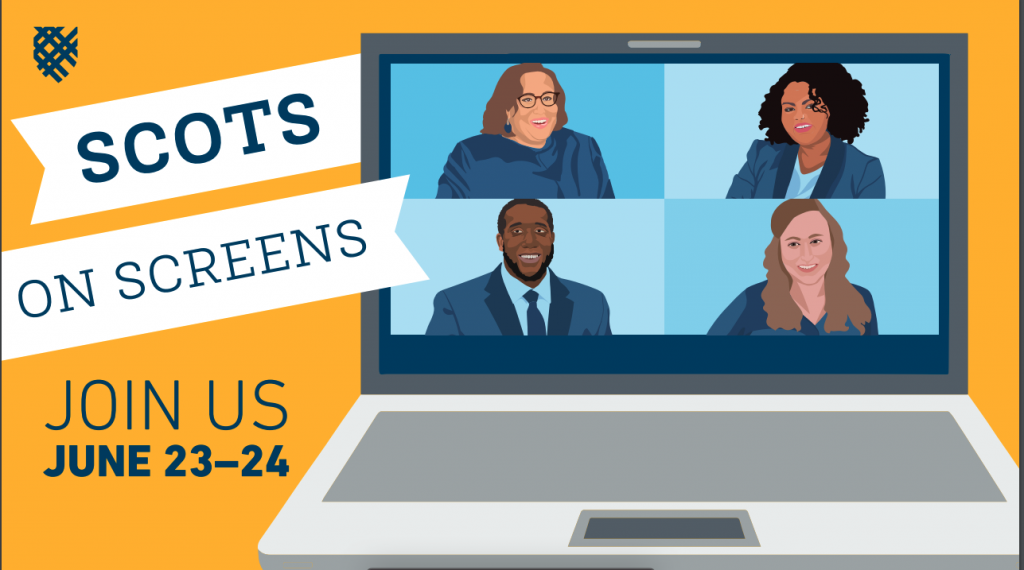 We're excited to welcome you to participate in a panel of faculty and staff leaders as a part of Scots on Screens. Below is a sneak peek of some of the faces from the departments that will be featured. Click on the thumbnail to learn more about them and what they love about the work they do at Mac.
Session Recordings
Event Preview Videos