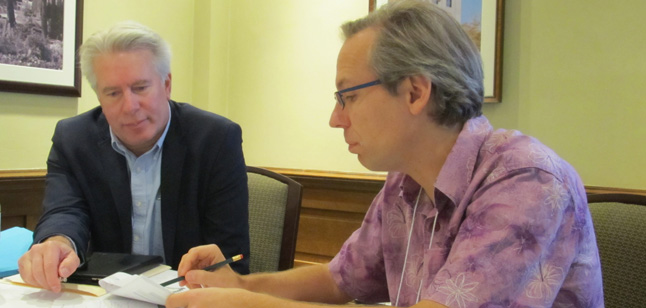 Please join us for a new term of Talking About Teaching, a weekly series (Friday 12:00-1:00 PM) where faculty gather together to discuss teaching, learning, students, and other related topics. Discussion leaders will share an experience, frame a question, or introduce an idea to get the discussion started. Lunch will be provided and no RSVP is necessary.
January 19 – Patrick Schmidt (Political Science)            
"Recording Devices in the Classroom: Proposing a New Policy for Macalester"
Before the Fall semester started, the Department of Political Science adopted a policy prohibiting recording devices in the classroom, except for disability accommodations or with the consent of the instructor.  Then, as a group project, the students in Patrick Schmidt's Information Policy class surveyed the field and proposed a full policy for the college, which has been forwarded to EPAG for discussion.  In this hour, we'll look at the issue, what the students proposed, and discuss the next steps.
January 26 – Julie Rogers (French and Francophone Studies and Rebecca Wingo (Mellon Post-doc)
"Digitizing Empathy: Literary Analysis Projects in FREN 306"
Julie Rogers and Rebecca Wingo will talk about their project to add a digital humanities component to the final project for French 306, Intro to Literary Analysis, a course that has traditionally been the introduction to the French major, with a focus on argumentative writing in French and a survey of topics covered in upper level courses (French and Francophone film, literature, theory, history, and culture).  This fall, they piloted a digital humanities component as part of the students' final project for the semester.  This session will begin with an overview of the strategies they used to introduce the project to students with little or no background in using digital tools, and then will open up for a general discussion about other methods available to bring these projects to other courses on campus.
February 2 – Paul Cantrell (Math, Statistics, and Computer Science)
"Handling Screen Time During Class Time"
Should we allow laptops in class?  Despite the temptation, there is good reason not to ban screens outright: they are indispensable for many students with disabilities, and all of us need to develop the skill of remaining engaged with our fellow humans even in the presence of technology.  I will share what I have learned from teaching computer science classes in which screens are a necessity.  This includes practical classroom tactics as well as philosophical strategies for framing the problem in ways that protect both student learning and teacher sanity.  Bring your own doubts, hopes, and strategies to share.
February 9 – Nancy Bostrom (Assistant Director of Assessment) and Paul Overvoorde (Associate Dean of the Faculty)              
"Incoming student perspectives on the liberal arts and Macalester"​
What do incoming Macalester students perceive as advantages and disadvantages of a liberal arts education?  What's a subject first years have never taken but are excited to explore?  How do these starting students intend to chart their academic path through Macalester?  During orientation this year, we asked incoming first year students to share their perspectives on these, and related, questions.  We'll begin this session with a summary of responses and then open the floor for a discussion of how these responses might inform your work.  We'll conclude by considering next steps, and welcome your input into these plans.
February 16 – Ron Barrett (Anthropology)
"Teaching and Directing a Study Away Program in Tanzania"
Ron Barrett will discuss his recent experiences serving as faculty director and field methods instructor for the ACM study away program in Tanzania.  Considered the most challenging of the ACM programs, the Tanzania program is remarkable for close instruction over an extended semester and 1:1 faculty advising and supervision of student field research in ecology, cultural anthropology, archaeology, and geology.   Last Fall, the Tanzania program underwent substantial changes in setting and staff, presenting some unique opportunities as well unique challenges.
February 23 – Jessica Pearson (History) and Britt Abel (German Studies and Serie Center)
"Teaching Trauma: Visiting Sites of Genocide with Students"
What is it like to take students to emotionally challenging historical sites?  What are best practices for preparing students for these types of visits, and what are the best ways to help them process their experience afterwards?  What can students gain from the onsite experience that is distinct from classroom discussion and research?  Join Jessica Pearson (History) and Britt Abel (German Studies) to hear briefly about their experiences bringing students to Dachau and Auschwitz on study away trips. Come share your thoughts about visiting sites of trauma and the role that these experiences play in/outside of the classroom.
March 2 – Bret Jackson (Math, Statistics and Computer Science)
"Supporting cross-curricular connections through data visualization"
Have you ever wondered if there are better ways to connect what students are learning in your class with other classes across disciplines?  Are there ways, as professors, we could collaborate better to support student learning?  In this talk, I will discuss a computer science data visualization course I taught last fall. I will present ideas that I have for improving the course by supporting cross-curricular connections to provide compelling "real-world" projects.  Join us for an open discussion on how to facilitate these types of learning.
March 9 – Andrea Kaston Tange (English)
"Talking Practicalities: Futures for Humanities Students"
Given the very reasonable question "what will I do with my degree once I leave Macalester?" the English Department launched what has grown into a monthly series to help students better understand avenues open to them.  Focusing on practical issues of resume building, job searching, graduate-school application, and interview skills, the series places all of this in the context of helping students articulate the value of humanities study and how their own interests might be parlayed into finding jobs they actually wanted to do.  Today's Talking About Teaching session will outline both the conceptual goals of the series and some of the practical considerations in running it, bring examples of activities, and open discussion of how best to mentor our students through the transition between college and career-seeking.
March 23 – Tina Kruse (Educational Studies) and Karin Trail-Johnson (Civic Engagement Center)
"Connecting the Dots: MacVitae as a tool for integrated and transformative learning"
Students who make connections across their curricular and co-curricular paths become lifelong learners, ready for lives of meaningful engagement in the workplace and in civic life.  "MacVitae" is Macalester's learning e-portfolio, a tool to help students make such connections and reflect on their meaning.  We'll describe the pilot project that has informed this tool, show examples of students' e-portfolios and equip faculty and staff mentors with ways to support students' integrative learning using MacVitae.
March 30 – Christie Manning (Environmental Studies)
"Would you invite Sarah Palin or the Koch Brothers to your classroom?"
Most would agree that there is value in engaging in discussion with people whose ideas conflict with the majority views here at Macalester.  Yet, it is not without risks.  Under what circumstances should we open our classroom to an outside speaker whose worldview may offend, or whose words are at odds with the fundamentals of our teaching and scholarship?  If we invite a potentially controversial speaker to our class, how do we prepare students for the visit ahead of time, and how do we best work with students afterward to be sure the visit served its purpose?  Professor Manning will kick off this discussion with an anecdote about a controversial class visitor to a Fall 2017 course.   Most of the session will be left for conversation and debate.
April 6 – Zeynep Gursel (International Studies) and Ellen Holt-Werle (Library)
"A Felicitous Collaboration: Macalester Archives as Inspiration"
How can you make theory resonate with students when the material assumptions embedded in theoretical arguments are changing?   How might faculty and students use Macalester's archive as a jumping off point for creative projects?  How can creative practice enhance a class that focuses on histories and theories?  What can we add to our college archives today that will meaningfully represent something of our present moment to future generations?  Macalester Archivist Ellen Holt-Werle and Zeynep Gürsel in International Studies will talk about Macalester's collection of turn of the century scrapbooks and a collaborative teaching experiment they've conducted over the last five years that addresses these questions and more.  We invite you all to a conversation about experimental assignments, compelling archives and felicitous collaboration.
April 13 – Vittorio Addona (Math, Statistics and Computer Science and Chair of the General Education Requirements Committee – GERC)
"Examining the rubrics for QT longitudinal assessment"
The revised Quantitative Thinking (QT) requirement took effect in AY 2014-15.  As part of the assessment of this general education requirement, teams of faculty have developed draft rubrics for questions posed to students both as they entered Macalester and after they completed the QT requirement.  This coming May, a scoring panel composed of faculty will apply these rubrics to student responses.  We invite you to this poster-style session to interact with, and provide feedback to, GERC and the faculty who developed these rubrics.  Come see the questions asked of students and share whether you think the rubrics capture what faculty expect for a given QT learning goal.  Whether you teach a QT course or not, your perspectives on this college-wide requirement are important and welcome.
April 20 – Dianna Shandy (Anthropology) Julie Rogers (French and Francophone Studies) and Kate Larson (Career Development Center)
"Teaching the Language of Diplomacy"
What is the role of vocation in a liberal arts education?  How do departments, mainly in the Humanities and Social Sciences, who do not have explicit career paths demonstrate so-called "value" to students and parents?  How do we center foreign languages in conversations about internationalizing our campuses in an era where English is the language of globalization?  And how do we better integrate off-campus study with on-campus learning?  These are some of the questions that prompted us, an Anthropology and a French and Francophone Studies professor, to develop a co-taught course called The Language of Diplomacy, which combined a semester-long on-campus study with a two-week faculty-led study away program to The Hague, Geneva, Marseille, and Paris.  These are also the questions that forged a productive partnership between our course and the Career Development Center.
April 27 – David Moore (International Studies)
"Teaching Barack Obama on the Global Stage"
This semester Professor Moore is teaching a new International Studies topics course: "Barack Obama on the Global Stage."  The course focuses on 21 speeches that Obama gave across the world from 2008 to 2016, in Accra, Ankara, Berlin, Buchenwald, Cairo, Cape Town, Havana, Hiroshima, and more.  Moore will discuss the genesis, structure, and format of the course, how it has been going thus far, what it means to teach such a course to students who were generally aged 10 to 20 during the period we cover, what it means to teach it in the shadow of the current rather different U.S. administration, how we address issues of race and biography, the domestic and the global, and more.  The audience will have plenty of time for robust Q&A.