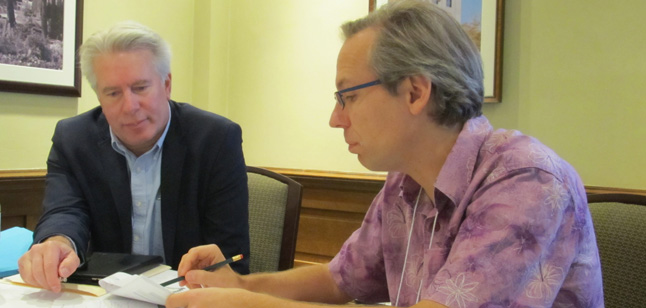 Please join us for a new term of Talking About Teaching, a weekly series (Friday 12:00-1:00 PM) where faculty gather together to discuss teaching, learning, students, and other related topics. Discussion leaders will share an experience, frame a question, or introduce an idea to get the discussion started. Lunch will be provided and no RSVP is necessary.
January 25 – Serie Center
"Forming Working Groups to Discuss Pedagogical Issues"
Join us for an interactive session to generate ideas around a new Serie Center initiative, Talking about Pedagogy. This new program will support small groups of colleagues reading and discussing pedagogical issues of common interest. Whatever your interest–active learning, leading discussions, gamification, universal design, civic engagement, you name it!–we will help you find others with similar interests. We will use today's session to identify topics, to form groups, and to plan next steps. You can also submit ideas here.

February 1 – Ashley Nepp (Geography)
"Creating Space to Create: Teaching technologies you don't know"
As a practitioner it is difficult to keep up with the ever-changing landscape of web-mapping platforms, programming languages, and data visualization tools. As an educator, there are even more challenges when teaching new technologies; it can be overwhelming to try to learn them all, or choose which one(s) to use in your course.  Here at Mac students have vastly different skill and comfort levels with technology, and a strong desire to tailor course projects to their interests. A one-size-fits-all approach often limits the creativity and learning potential of our students. This presentation highlights strategies used in an Advanced Cartography & Geovisualization course which incorporates a variety of technologies, most of which the instructor has limited experience using. These strategies can be applied to a broad range of technologies, assignments, and courses; and will (hopefully) inspire you to fearlessly explore new technologies with your students!
February 8 – Christie Manning (Environmental Studies)
"Are we adequately preparing our students for a climate changed world?"
Evidence continues to mount that solving the climate crisis is the most complex and urgent challenge of our time. Despite its significance, and its clear connections to our mission as an institution, climate change does not fit neatly into most of our course syllabi. How, across our various disciplines, might we think about preparing our students for this monumental challenge?
February 15 – Arjun Guneratne (Anthropology), Susan Green (Chemistry), Hannah Ramer (Environmental Studies)
"Teaching about Food and Agriculture"
Interest in food and agriculture at Macalester has grown dramatically over the past 15 years, prompting new courses and even a new concentration in Food, Agriculture, and Society. But what changes in a classroom when you use a cookbook as the textbook in a Chemistry course? What does it mean to use food as the primary vehicle to understand other cultures, or to use farming as a lens to make sense of environmental change? Join us for a lively roundtable discussion of some of the ways that people are using food and agriculture to rethink what they do in the classroom.
February 22 – Lisa Lendway (Mathematics Statistics, and Computer Science)
"R….It's not just about statistics anymore"
Many of you may know R as a statistical computing software. It is that, but it's much more! The RStudio IDE, which was released publicly nearly ten years ago, gives us a way to interact with R more pleasantly. It also allows us to easily create documents that incorporate text, code, and output from the code including beautiful tables and graphs, all in a reproducible way. There are even tools that we can use to make interactive tables and graphs! If you teach a class where students do statistics, make graphs, create tables, include images in documents, use symbols or mathematical notation in writing, then using RStudio might be beneficial. My goal of this talk is to show those of you who have not used R yet how easy it can be and hopefully to illustrate some new techniques to those of you who already use it.
March 1 – Andrea Kaston Tange (English) and Chris Wells (Environmental Studies and Serie Center)
"DLA @ Mac"
The Mellon Foundation recently awarded a generous grant to Macalester College, which includes a variety of faculty development opportunities in the Digital Liberal Arts. Whether you are already a savvy developer of digital projects or are simply curious about whether going in digital directions might be right for your research or classes, there is support for you. What sorts of opportunities will the grant enable? What will these opportunities mean for our scholarship and teaching? What would you most like to see made possible through this grant? Join the current and soon-to-be Directors of Digital Liberal Arts, for a wide-ranging discussion about the opportunities and challenges that lie ahead.
March 8 – Laura Smith, Kelsey McDonald, and Ashley Nepp (Geography)
"The Benefits (and Perils) of Group Work: A Conversation"
Do you love the idea of building camaraderie and fostering teamwork in your class but aren't quite sure how to do it? Have you ever thought you would like to assign a group project but were uncertain about how to structure the groups or frame the assignment? Are you sold on the benefits of group assignments, but can't figure out a fair way to grade them? Bring your questions, your stories of success and failure, and your ideas as we discuss the benefits (and perils) of assigning group work in our classrooms.
March 15 – Ron Barrett (Anthropology), Liz Schneider Bateman and Steph Walters (Laurie Hamre Center for Health & Wellness)
"Mental Health at Macalester"
Join us for an update regarding Macalester student Mental Health, including trends in students seeking services, Health and Wellness Center and wider campus approaches to mental health promotion, and updates on the newly created Mental Health Task Force. We will also engage faculty in a discussion about strategies they can implement toward a goal of student and community well-being.
March 29 – Britt Abel (German and Russian Studies and the Director of Writing
"Talking About Teaching: Diversity, Equity, and Teaching Writing"
How do issues of equity play out in the writing classroom and what can we do to create an equitable writing environment for our students? How might some of the ideas from our Transforming Macalester, Transforming Ourselves apply to the teaching of writing? Join Director of Writing Britt Abel for a discussion (come ready to talk with your colleagues!) followed by some simple tips on how to build equity into your writing instruction.
April 5 – Paul Cantrell (Mathematics, Statistics, and Computer Science)
"Notes from a Team Project Success Story"
Group work can create some of college's most rewarding experiences, but can also elicit dread from students and professors alike. The Computer Science program has found success with group work in Software Design and Development, a perennially popular course that focuses on semester-long team projects. Paul will walk through the mechanics of the course, and share some of the teaching strategies that help it succeed. He will also talk about the compromises the course's approach to group work requires, and the pedagogical limits of its approach. There will be demos of student software!  All faculty welcome.  Lunch will be provided.

April 12 – Paul Overvoorde (Associate Dean of Faculty) and Nancy Bostrom (Associate Director of Assessment)
"Rising Sophomore Voices: course choice, major selection' and their first year experiences"
On Assessment Day in fall 2017, incoming first year students were asked about their definitions and perceptions of the liberal arts, as well as their approach to their time at Macalester. This past August, as these same students entered their Sophomore year, they were asked to reflect on aspects of their first year in college. We'll share data about what these rising sophomores told us about their first year at Macalester, how they approached choosing courses, and what factors were important for selecting a major and the timing of this declaration. Please join us to share your perspective on what these data tell us about our students.
April 19 – Ernie Capello (History) and Daniel Bryan (Civic Engagement Partner)
"The Machankara Oral History Project: International Civic Engagement in the Andes"
In the fall 2018 semester, Ernie Capello's History 281 class (The Andes: Landscape and Power), collaborated with two institutions in Ecuador, the Pachaysana Institute and the Casa Machankara, to develop an environmental oral history project.  This session will feature Pachaysana director Daniel Bryan and will present an overview of the project, samples of student work including a children's book, and, with eyes on the future, share lessons learned related to both obstacles and possibilities of international civic engagement.
April 26 – Devavani Chatterjea (Biology), Olga Gonzalez (Anthropology), Linda Sturtz (History) and Paul Schadewald (Civic Engagement)
"Making Effective Use of Field Trips: A Conversation"
What role can field trips, community visits, and urban engagement play in a liberal arts education? How can you design field trips that are ethical and that meet your course's learning goals and priorities? How do you prepare students, find sites, and manage logistics? Bring your questions and concerns, your stories of success and failure, and your ideas for a wide-ranging discussion about making effective use of field trips in our courses.
May 3 – Chris Wells (Serie Center)
"The Multi-disciplinary, Team-taught FYC Initiative: An Opening Discussion"
In this Talking about Teaching, Chris Wells will share information about the innovative "round robin" first-year course opportunity that Provost Karine Moe announced in the last faculty meeting. Supported by funding from the new Mellon Making Meaning grant, the goal of this course is to expose first year students to different ways of understanding a common issue or topic from multiple disciplinary perspectives. Three faculty from different divisions will propose a first-year course on the same theme. Over the semester, students will rotate through each faculty member's section of the course. A course with this format will be offered twice, first in Fall 2020 by one team of faculty, and by another team focused on a different issue or theme in Fall 2021. Please come to learn more about this opportunity and brainstorm ideas for engaging our students–and one another–across disciplines and disciplinary ways of knowing.