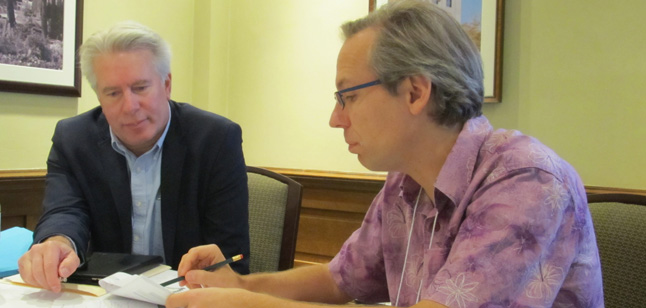 Please join us for a new term of Talking About Teaching, a weekly series (Friday 12:00-1:00 PM) where faculty gather together to discuss teaching, learning, students, and other related topics. Discussion leaders will share an experience, frame a question, or introduce an idea to get the discussion started. Lunch will be provided and no RSVP is necessary.
September 7 – Rivi Handler-Spitz (Asian Studies)
"Disturbing Content, Opt-Out Assignments, and Trigger Warnings: Leaning into the Challenges"
When students seem reluctant to engage with disturbing material, well-meaning professors too often cater to their preferences, shielding them from what they'd rather not confront. Handler-Spitz describes an encounter with a Mac student that challenged both teacher and student to rethink their positions. She also discusses the collaborative process of transforming this experience into a graphic novelette that was recently published in Inside Higher Education.
September 14 – Olga Gonzalez (Anthropology)
"Teaching and Advising: A Fruitful Partnership"
Advising has gained explicit recognition in recent years in Liberal Arts Colleges nationwide. At Macalester faculty development activities were offered in support of the Year of Advising (2016-2017). Does the emphasis on advising suggest this critical component at the intersection of teaching and learning had been neglected and/or had gone unappreciated or taken for granted in academic institutions until fairly recently? In this talk, Gonzalez, last year's winner of the Rossmann Excellence in Teaching Award, reflects on how advising in and outside the classroom benefits the teaching and learning process of students. She will share advising experiences to show the importance of teaching in our role as advisors and the importance of advising in the classroom as teachers. She will also discuss the value of adjusting advising styles according to the situation and the needs of each student.
September 21 – Cari Gillen-O'Neel (Psychology), Lesley Lavery (Political Science), and Leah Witus (Chemistry)
"Stories of Inclusivity in my Research and Teaching" (Co-sponsored by the Serie Center and the Kofi Annan Institute for Global Citizenship)
Creating a more inclusive campus constitutes a major focus for Macalester during the 2018-2019 AY, including during the Fall Academic Issues Retreat (FAIR) on September 28-29. Many faculty members already strive to create just and inclusive environments in their teaching, advising, and scholarship. We will ask a few such colleagues questions including: What motivates them? What benefits or rewards have accrued as a result of their efforts? What challenges have they experienced? This program will feature the experiences of three faculty members who will share their stories about why they are committed to campus inclusivity and how they put those commitments into practice.
September 28 – Coco Du (Residential Life), Melissa Fletcher (Disability Services) and Brian Carlson (Grants, Foundations, & Corporate Relations)
"Just One Thing I Wish Faculty Knew"
Three of Macalester's staff members share "just one thing" they wish faculty knew about the programs they run, the scholarly research undergirding their work with students, or they ways they would like to work with faculty. Join us for this view of collaborative teaching, learning, and scholarly research from the perspective of our newest staff colleagues.
October 5 – Peter Bognanni (English), Lesley Lavery (Political Science), Michelle Moylan (Career Development Center), and Tonnis ter Veldhuis (Physics and Astronomy)
"How 'MacConnect' Trips Enrich Teaching and Advising"
The Career Development Center's "MacConnect" program takes groups of students to cities across the country to explore particular career paths. During last year's trip to Los Angeles, students learned about careers in arts and communications. Students clearly benefit from the unique fusion of career discovery and alumni connections provided through the program, but the trips also enrich the academic life of the college through the experience of the faculty participants. Three faculty members who have traveled with MacConnect students provide answers to the question "How does a MacConnect trip enrich teaching and advising?"
October 12 – No program. Please attend the International Round Table.
October 19 – Andrew Latham (Political Science)
"Teaching Conservative Political Theory at Macalester"
Macalester has a well-deserved reputation as being a liberal/progressive liberal arts college. So what happens when a course is offered that explicitly introduces students to a radically different political orientation (conservatism) — especially in the current era? Join Latham as he describes the experience of teaching conservative political theory both before and after the election of President Trump.
October 26 – No program. Enjoy fall break.
November 2 – Brian Rood (Psychology)
"Those Who Can, Do; and Those Who Can't, Teach? Considerations for Integrating Teaching and Practice"
A prominent psychologist recently published an opinion piece in the New York Times entitled, "Those Who Can Do, Can't Teach." He asserted that "the best experts sometimes make the worst educators." As experts in our respective disciplines, this would imply that some of us are not effective educators; or is it that, as effective educators, we are not as competent as we believe in the practice of our disciplines? Rood will present briefly on the ways in which he uses his work as a researcher and clinician to inform his teaching—and vice-versa—of PSYC 374: Clinical and Counseling Psychology, with a focus on LGBTQ mental health. He will then lead a discussion about (1) how we integrate teaching and practice, (2) consider possible assumptions and biases regarding our teaching approaches, and (3) finally attempt to answer the question: Can we both do and teach well?
November 9 – Terry Boychuk (Sociology)
"Portraits of Macalester Students, III: Civic Engagement, Health and Wellness, and Social Networks"
In the spring of 2018, the Sociology Department's survey research class canvassed Macalester students to gauge the extracurricular activities of the student body, their sense of mental and physical health, and the origins, nature, and extent of their friendship networks. To what extent do students engage with the surrounding community? Which students are more likely to devote themselves to volunteering in the community? And under, what auspices? How do students rate their mental and physical health? How do they manage their health concerns? To what extent do students have to balance the work of maintaining relationships with their fellow students and of maintaining their social networks from their communities of origin? How do Macalester students forge bonds to other students on campus? How closely connected to Macalester do students feel? And time permitting, a short introduction to the social media use of Mac students will round the presentation of survey results.
November 16 – Brad Belbas (Academic Information Associate) and Brian Lozenski (Education Studies)
"Video Storytelling in the Macalester Classroom"
In 2015, three Macalester faculty and staff hosted an ACM workshop designed to help faculty integrate digital storytelling into our courses. They argued that digital media techniques, when embedded in liberal learning, could "catalyze new forms of inquiry and dialog" and provides an alternative modality to the traditional term paper for meaning making through narrative. How have faculty used these new pedagogical tools and with what results in the classroom? Have learning outcomes for students justified the learning curve and time costs for faculty? Join us as we look at this important new educational tool.
November 23 – No program. Enjoy Thanksgiving break.
November 30 – Andrew Billing, (French and Francophone Studies and chair of GERC)
"What Can we Learn from our Recent Assessment of the Quantitative Reasoning (QT) Requirement"
The revised Quantitative Thinking (QT) requirement took effect in AY 2014-15. As part of the revision process, a roundtable of faculty designed questions that aimed to reveal student's understanding of QT topics. Students answered these questions both as they arrived at Macalester and after they completed the QT requirement. In May 2018, a panel of faculty used rubrics developed during the spring term to evaluate and score student responses. The members of the General Education Requirements Committee (GERC) invite you to learn about the findings, hear preliminary recommendations from GERC, and to discuss this college-wide QT requirement. Whether or not you teach a QT course, your participation as a faculty member is welcomed and encouraged.
December 7 – Ron Barrett (Anthropology)
"Civic Engagement at the End of Life"
Barrett will discuss how he built on his experience as a former hospice nurse to teach a civic engagement course in Death and Dying in which students work as trained hospice volunteers while also learning in a seminar-style classroom environment. He will highlight key lessons regarding the challenges and opportunities presented by this course over the last fifteen years, and discuss some methods for integrating experiential learning with traditional "book learning." And finally (pun intended), Ron will make a pitch for curing young people of their immortality so they can better appreciate their lives.