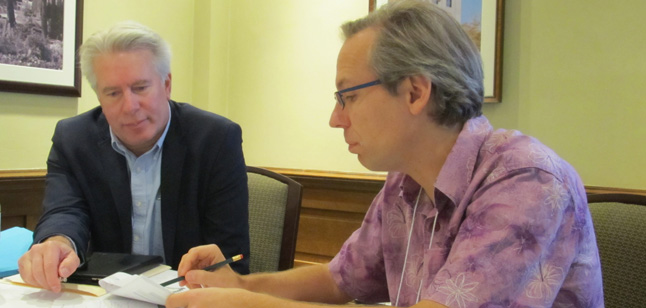 Please join us for a new term of Talking About Teaching, a weekly series (Friday 12:00-1:00 PM) where faculty gather together to discuss teaching, learning, students, and other related topics. Discussion leaders will share an experience, frame a question, or introduce an idea to get the discussion started. Lunch will be provided and no RSVP is necessary.
September 8 – James Heyman (Physics & Astronomy)
"Why We Do Labs"
The most creative aspect of my teaching career at Macalester has been to build and restructure our experimental physics program with my colleagues.  Experiments are central because they put students in direct contact with the physical world.  I'll talk about the program we've built in Physics and focus on one example – Chaos – to illustrate the power of labs to teach.
September 15 – Britt Abel (German and Russian Studies)
"What's at Stake in Low-Stakes Writing"  
After reading Gary Hafer's Embracing Writing a few years ago, I realized that I had become complacent about the ways I used writing in my courses. I decided it was time to re-think-to consider how to infuse my classes with more low-stakes writing and how to build a culture of writing among my students.  I'll give you some concrete examples about the changes I made, and along the way, we'll talk about what low-stakes writing actually is, why it's important, and how it can help your classroom discussions. We'll also have time for discussion and sharing tips on low-stakes writing in the classroom.
September 22 – Laura Linder-Scholer (SVP Program Coordinator and Title IX and Equity) and Liz Schneider-Bateman (Mental Health Counselor) 
"In Class or Your Office: How to Respond When a Student Shares their Sexual Violence Experience"
This summer, a focus group of faculty, staff, and student survivors of sexual violence collaborated to create a faculty-specific resource guide on how to respond to a disclosure and support student survivors in the classroom.  What do you say, in that moment, when a student shares a traumatic experience?  How do you respond, in the classroom or one-on-one in your office?  We'll discuss helpful language and skills, practice ways to respond, and share ideas and resources for how to support student survivors.
September 29 – Lesley Lavery (Political Science), Wendy Weber, (Political Science), Katie Phillips (History), Ariel James (Psychology), and Lisa Lendway (Mathematics, Statistics, and Computer Science) 
"Does 'First Name Calling' Undermine Female Faculty Member's Professional Credibility?"
Does Macalester's "culture of aggressive informality" and the widespread practice of students calling us by our first names ultimately hurt female faculty members' professional credibility?  Does it undermine students' respect for their professors who are women of color?  Erode a pre-tenure female faculty member's authority?  What about women with a slight build?  Join us for an open, round table discussion on these important questions.
October 6 – Adrienne Christiansen (Political Science and Director of Serie Center) and Ann Minnick (Academic Programs and Advising) 
"'Something Important is Happening Here:' Macalester Pathways and First Generation Students"  
Today's speakers spent the last two years as part of a taskforce responsible for building a pilot bridge program for incoming first generation students.  The program called "Macalester Pathways," launched in summer 2017 and was co-led by Christiansen and Minnick, along with Professors Brian Lozenski and Ruthanne Kurth-Schai of Education Studies.  What did we learn about Macalester's first generation folks through this process (students, faculty, and staff) and how did we determine the program's goals?  How did students in the first cohort respond?  Please join us as we discuss Macalester Pathways and some of the ways it changed us.
October 13 – No Program, please attend the International Round Table
October 20 – Wendy Weber (Political Science)
"My Summer in the Hague – And Maybe Yours"
Weber will provide background on Macalester's Perspectives on Globalization Program, in which students grapple with major questions such as human rights, urban diversity, and global governance. She will share her experience being at The Hague and teaching the program's summer seminar in 2012 and 2017. She'll also talk about the process for applying to teach the summer seminar in coming years. What a great opportunity this can be for you or other faculty members who have different teaching areas and interests.
October 27 – No Program – Fall Break
November 3 – Eric Mosinger (Political Science) and John Fleischer (Art and Art History)
"Creating Inclusive Classrooms for Conservative Students/Introducing Controversial Subjects in Class"
Macalester students readily agree that they trend strongly "left" in their political orientation.  In contrast, conservative students say their heterodox views make them social outcasts, even pariahs on campus.  They report that it is often easier to remain silent in class rather than join a discussion and open themselves to ridicule by their classmates.  Today's program is meant to jointly explore ways to make our classrooms truly inclusive by making space for conservative students to share their perspectives in discussions.  We will also discuss ways that faculty members can introduce controversial subjects during class without inadvertently shutting off discussion or inviting a free for all.  Professors Mosinger and Fleischer will kick off this round table discussion by raising questions and describing approaches they have tried.  Please come ready to discuss your own experiences and share strategies for addressing these important topics.
November 10 – Jacqueline Schiappa (Mellon Post-Doc Fellow) and a panel of Max Center Writing Tutors
"Tales from the Tutors:  Insights on the Student Writing Experience"
The writing tutors at the MAX Center immerse themselves in Macalester's writing culture, working with hundreds of students every year and engaging with every discipline, course level, and assignment type.  They know the student writing experience inside and out. As a result, these tutors have gained insights into the varying expectations of faculty members across campus.  Frequent close interactions with diverse assignments and student writers position the tutors well to help us better understand what students need to succeed.  What advice do they have that could help faculty teach writing more effectively?  The presentation will conclude with 20 minutes dedicated to Q&A.
November 17 – Aaron Albertson, Ron Joslin and Ginny Moran (Library)
"Academic Integrity in Real Life:  When Good Intentions Go Bad"
None of our students set out to be academically dishonest, but things go awry.  Deadline pressures, desire for good grades, poor planning, easily available online answers, not knowing where to draw the line between collaboration and individual work…These are all points at which students sometimes make a poor choice and do something that is not in their best academic interest.   Moran will talk about the work she does with students who find themselves in this situation and are referred to complete "the academic integrity module," and what that means.  She will also show a new resource available for the Macalester community to foster classroom conversations about the gray areas of academic integrity and how you might use them in your classrooms and in your advising.  Bring your questions and concerns for conversation.
December 1 – Laura Phillips-Mao (Biology), Brian Johnson (Russian Studies) and Stephanie Farmer (Linguistics) 
"From Mac Student to Mac Faculty Member: What I Learned About Myself, My Students, and My Alma Mater"
Today's speakers were at one time Macalester students and now are non-tenure track faculty members.  How has Macalester and its student body changed since our panelists sat in the classrooms? What changes in pedagogy or faculty-student interactions have they observed? Are today's students *really* more conservative than in the past? What have they learned about themselves in returning to take faculty positions at their alma mater? And what have they learned about Macalester? Join us for what promises to be an insightful and engaging program.
December 8 – Jacqueline Schiappa (Mellon Post-Doc Fellow)
"How do you grade a student protest?"
Last spring, a group of students organized an anti-racist action group named Stop White Noise, prompting quite a bit of debate amongst students on campus.  Perhaps you read about them in the Mac Weekly here, or here, or on the right wing website CampusReform.org.  This presentation recounts the classroom activities that (inadvertently) prompted the creation of Stop White Noise (SWN), what happened throughout SWN's organizing process, how students handled online backlash, and how the instructor navigated assessing a student-led protest.