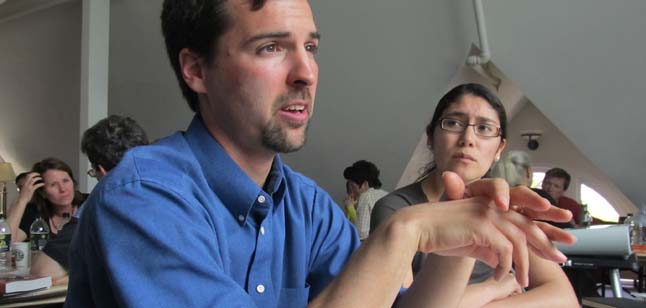 Throughout the academic year, as part of its regular "Talking About Teaching" series, the Serie Center invites faculty to share their experiences with the teaching of writing. And each year during the Spring Professional Activities Workshop (SPAW), the Serie Center and the Academic Programs Office team up to offer an exciting and intensive two-day "Teaching Writing Workshop" for which we bring to Macalester some of the country's most well-known leaders in writing pedagogy to share their ideas and expertise.
The workshops offer faculty an opportunity to reflect on and test their own perspectives on what it takes to develop students' writing habits, intellectual discipline, and critical argumentative skills. More importantly, they provide faculty with practical tools for supporting student writing throughout the writing process.
For example, the workshops provide faculty with strategies for designing effective writing prompts and assignments, encouraging thorough revision and editing, enabling constructive peer reviews, creating meaningful faculty feedback, and responding to the writing-related needs of non-native speakers of English. Our guest speakers have included Gary Hafer (Lycoming College), Sheryl Holt (University of Minnesota), Thomas Jehn (Harvard University), Chris Anson (North Carolina State University), Tara Gray (New Mexico State University), Tom Reynolds (University of Minnesota), and Pamela Flash (University of Minnesota).
The Teaching Writing Workshops are designed to be especially relevant to faculty who prepare to teach the writing components of a First-Year Course (FYC). However, the topics covered are not limited to the FYC and all faculty are encouraged to participate.
Macalester faculty members have access to all the materials and resources of the Teaching Writing Workshops in a Google Group at: https://moodlegroups.macalester.edu/course/view.php?id=303
For more information please contact Brigetta Abel (abel@macalester.edu), Director of Writing.