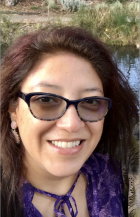 Visiting Assistant Professor
Contemporary Latin American literature and culture, with an emphasis in Indigenous and Native American Studies.
Humanities 230
651-696-6634
cvaldivi@macalester.edu
she/her/ella

A native of Cusco, Peru, professor Valdivia explores contemporary Latin American literature and culture, with an emphasis in Indigenous and Native American Studies. More specifically, she explores film and media that emerged by the end of the Peruvian political armed conflict (1990) as privileged sites of racialized and gendered narratives. Integrating decolonial, feminist and critical race theories, her scholarship examines how television, film and digital storytelling serve as technological and discursive maps showcasing the co-constitutive underpinnings and borderlines of race and gender in national and transnational identity formation. 
While completing her PhD at UC Davis, she has taught lower and upper division Spanish courses, Spanish for heritage speakers, and later served as the Davis Feminist Film Festival director and the AB540 & Undocumented Student Center Education and Training Coordinator. At Macalester, Professor Valdivia will continue pursuing community and cultural engagement within campus and beyond. 
Mi nombre es Carmen Valdivia y soy docente asistente visitante en el Departamento de Español y el Programa de Estudios Latinoamericanos en Macalester College. Nací y crecí en Cusco (Perú) hasta el año 2001 y emigré a Estados Unidos como parte de la diáspora peruana del conflicto armado interno (1980-2000). Mi pasión por la investigación, enseñanza y mentoría proviene de mi experiencia indocumentada en los EE. UU. y la búsqueda de entendimiento cultural y un sentido de pertenencia. Estudiar las relaciones entre la cultura, los discursos y el poder ha sido parte de un proceso de templanza personal en mi nueva sociedad. La educación, haciendo eco de bell hooks, ha sido mi ejercicio de libertad. Navegar las dificultades de los sistemas educativo y laboral requirió muchos años y sacrificios, pero finalmente pude completar un doctorado en español con énfasis en Estudios Nativos Americanos de la Universidad de California, Davis el 2021. Ahí también me desempeñé como directora del Festival de Cine Feminista de Davis (2019) y Coordinadora de Educación y Capacitación del Centro de Estudiantes Indocumentados y AB540 (2020). Esta formación interdisciplinaria y desde los márgenes permea mis perspectivas sobre lo que significa educar: transformar y empoderar en conocimiento y servicio. 
Mi investigación y pedagogía integran críticas raciales, indígenas, descoloniales y feministas para examinar la producción cultural y visual latinoamericana contemporánea, sobre todo aquella ligada a mujeres y poblaciones indígenas. Mi trabajo presta especial atención al cine y medios alternativos peruanos que surgieron después del conflicto armado, como mapas discursivos y tecnológicos que muestran la raza y el género como fundamentos co-constitutivos de las ficciones de mestizaje del moderno Estado-Nación. Aplicando la propuesta de Eve Tuck de que "la descolonización no es una metáfora," mi proyecto colaborativo con líderes de la Organización Nacional de Mujeres Indígenas Andinas y Amazónicas del Perú (ONAMIAP) busca descentrar la colonialidad que persiste en la investigación académica sobre la indigeneidad. Este compromiso comunitario e intercultural también está presente en mi enseñanza. En mi curso "Des/colonialidad, raza y género en las Américas" en Macalester, lxs estudiantes colaboraron con la organización civil Rondo Center for Diverse Expression en un proyecto digital creando mapa-narrativas (ArcGIS) sobre el desplazamiento forzado de la comunidad negra de Rondo a causa de la construcción de la autopista I-94 en los años 60.
BA: Universidad Nacional San Antonio Abad de Cusco 
MA: San José State University 
PhD: University of California, Davis