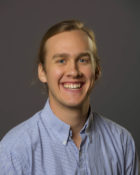 As the Student Programs Specialist at the Center for Study Away, I collaborate with the CSA staff to provide advising, pre-departure and returnee programming, and support for Macalester students seeking to study away.
During my time as an undergraduate at the University of Minnesota – Twin Cities I had several study abroad experiences. My first experience was in Florence, Italy where I lived with a host family for a semester. I then served as a teaching assistant for a course that took students to Bali, Indonesia. Through these experiences, I developed a deep appreciation for international education. I believe that studying away can be a powerful tool to start conversations about personal and collective identity, social justice, and equity.
I graduated from the University of Minnesota with a B.A. in Journalism and the University of San Diego with an M.A. in Higher Education Leadership, where I also was the Graduate Assistant for Outdoor Adventures.
I enjoy canoeing, camping, cooking, playing the guitar, running, and discussing breakfast food.
Marcus advises for the following study away programs