Contact
Advancement - Support Mac
651-696-6295
866-814-0640 (toll free)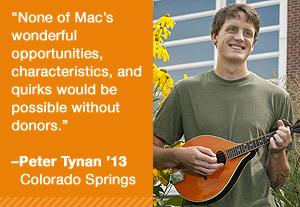 Gifts offset tuition
We simply could not maintain our financial aid program's breadth and depth without the generosity of our donors.
Even students paying full tuition receive support from donors. The comprehensive fee to attend Macalester covers just 75 percent of the college's annual expenditures; gifts from donors and income from the college's endowment provide the remaining 25 percent.
Alumni are key to Macalester's global community, and they support current students in countless ways, from connecting them to internships to making gifts to the Macalester Fund and endowing scholarships. Our students, faculty, and staff rely on this broad network, and we see its impact every day on campus.
---
Checklist
Establish a new scholarship
You can establish a new fund for students with a commitment of $100,000 or more.
New funds are named by the donor and can honor the donor, a loved one, or a faculty member. Funds can also be directed in specific ways, such as toward students studying in a particular department or coming from a specific state or secondary school.
Commitments can be paid with cash, stock, real estate, bonds, a donor-advised fund or a combination of these ways.
Payments can be made in lump sum or spread out over up to five years.
Create a new scholarship with a planned gift
To establish a new, named endowed scholarship fund, a commitment of $100,000 is suggested.
As examples, planned gift commitments may be in the form of a will or estate provision, including Macalester as a beneficiary of retirement assets or an insurance policy, or through a charitable trust or charitable gift annuity.
Endowed funds established through planned gifts do not begin to make awards until the gift is received by the college.
A named endowed scholarship can also be established by combining outright and planned gifts.
Make a gift to augment an existing scholarship
Gifts of any amount can be made to an existing scholarship, although we hope you will consider such a gift in addition to your support of the Macalester Fund.
Gifts for existing scholarships can be made using the online giving form at macalester.edu/giving. Select "other" as your gift designation and include the name of the scholarship in the comments section.
For more information contact Donor Relations at giving@macalester.edu.