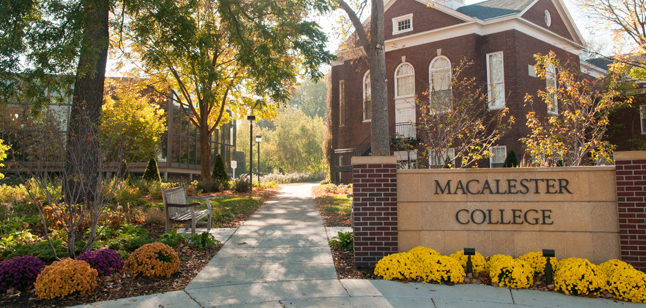 ---
What does Sustainability look like at Macalester?
Big Six Components of the Sustainability Plan
For the past three decades, Macalester has been a leader in implementing sustainable practices. Beginning in the Fall of 2008, Macalester's Sustainability Office has facilitated a campus-wide strategic planning process that engaged diverse stakeholders from across the college community to develop measurable goals, concrete strategies and tactics the college could adopt to reduce its carbon footprint and advance its academic and civic mission.
As part of the planning process, the Macalester community expanded on the Brundtland Commission's classic 1987 definition of sustainability to create a Macalester-specific definition:
Sustainability is the continuous effort to meet the needs of the present generation without compromising the ability of future generations to meet their needs by working toward a healthy environment, social justice, and a strong economy. At Macalester, sustainability is infused throughout our core values of academic excellence, internationalism, multiculturalism, and service to society.
This definition is embodied in the Macalester College Sustainability Plan, which articulates the sustainability, leadership, environmental, social, educational, and financial objectives that Macalester College will achieve to fulfill its obligations under the American College and University Presidents Climate Commitment (ACUPCC).