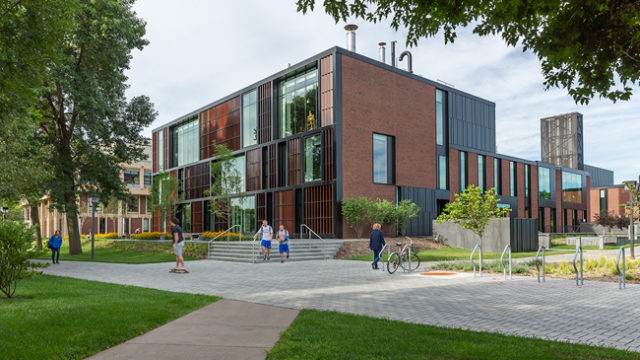 Buildings in residential and commercial sectors consume about 39% of the US's energy. Most of this energy comes from fossil fuel sources, such as here in Minnesota where 37% of our electricity generation comes from coal. Thus, Macalester recognizes it as critical to construct green buildings, which use techniques to incorporate the best practices across every aspect of the building, including energy efficiency, water reduction, improved air, locally sourced and healthy materials, and to reduce toxins in the atmosphere.
Markim Hall 
Built in 2009, Markim Hall houses Macalester's Institute for Global Citizenship, Civic Engagement Center, Center for Study Away, Internship Office, and related activities. It was designed to be built to LEED Platinum Standards, making it the first of its kind in higher education to do so in Minnesota. Building Markim to these standards required the college to work with a team of architects, mechanical, structural, and civil engineers, lighting designers, and a general contractor to model energy efficient ways to source building materials, utilize sunlight to light and heat the building, build an efficient HVAC system, construct insulation, and use water-efficient plumbing.
Markim Hall uses about 75% less energy than a standard building on campus due to superinsulated R-40 walls and R-60 roof, glazed windows to capture and trap the sun's heat, and a water-based heating and cooling system that uses radiant ceiling panels.
Most of the materials that were sourced for construction were recycled, such as the floor tiles and windowsills, were local products, such as the Wisconsin-quarried stone on the building's exterior, and ensured to have low-volatile organic compounds (low-VOC), which irritate senses and of which some are known to be carcinogenic.
Carbon dioxide sensors in the building tell the system when fresh air is needed, which comes from outside instead of through a recirculation loop. A heat recovery wheel captures energy from the exhaust air and is used to condition the incoming air, leading to less energy lost through exhaust and less used overall.
Markim has also reduced its water usage by 45% due to low-flow faucets and showerheads and bathrooms that have dual-flush toilets.
The building was designed to optimize the use of daylight and to minimize the use of artificial light. Daylight sensors turn off lights when there is adequate sunlight and occupancy sensors turn off lights in vacant rooms. All of the regularly occupied spaces were also placed along the perimeter walls so daylight might be most efficiently utilized.
Permeable pavers, native plants species, and underground perforated pipes surround the building, and all help to control stormwater runoff.
Leonard Center
The Leonard Center houses Macalester athletics and the Health and Wellness office. When the old recreation center, with the gymnasium originally built in 1923, was demolished, 93.3% of the 15,171 tons of demolition waste was reused or recycled. This included materials such as bleachers, lockers, benches, casework, plumbing fixtures, saunas, hand dryers, and hand rails to be reused by local residents, businesses, and a church. The most significant reuse was of the former fieldhouse, which Veit Construction Co., who oversaw the demolition, envisioned becoming a horse barn for the Maple Hills Stable Company in Monticello, MN. A meticulous deconstruction reused 100 tons of lumber and 10 arch beams as well as the copper wiring and conduit, fans, and lights from the fieldhouse to be used for the barn. The college then hired sustainability consultants to assist in the design of the new building, and the final design promotes significant energy reductions.
Janet Wallace Fine Arts Project
The Music and Studio Art phases of the Janet Wallace Fine Arts Project were the first on campus to make use of the College's adoption of the B3 standards. As a part of this project, Macalester partnered with our gas and electricity utility Xcel Energy. The final project incorporated opportunities found by Xcel's Energy Design Assistance program. As a result Macalester received rebates for the projected energy savings.
Initiatives that were reviewed for the current phase of the projects include:  

An efficient building envelope
Efficient HVAC equipment selection and controls to reduce energy and improve indoor air quality
Heat recovery
Maximizing daylight in spaces and controlling lighting respectively
Low-flow water fixtures to minimize water consumption
Local or recycled materials when possible
Minimizing Volatile Organic Compounds (VOCs) in the paint, carpet, adhesives, sealants, wood products, and furniture.
Outdoor space design including Landscaping out exterior workspace
Stormwater management
Bike racks
Alternative vehicle parking and infrastructure
Intentional waste collection design
As a result of this thoughtful design, the Fine Arts project was featured as a Minnesota Public Radio article in addition to a feature in a Twin Cities Business Journal article.
Language Houses
Several of the language houses along Vernon Street and Princeton Avenue have undergone energy improvements. To learn more, see the language houses section of the Energy page.