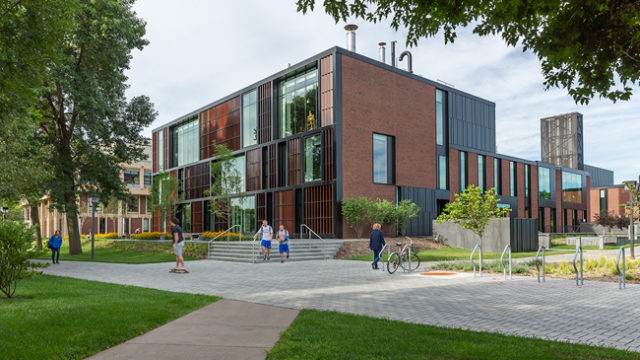 Macalester has built several facilities according to both the US Green Building Council's LEED Platinum standards, as well as the Minnesota Sustainable Building Guidelines (Minnesota B3).  Currently, it is Macalester's policy to build to the Minnesota B3 Guidelines or LEED Silver standards whenever possible.
Green building techniques incorporate best practices across every aspect of the building, including energy efficiency, water reduction, improved air, locally sourced and healthy materials, and reducing toxins.
Markim Hall 
Markim Hall is the home of the Institute for Global Citizenship.  It was designed and built to LEED Platinum standards. According to LEED Platinum standards, Markim Hall features native landscaping, daylighting, indoor air quality, and is designed to be energy efficient. The building's energy and water is monitored real-time.
Leonard Center
Home of Mac the Scot the Leonard Center, the College's athletic and recreation facility, was completely rebuilt and opened in-time for the Fall Semester of 2008.
Demolition
As a result of the existing building's demolition, it is estimated that over 93% of the 15,171 tons of demolition waste was reused or recycled.
Design
Prior to construction sustainable and efficient designs were thoughtfully incorporated into the project through Macalester staff and external consultants.
Janet Wallace Fine Arts Project
The Music and Studio Art phases of the Janet Wallace Fine Arts Project were the first on campus to make use of the College's adoption of the B3 standards. As a part of this project, Macalester partnered with our gas and electricity utility Xcel Energy. The final project incorporated opportunities found by Xcel's Energy Design Assistance program. As a result Macalester received rebates for the projected energy savings.
Initiatives that were reviewed for the current phase of the projects include:  

An efficient building envelope
Efficient HVAC equipment selection and controls to reduce energy and improve indoor air quality
Heat recovery
Maximizing daylight in spaces and controlling lighting respectively
Low-flow water fixtures to minimize water consumption
Local or recycled materials when possible
Minimizing Volatile Organic Compounds (VOCs) in the paint, carpet, adhesives, sealants, wood products, and furniture.
Outdoor space design including Landscaping out exterior workspace
Stormwater management
Bike racks
Alternative vehicle parking and infrastructure
Intentional waste collection design
As a result of this thoughtful design, the Fine Arts project was featured as a Minnesota Public Radio article in addition to a feature in a Twin Cities Business Journal article.
Language Houses
Several of the language houses along Vernon Street and Princeton Avenue have undergone energy improvements. To learn more, see the language houses section of the Energy page.