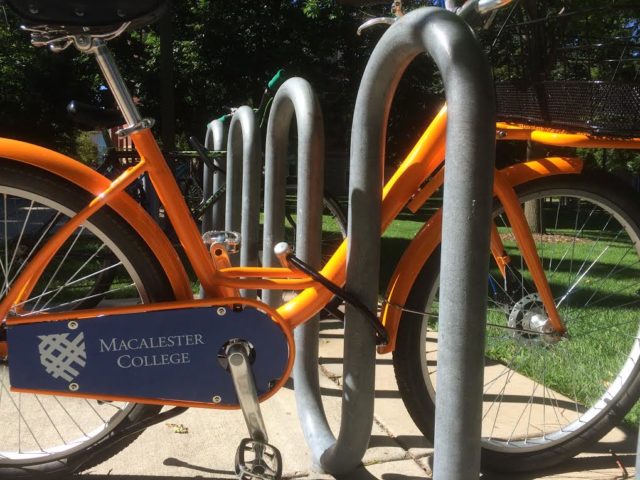 Bicycle Friendly University Designation
Macalester earned the Silver Bike Friendly designation in November 2016 after campus stakeholders initiated the application process.  Read their Reflections on the Bicycle Friendly University Application Process to learn more about what was involved in this effort.
Bike Share
Macalester students, staff, and faculty can rent a bike (along with a helmet and lock) at the checkout counter in the Library with a valid Mac ID for three days with one renewal (up to six days total).
There are currently ten bikes in the fleet. Bikes are available in a variety of sizes to fit all different riders. The fleet also includes a Workman cycles tricycle.
ZAP Reader Program
Overview
The ZAP Twin Cities Program is a free program to incentivize bicycling and walking as a form of transportation throughout the metro. Macalester has installed a ZAP Reader on the corner of Macalester Street and Summit Avenue as a part of the greater program.
Installation of the reader and on-going incentives are sponsored by the Sustainability Office, WHAM, and The High Winds Fund.
Tagging
From time-to-time, tagging events are hosted to distribute numerous tags at a time and to introduce participants to the program.  When tagging events are not being hosted please use the contact list below to receive your tag.
Faculty, Staff, and domestic partners thereof should contact Kelly Fang at kfang@macalester.edu to arrange an appointment to tag their bike or to receive a walking card.
Students should contact the Sustainability Office at sustainability@macalester.edu to arrange an appointment to tag their bike.
Neighbors to Macalester should look for communication from The High Winds Fund about specific tagging events open to neighborhood residents.
Get Zapped: Where?
Ride of walk through a ZAP Zone, which is between 5′ and 15′ from the ZAP reader on the corner of Summit Ave and Macalester Street. If you hear a "beep" you have been ZAPPED! It may take up to 15 minutes before your ZAP appears in your online account.
Get Rewarded: What?
Staff and Faculty: 
Get 4 ZAPs per month to be entered into WHAM's monthly prize drawings.
Get 8 ZAPs per month to be entered into the ZAP Twin Cities St. Paul prize pool.
All ZAP Twin Cities participants will be rewarded automatically after the first 10 rides. Continue to  ZAP your ride or walk and you'll be eligible for prizes like gift cards to restaurants and stores and great bike accessories.
You only need one ZAP per day to get ride or walk credit for that day. More than one ZAP per day will not add to your mileage, trip totals, or entries into drawings.
MacBike
Overview
Student-run organization at Macalester College
Promotes bicycle-use both on campus and in the greater Twin Cities community
Supports bicycling as a fun, sustainable, and socially just form of transportation
Contact MacBike by emailing them at macbike@macalester.edu for more information.
Get Involved With MacBike
Open Shop is open to anyone who needs help fixing their bike, needs a part, or wants to learn the art of bicycle mechanics – all for FREE!  Every Tuesday and Thursday from 6 – 8 pm in the MacBike shop, located in the basement of Doty.
Weekly meetings are held after Open Shop on Thursdays from 8 – 9 pm in the shop
For more information on local biking opportunities or infrastructures, visit the Biking in the Twin Cities page on our website!