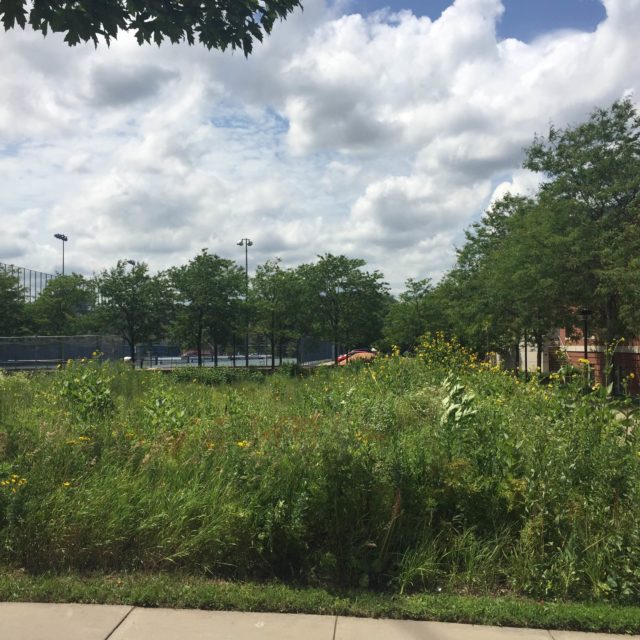 Sustainable Landscaping Master Plan (PDF)

The Sustainable Landscaping Master Plan comprehensively addresses the sustainability of Macalester College's campus grounds while maintaining a beautiful landscape. This plan, created with input from students, faculty, administrators, and campus landscape management staff, is intended as a dynamic document that will provide direction into the future.
For more information regarding various sustainable landscaping projects, click the following links:
Macalester Green Roof Project History
Macalester currently has two green roofs, one above the fishbowl connecting the Turck and Doty residential halls, and one on the Kagin rooftop. The two Macalester Green Roofs began as student projects organized by MacCARES.
The green roof on the fishbowl was completed on April 14, 2006. It was led by the MacCARES green roof task force made up on Alese Colehour '09 and Ellie Rogers '09 in association with Green Roof Blocks, Aloha Landscaping, Rosenquist Construction, and Facilities Management. The green roof on Kagin was completed in 2007 by students Alese Colehour, Timothy Den Herder-Thomas, Angelina Lopez, and Ellen Rogers, with faculty advisement from Dr. Jerald Dosch and Dr. Dan Hornbach.
Related information
Macalester Prairie Restoration Project
When Minnesota became a state in 1858, nearly 1/3 of its land was diverse grassland. Today, less than 1 percent of Minnesota's original prairie remains. The Macalester Prairie helps us reconnect with the past, containing over 80 species of grasses and flowers that would have been familiar to everyone in that era.
Project History
Macalester College helps to protect the genetic plant diversity of these plants by converting an area where turf grass had difficulty growing into a dynamic prairie landscape. With funding from Facilities Management, members of the College prepared the site and planted native grass and prairie flower seeds in November 2004. Prairie dropseed, prairie smoke, and alumroot, which are all low growing plants, were added the following year as an edge for the sidewalks bordering the prairie.
Storm Water Management at Macalester
Storm water runoff is generated when precipitation from rain and snowmelt events flows over land or impervious surface sand does not percolate into the ground. Storm water runoff is a general pollutant.
Macalester's urban environment allows us the opportunity to pursue a variety of Best Management Practices. These all link back to the 2011 Sustainable Landscape Master Plan, in which we made the goal of reducing the pollution, quantity, and sped at which water runs off the campus by infiltrating the first inch of precipitation on campus.
Specific Initiatives include:
Janet Wallace Parking Lot Renovation
In 2011, Macalester completed a $130,000 renovation of the Janet Wallace parking lot, funded in part by a $50,000 grant from the Capitol Region Watershed
A plant basin was built between the parking lot and Macalester Street, which, prior to the renovation, often experienced flooding during storms. The parking lot is now designed to direct stormwater into this basin, which is filled with a specially engineered sand that filters out harmful phosphorous from the water as it is absorbed into the earth
Once absorbed, this water is then used by the plants and trees in the basin, thus creating a self-sustaining, stormwater reduction ecosystem
Turf Conversion
While the installation of plant life across campus may seem like an aesthetic choice, it actually serves the more primary purpose of reducing our stormwater run off
Replacing turf areas with plants increases both the amount of precipitation that can be absorbed as well as the biodiversity of the area, while also reducing the amount of water used and the greenhouse gas emissions associated with maintaining the area
Porous Pavers
Permeable pavement walkways, such as the porous pavers which have been installed in front of Markim Hall and along the walkways leading from the Janet Wallace Fine Arts Center, are an environmentally superior alternative to concrete and asphalt walkways
As its name suggests, permeable pavement allow a percent of precipitation to filter into the ground rather than run off, thus reducing erosion, flooding, and the sweeping of chemicals into our waterways. As precipitation filters through the pavement into the ground, it passes through a series of minerals, such as rocks and sand, which remove pollutants from the water before it is deposited back into the earth
For more information, check out The Mac Weekly's article, "Paving the Path to Sustainability: Mac's New Permeable Pavement"
Landscaping Practices
Maintaining lush green lawns often comes at a price, including a high water demand the potential to damage the soil in the area, which can result in the reduced absorption of stormwater
To counter this, Macalester's grounds crew has adopted several new landscaping policies, such as maintaining sharp lawnmower blades and mowing at a higher height, which focus on improving soil health, which in turn allows the soil to absorb larger amounts of precipitation
Other Resources