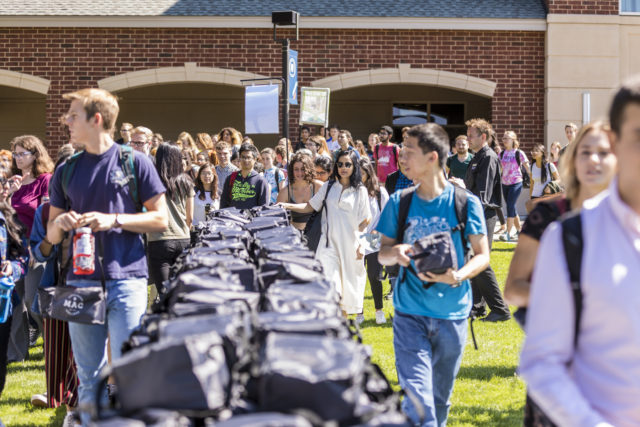 Guide with businesses to use when planning a minimal or zero waste event, and zero waste tips.
Event Planning
Food
Eat Local: Eating local can greatly reduce the footprint of the food you're serving.  Work with Bon Appetit to source and serve local fare.
Eat Green: The more plant-based your menu, the smaller the footprint and the healthier it is.
Eat for Everyone: Work with Bon Appetit to make your menu as inclusive as possible. Be sure to record dietary restrictions in advance and work with your caterer to serve an alternative options.
Serve in Bulk: Ask Bon Appetit or your caterer to supply items normally served in single service in bulk instead like coffee creamer, sugar, yogurt, mayo, mustard, and ketchup.
Service Items
Reusable Service Items: Bon Appetit may be able to provide reusable china for your event — ask them to see if it's the right choice.
Compostables: Bon Appetit only caters events with disposable service items using compostable items.
Compostable Dishware Order Program: If Bon Appetit is not catering your event, use the Compostable Dishware Order Form to order what you need as early as you know you need it.

If your student event is approved by MCSG, your compostable dishware is paid for by MCSG; non-compostable dishware will not be paid for by MCSG.  You must pickup orders in the basement of Campus Center.
Departments can order service items using the same form and they will be delivered to your on-campus location and billed to the provided FOAPAL.

Go Digital: Make arrangements in advance to consciously make your event digital.  Take attendance using participants MacPass on a mobile device furnished by Card Services. Prepare digital handouts instead of printed ones; distribute these using a QR code at the event or email them after-the-fact to attendees based on your digital attendance list.
Event Logistics
Waste Bins: When reserving your space with reservations, be sure to include your request for extra waste bins if you anticipate needing more capacity for waste collection than is normally available in your space.
Waste Signage: Request the Zero Waste Event Banner in your reservation.  Print your own waste sorting signs using the links in the Download Center below.  Print table tents to remind participants that you're hosting a Zero Waste Event.
Waste Sorting Help: Enlist volunteers and ask them to station themselves at waste collection bins to help answer participants' questions about waste sorting.  Ensure your volunteers know the proper sorting for the event before stationing them.
Event Communications
Publicity Before the Event: Advertise the event in advance as being a Zero Waste event; participants may then opt to bring their own service items or beverages in reusable containers.
Remarks: Encourage individuals speaking at the event to add keywords into their remarks like "Zero Waste" or "compostable" to help highlight all the planning you've done and the things you value.
Publicity After the Event: Highlight your event's success as a Zero Waste event; this can encourage others to do the same.