Elinor Jones '21 – Paris, France with CUPA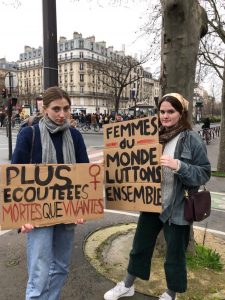 Where did you study away?
I studied abroad in Paris, France with CUPA, Center for University Studies Abroad. CUPA promotes full language immersion, allows you to take classes at many of the universities in Paris, and provides strong, personal student support.
Why did you choose to go to Paris?
I chose Paris because if I was going to study away and not be at Macalester, I knew that I wanted to become fluent in French. Every single day, I would walk down a new tiny street, eat a new pastry, and spend time on the lovely Parisian metro.
Did you see any interesting pieces while you were there?
There was one week where I was able to see two operas, night after night. The first was The Barber of Seville by Rossini and the second was The Tales of Hoffman.
What theater and dance-related classes were you in?
My acting class was aptly called Action and was taught by a Parisian actor and focused on improvisations translating into student-acted and directed scenes. I also took a theater theory class focused on Brecht and his impact on the contemporary performance world. The course was taught by a Brechtian scholar but was titled "For or against Brecht," so the discourse was varied and interesting.
How did your experience abroad affect you as an artist? As a person?
My abroad experience was short and hectic. Paris was experiencing mass transportation strikes, educational strikes, and eventually, the global pandemic COVID-19. Therefore, I think the usual "abroad experience" was heightened. It was a challenge to adapt to a new language, living with a French-speaking host family, making a new group of friends, and adapting to a new methodological educational system. I became a better actor by improvising in my second language. I learned a lot about Brecht from a French contemporary lens. I sang and performed with a French voice teacher and a chamber vocal ensemble.
Do you have any advice for other students thinking about studying away?
Do it! I appreciate that everyone's situations are very different, that not everyone's major allows them to study away, that it is scary to think about leaving Macalester and trying something completely new.  It was beautiful in Paris, I made amazing friends, I got to know the wonderful people who work at CUPA, and I had so much cheese and wine.
Return to the Study Away page to read other student profiles.