Marlon James and Dave Eggers in Conversation
Sarah Richman '16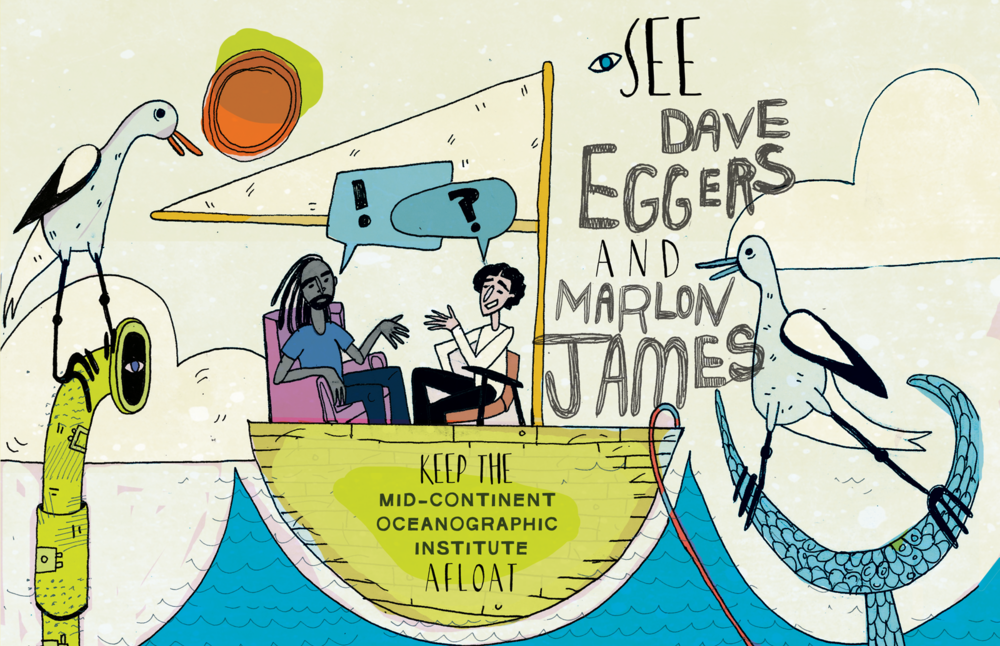 I found a seat on the balcony, looking down at the two spotlit chairs where the pulpit had been. Center Presbyterian Church in St. Paul isn't a typical Thursday night destination for Twin Cities booklovers, but it was on February 4th, when world renowned authors Dave Eggers and Marlon James sat down in conversation.
All proceeds from the event went to the Mid-Continental Oceanographic Institute (MOI). MOI and its creative writing programs serve nearly 1,200 students in the Twin Cities. MOI helps students with their homework and writing skills, providing a safe and fun space for kids to connect with their own voices.
Three of those MOI students took to the stage with Dave and Marlon throughout the night, stealing that spotlight with readings from their own poems. Their work will soon be published in an MOI book. Marlon, a longtime MOI supporter, will pen the introduction. Elijah, a fifth grade MOI student, had some advice for Marlon: "Make it funny."
If that Thursday night conversation was any indication, he will. Even from up in the balcony, I could feel the friendly rapport on stage. For all of their fame and acclaim, Dave and Marlon made the conversation feel casual. The two have been friends since 2010, after they both won a Dayton Literary Peace Prize. That friendship shone through in their good-natured back-and-forth about life, literature, and MOI.
Both writers started out loving picture books as children; young Marlon's favorite was "Little House in the Big Woods" and young Dave's was a library book about elephants. The men remembered, laughing, the books that their young selves had written. Marlon's first book was about his brother flushing himself down the toilet. Dave's first book, written in first grade, was titled "Monster Mishmash."
Dave and Marlon were both happy to support MOI, empowering young writers to create and keep creating. "The worst thing to do to a young writer is stamp on their creativity," Dave said. Organizations like MOI do exactly the opposite. Donating or volunteering for MOI is one way that our community can help foster that creativity.
As I looked around the Center Presbyterian Church, I was proud to see so many Macalester students in the crowd and in Jacques Cousteau-style red hats as volunteer MOI staff. Whether for Marlon James, Dave Eggers, MOI, or for some combination thereof, Macalester students took the time that chilly Thursday to come out into the community and celebrate literary arts. That, stage or no stage, is worthy of conversation.