Welcome Back, Peter Bognanni
Sarah Richman, '16
Last spring, the American Academy in Rome awarded the Rome Prize to one of our own, Professor Peter Bognanni. The Rome Prize allows a select group of artists and scholars to hone their craft over the course of a year in Rome. After a year of living and writing in Italy, Bognanni says that it "feels really good to be back." With a freshly finished draft of his second novel, a tenure-track position, and newfound Italian skills, Bognanni looks forward to the year ahead.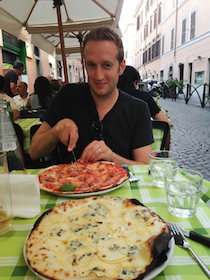 The Rome Prize gave Bognanni the opportunity to see the world, connect with his Italian roots, and recharge his writing career. Bognanni had been working on a couple of different projects outside of class, but he "needed time to buckle down and think about one project consistently." Italy provided that time. Bognanni arrived with notes for a satirical novel about a funeral planner and, a year later, came home with a manuscript.
Bognanni went overseas to find focus, but ended up having more of a liberal arts experience. Living in Rome piqued his interest in subjects like architecture and Roman history. "Every time you walk down the street," he says, "you're seeing something amazing. It broadened the things I'm curious about."
Immersed in the peace and quiet of the writing life, Bognanni says he found himself missing the classroom. "If I had the choice to just write for a living," he tells me, "I would probably still want to teach." He describes teaching and writing as "the best of both worlds." For him, it's about balance. "You can go to the interior place you need to go to make good writing, but you can also have great discussions with your colleagues and see what students are excited about," he says.
That balance is not always easy to find as a professor. Bognanni, like his students, has to compromise on the amount of time that he spends writing outside of class. Bognanni says that it is for this reason that he often does his best work in the summer. While most of us won't receive an opportunity like the Rome Prize, he recommends that students who are serious about writing try to do as much as they can over breaks.
Now that he's back on campus, Bognanni is enthusiastic about the classes he's teaching both this semester and in the spring. Students can look forward to his spring course on literary humor. The course will in large part revolve around weighty subjects, like those he covers in his latest novel, and what humor can bring to them. "It's kind of an experiment, so if it goes well I'll hopefully offer it again," he says, adding with a laugh, "tell the people in it to do a good job."
Bognanni's year in Italy was certainly one he'll never forget. Someday, he says, he'd like to go back and learn more of the language. Lucky for us, though, he's happy to trade in the Mediterranean for Minnesota. Peter Bognanni is back on campus and back in the classroom, and he's here to stay.