by Sophie Hilker '20
With creative writing capstones underway, The Words decided there was no better way to cap off our Wordplay features for the Fall semester than to spotlight the tremendous work of students completing their Projects in Creative Writing. Without further ado, please enjoy the work of English major Alyssa Franzmeier '20.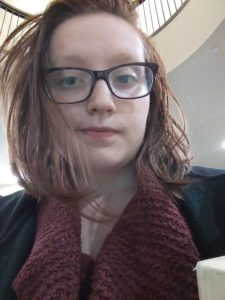 Alyssa Franzmeier '20 is a senior creative writing major from Sartell, Minnesota, working on a capstone novella titled Sweet Corn Seller (a synopsis and excerpt of which can be read below). She is also minoring in Spanish, Linguistics, and Sociology. Raised amid the rural farm towns of central Minnesota, Alyssa's work highlights the dark side of open fields and tight-knit, insular communities. Alyssa's hobbies include camping, drawing, and playing Dungeons and Dragons.
Synopsis of Sweet Corn Seller:
Fifteen years after the disappearance of her brother, Leah Swenson returns home to the sleepy town of Whittier Depot to help her father move. Her homecoming quickly goes awry as Leah faces the family she left behind, reuniting with her estranged sister, Annabel, and the daughter she left in Annabel's care. Leah can't wait to get out of town again, but the discovery of a clue to her brother's disappearance entangles her in a desperate search to learn the truth about what happened fifteen years ago. But as she uncovers more questions about the past, Leah may lose sight of the danger right in front of her.
Excerpt of work:
Chris told her, when they were young, that if she went into the cornfields when they were taller than her head, she'd get lost and they wouldn't find her until October when the farmers came in with the big harvest machines. She'd get all sliced apart and gum up the machine and that's how they'd know where she went.
When Chris was fifteen and Leah twelve, he grabbed her while she was walking home from school and pulled her into the cornfield. She remembered him best like that, his long body all rolled out like dough from a growth spurt, his hair floppy and gold like wheat. The sun was right behind his head so the wisps of hair fanned out like a halo, and the rest of him was dark and shadowed as he loomed over her — she was short for her age until she was almost eighteen — and he held on tight to her shoulders even when she tried to get away. His throat worked as if he were trying to speak, but no sound came out and he just looked down on her with his nails digging into her skin. At last he choked out, "Sorry." And he let her go and walked back out of the field, and Leah followed, afraid to ask what was going on.
Six weeks later, when the corn was as gold as his hair, Chris disappeared.
---
Want to hear more about Alyssa's work? Stop by the Old Main 4th Floor Lounge on Monday, December 9 at 4:45 pm for Capstone presentations and kringle.