Laura Berglund '20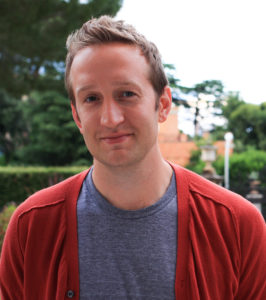 I recently touched base with Creative Writing Professor Peter Bognanni over email to discuss the recent buzz surrounding his 2017 young adult novel. Things I'm Seeing Without You is one of four finalists in the Young Adult (YA) category of the Minnesota Book Awards, a competition facilitated by The Friends of the Saint Paul Public Library that recognizes work from various genres. Since the authors are based in Minnesota, they are able to engage with local readers during the course of the year-long program.
Professor Bognanni filled in some of the details about the competition during our interview. "There is a panel of judges who read all the books in your category published in a given year. Then they nominate the top four. You usually don't find out who the judges are until after the ceremony is over. I assume the final judging is like choosing a new pope. All the judges lock themselves away for days and burn their ballots and you know the winner by the color of the smoke."
Professor Bognanni's journey into the young adult realm makes it clear that genre is occasionally out of an author's control. When I asked him about his experience
with YA literature until this point, his response surprised me. "Well, technically I've only written one young adult book, but my first book, The House of Tomorrow, was given an ALA Alex Award, which goes to adult books that would really appeal to teenagers. So, I've always been walking the line between the adult and young adult world. At this point, I just write things and then let other people tell me what they are. It's a lot less stressful that way. But I'd like to keep working in both categories. The young adult world is really exciting right now in terms of people taking risks with form and subject matter, but I started as an adult writer and I'd love to keep a foot in that world if possible."
I picked up on a similarly easygoing attitude toward structure and formality in Professor Bognanni's response to my question about the value of this award. He explained, "I suppose since I'm new to the young adult world, it's good to know that the judges think I'm allowed in the club. Other than that, I can't really put too much stock in awards. It's something I have no control over, and worrying about them leads to all of the kinds of feelings that kill your drive to write: jealousy, pride, strange cravings for applause, etc. It's better for my ego to watch cartoons with my son and pretend I'm writing for myself."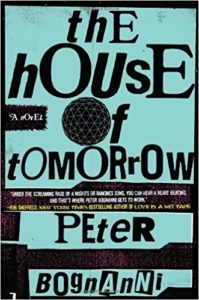 On a different note, I asked for updates regarding the film adaptation of Professor Bognanni's first novel The House of Tomorrow. "The whole thing has been a really pleasant surprise." He explained that "it's rare to have a book adapted for the screen. It's rare to actually have it made. And it's rarer still for that movie to actually make it into theaters. The fact that all of those things happened is really astonishing to me. I loved working with the writer/director, Peter Livolsi on the process, and the biggest surprise was going to the set and realizing how truly dull and monotonous film making can be. They will literally do thirty takes of somebody's feet coming down the stairs. Since it was my own book, I was riveted though." The local premiere of the film is coming up on April 25th—watch for more information from the English Department on how to be a part of the experience. 
While preparing my interview questions, I saw an opportunity to glean some knowledge about what makes screenwriting unique from prose fiction. "You'll have to take my class to learn all the secret answers to this one," Professor Bognanni responded. "But the biggest distinction for me is that there's nowhere to hide in screenwriting. Everything has to be dramatized and put right in front of the viewer's face. Interiority is nearly impossible, and any scene without a focus feels flat the instant you see it. Of course this is all important in novels too, but sometimes I love just pinging around in a character's brain for pages in a book."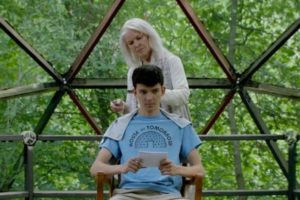 I'm certainly not the only one who has felt the crushing disappointment of an unfortunate film adaptation. I'll stand by Elizabeth Gilbert's Eat, Pray, Love no matter what writer-director Ryan Murphy may lead you to believe! Professor Bognanni's thoughts on what makes a successful adaptation, however, are much more concrete than the sarcastic remarks I often find myself spouting. He explains, "there has to be something to watch. Most of the time, in order for an adaptation to work, there has been a lot of events that lend themselves to visual storytelling. I'm also a fan of more radical adaptations. Just filming the book can be boring. But if you think about how to re-invent the story for cinema, really interesting things can happen. Recently, I loved Carol, based on the novel The Price of Salt by Patricia Highsmith and Birdman, which is technically an adaptation of the Raymond Carver story, "What We Talk About When We Talk About Love."
We finished with a question about navigating dynamic forms of media as a writer. I mentioned the fact that journals and magazines are shifting from print to web-based forms, and the rise of original films and series from platforms like Amazon, Netflix and Hulu is changing traditional television and cinema. Professor Bognanni's answer was reassuring. "Stories are not going anywhere. People love stories. Think about how many we consume a day between TV, journalism, novels, social media, conversations, etc. There will always be a demand for good storytelling. And while I personally have nostalgic attachments to certain ways of getting them, I don't think you should be afraid of the new. The platforms may change, but the essence is here to stay."