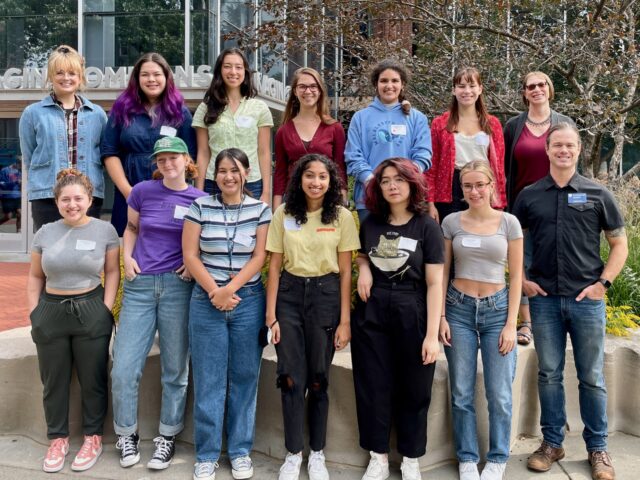 Welcome to Writing Support in the MAX Center! This unit of the MAX Center includes professional staff and peer writing tutors who offer individualized and collaborative support for writers and their texts throughout the writing process. Staff and peer tutors work with students on a variety of writing projects, including:
Essays for classes across the disciplines
Capstone papers and honors projects
Personal statements and related application materials for graduate school, grants and scholarships, study away programs, employment, and other opportunities.
Schedule an appointment
Use WC Online to schedule an appointment with a writing support coordinator or a peer writing tutor.
Log in to WC Online here or Register for an account.
MAX Writing Support featured in the Mac Weekly
In fall 2022, the Mac Weekly profiled Writing Support Coordinator/Instructor Jake Mohan, whose efforts to integrate anti-racist pedagogy into the MAX Center's tutoring practices were recently recognized by the SLAC-WPA Martinson Award for Innovation.
"Unlearning White Supremacy in Writing"
In spring 2022, MAX Center writing tutors wrote and published an open letter in the Mac Weekly about how academic writing can be taught and evaluated in a more equitable and inclusive way.
Research
With funding from the Mellon Foundation, Writing Coordinator Jake Mohan recently prepared two documents exploring the social, cultural, and racial dimensions of how we teach students to write. These two documents are intended for instructors and tutors hope to deepen their understanding of anti-racist and anti-oppressive pedagogy, and make their spaces of learning more inclusive and humane.
"Beyond Just: Toward an Antiracist Writing Pedagogy at Macalester" (Google Doc)
"Working with Multilingual Writers at Macalester College" (Google Doc)
Interested in becoming a writing tutor?
We recruit and hire new writing tutors every spring in late March and early April. If you are interested in working as a writing tutor, please contact Alyssa Lawrence or Jake Mohan.