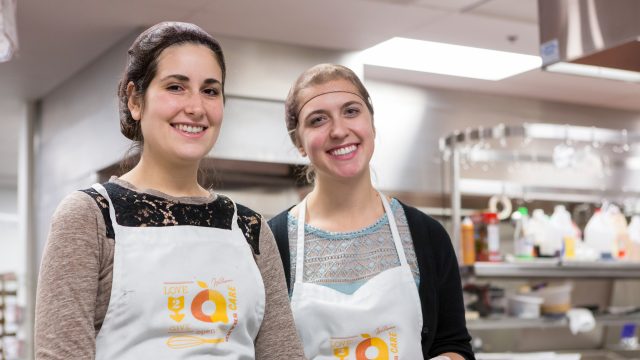 "In the end, I hope the students use their civic engagement experiences to broaden their array of skills."
—Professor Jaine Strauss
Macalester's urban location is often an advantage for students, but never more so than for those enrolled in Professor Jaine Strauss's Community Psychology and Public Health class.
While doing plenty of reading and classroom discussing on how to promote well-being on the population level, the students' learning is regularly reinforced by their community engagement placements.
Emily Roebuck '17 (Davenport, Iowa), for instance, has been spending her Saturday nights at downtown St. Paul's Listening House, a kind of "living room for the homeless." There she makes sure the coffee is always on, hands out hygiene supplies and over-the-counter medicines, and makes sure that everyone is doing okay. "Listening House values connection as much as offering tangible services," she says of the "giant room filled with sofas and chairs" that serves up to 200 people per day.
"I've loved the experience," continues the psychology major. "It's easy to homogenize homeless people, but the folks I've met at the Listening House are as different from one another as any group of people. They've really improved my Saturdays."
These placements, says Strauss, are key to the course because "theory rarely aligns perfectly with practice." It's easy to sit in the classroom and talk about how to make the world a better place, she says, but without these real-world volunteer experiences, those discussions are "ultimately bankrupt."
Amanda Feigin '17 (Croton on Hudson, N.Y.), another psychology major, has been equally inspired by her placement as a tutor in St. Paul's Rondo Library. "I've met some really amazing and determined students," she says, as she's helped kids with reading, writing, and math assignments. She adds, "It's vital to have this chance to augment and apply what we learn in class."
Other class members have worked at women's shelters, a meal program for the chronically ill, a hospice, a charter high school, and a program for immigrant refugee girls. Kayla Thole '17 (Lino Lakes, Minn.) has spent one evening a week handing out linens at the Dorothy Day Center. A couple hundred people each night—more during the winter—stay at the downtown St. Paul homeless shelter. Thole, who hopes to become a social worker, says "seeing how something we're talking about in class looks in the real world" has been a critical piece of her learning.
More real world information has come from speakers, says Strauss, including those from Jewish Community Action and Breaking Free (an organization serving women who've experienced prostitution and sex trafficking).
With 18 students to place in volunteer jobs this semester, Strauss says, she couldn't do it without help from Paul Schadewald, associate director of the Civic Engagement Center. Together they come up with a list of possible placement locations, although students are free to find their own spots as well, says Strauss.
"In the end, I hope the students use their civic engagement experiences to broaden their array of skills," she says, "especially in working with communities different from their own, but also in tackling social challenges about which they care deeply."