For High School Counselors
Your guidance and advice creates the pathway for high school students imagining their college career. Discover what life and learning mean at Macalester, and help them know when our school is the right fit.
STUDENT PROFILE
Macalester students come from across the U.S. and around the world.
61%
STUDENTS WHO STUDY AWAY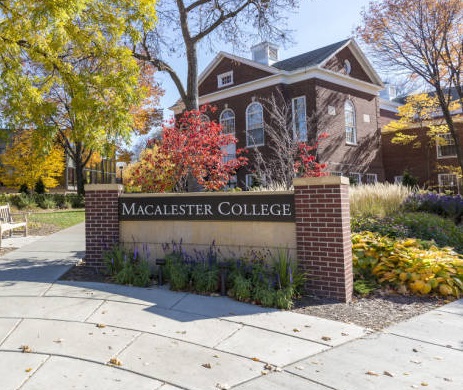 ADMISSIONS
MEET OUR STAFF
Questions about Macalester, your student applicant, or the application process? Get in touch with the Admissions Officer for your region.
SLATE.ORG
APPLICATION STATUS
In addition to contacting Macalester Admissions directly, counselors can now view their students' application status, add documents, and view admission decisions for Macalester using Slate.
FAQs FOR ALL STUDENTS
How will the admissions committee review my application?

Macalester practices holistic admission review. Factors such as academic performance in context, teacher recommendations, essays, leadership experience and potential, extracurricular involvement, and standardized testing results are thoroughly reviewed by the Admissions Committee. The most important part of your application is something you've already been working on throughout high school: your performance in high school! It is this performance that is the best predictor of success in college.

What classes should I take in high school?

The best preparation for college is a balanced and rigorous high school curriculum. For balance you should take classes in all five academic core subjects: English, mathematics, history or social science, laboratory science, and foreign language. Be sure to challenge yourself by taking honors, Advanced Placement (AP), or International Baccalaureate (IB) courses, if available at your high school. Most applicants will complete at least 20 academic core courses by the time they graduate high school.

Can I receive college credit for classes I've taken? Can I use these credits to place out of classes at Macalester?

For students admitted to Macalester through the first-year admissions program, Macalester will accept for credit no more than the equivalent of twenty (20) Macalester credit hours earned from a college or university prior to matriculation at Macalester. Summer session college credits, Minnesota Post-Secondary Education Options Program credits, International Baccalaureate credits, General Certificate of Education (GCE), and AP Program credits are included under this limitation. For more information refer to the college catalog or call the Registrar's Office at (651) 696-6200.

How selective is Macalester?

41% of applicants were admitted for the fall of 2017. The middle 50% of students admitted:
–scored 29-32 on the ACT
–scored 650-690 on SAT Evidence-Based Reading and Writing and 640-740 on SAT Math
Macalester also looks carefully at non-academic involvement and achievements.

Do you have a minimum GPA or a minimum SAT or ACT?

Since school systems vary a great deal, we look at an applicant's high school record in the context of their school system, rather than listing a minimum GPA. We also recognize that many school systems around the world do not report a GPA or rank in class, and in those cases that information is not required. Whatever the system, we look for evidence that the applicant has performed at a very high level academically and has pursued a rigorous curriculum.

Similarly, Macalester does not have a minimum standardized testing score, nor do we rank our applicants on the basis of their SAT or ACT scores.

What is Macalester's standardized testing policy?

Macalester recently adopted a permanent Test-Optional admissions policy, starting with the Fall 2021 first-year class. There will be no penalty for students who choose not to submit test scores in the selection process or distribution of merit scholarship. Visit the Test Policy page to learn more.

Should I interview? What if I live far away and can't make it to campus?

While not required, an admissions interview is a great way to learn more about Macalester while introducing yourself to us. Admissions staff, interns, and alumni volunteers conduct interviews on- and off-campus. Students can interview as early as the January prior to their senior year. Seniors who wish to interview must do so by February 1 of their senior year. If you cannot visit campus, we will do our best to connect you with an alum in your area.

What advice would you give to sophomores and juniors?

Congratulations on starting your search early! Academically, sophomores and juniors should focus on their classes, paying attention to the recommended secondary school curriculum mentioned in question 2 and taking advantage of the rigor available to them. Continue your involvement in extracurriculars you care about, and take advantage of testing resources before taking the ACT and/or SAT. We encourage you to keep an open mind and start thinking about what your priorities (college size, setting, particular majors or extracurriculars, etc.) are for college. Then visit a few campuses to get a taste of the college experience before narrowing down a list. And, of course, please come visit Macalester!