Welcome from Erin Updike, Director of Alumni Engagement
Welcome to the Alumni Engagement website. The Macalester community extends far beyond the student experience. Once a student, you are connected with a support system for life – in whatever life phase you are going through.
Macalester will always continue to evolve to meet the current needs of students, but the spirit of Macalester remains steady. Whether you are a student or celebrating your 70th Reunion, you feel that drive to question the status quo, to discover everything there is to discover, to see the world bigger than you thought possible, to feel a deep passion around helping our communities, and to view life with an inclusive lens.
Whatever path you are on, we are here for you. We have ways to connect to students, to connect with other alumni, to learn, and to make an impact.
Thank you for all you do to live that Macalester spirit. Our world is grateful for you.
We invite you to explore the different ways to engage with the Macalester community.
Erin Updike
Director, Alumni Engagement
Upcoming in Alumni Engagement
Friday, November 11 – El-Kati Distinguished Lectureship
You are invited to the El-Kati Distinguished Lectureship in American Studies featuring Dr. Yohuru Williams, Distinguished University Chair and Professor of History and Founding Director of the Racial Justice Initiative which focuses on supporting racial justice education, facilitating research, and encouraging dialogue and critical conversations at the University of St. Thomas. Dr. Williams has appeared on a variety of local and national radio and television programs and is also one of the hosts of the History Channel's Web show "Sound Smart." He is presently finishing a new book entitled In the Shadow of the Whipping Post: Lynching, Capital Punishment, and Jim Crow Justice in Delaware 1865-1965 under contract with Cambridge University Press. This year's El-Kati Distinguished Lectureship will also feature a portrait unveiling of Professor El-Kati by Minneapolis artist Leslie Barlow. We hope you can join us in person or online!
Tuesday, November 15 – Twin Cities Viewing Party: Black Panther: Wakanda Forever
Join the Macalester community for a private viewing party of Black Panther: Wakanda Forever starring Macalester alumna Danai Gurira '01 on the mega screen. The movie will begin at 6:30 p.m.; we suggest arriving at least ten minutes beforehand to find your seat (reclining seats with no set seating arrangements). Tickets cost $10 (includes admittance, a small popcorn, and a beverage) and are limited to a first come, first served basis. (Please note that we are not able to offer refunds for this event.) Register to attend today!
Winter 2022 Webinar Spotlight
Register and find out more about our upcoming lifelong learning opportunities.
All events will be held in Central Daylight Time.
See all of our upcoming alumni webinars and register here: https://alumlc.org/macalester
Alumni, Share What's Happening
Stay connected with Macalester and your classmates by registering for MacDirect, our online community for alumni.
Use MacDirect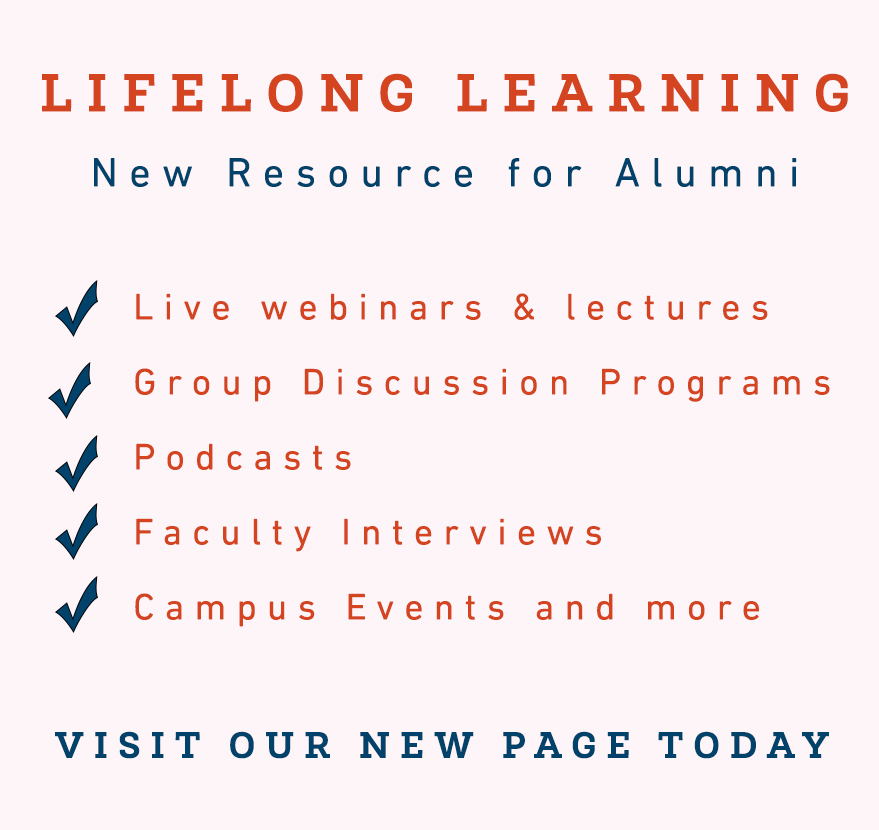 Mac Wire
The Mac Wire is the monthly e-newsletter for Macalester alumni, parents, and friends.
Update your email in MacDirect to make sure you never miss an issue