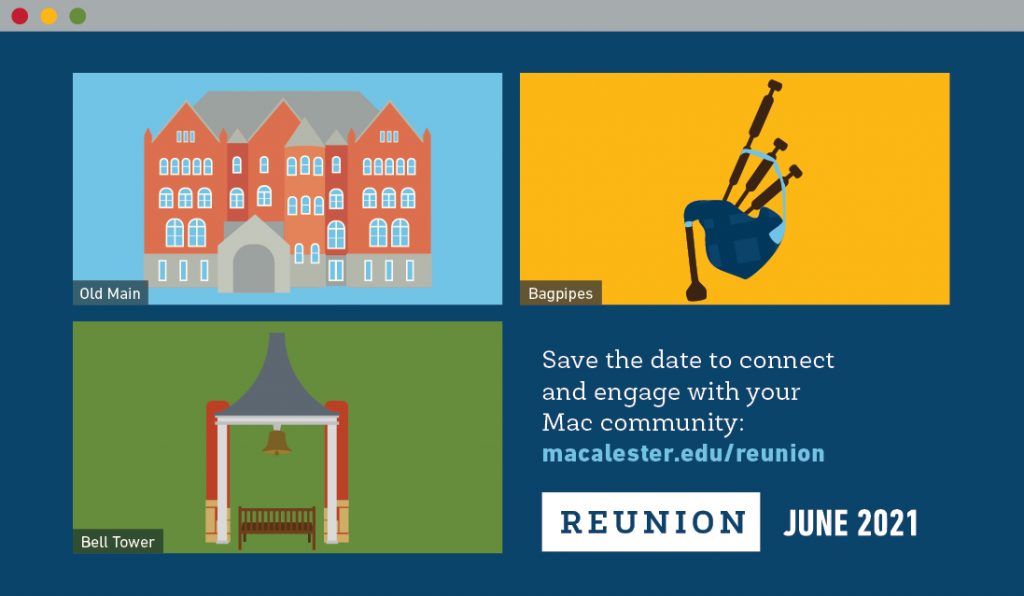 These days, connecting with others feels more important than ever. While all of us at Macalester are eager to resume face-to-face gatherings, we've been inspired by the engagement that's taken place in online events. Over the past few months, thousands of alumni from around the world have come together virtually to support each other, dive into discussions of current events, and find some joy at events such as our Big Questions series, Alumni Town Halls, and Office Hours with faculty and staff members. 
Reunion 2021
With nearly 2,000 Mac community members gathering each year in celebration of Reunion, joining us from around the country and even around the world, we must think broadly and plan for the best possible way to celebrate and keep our community safe for all of the future memories we want to make together. 
With that in mind, we have decided to hold Reunion 2021 online in early June—and with your help it's going to be great. First, let us share some more details behind our decision. 
Ensuring Mac Stays Safer

The 2020/21 academic year was designed to keep current students safer during the pandemic, including offering a fifth module this summer to expand the time they have to complete their academic goals. This fifth module falls within our usual Reunion celebration timeframe and means the campus will still be in academic session for some students, faculty, and staff.  You can visit our campus COVID-19 page for more details.

Bringing alumni (or any other significant number of people) to Macalester potentially risks spreading the virus on campus. We've asked a lot of our students this year in terms of taking precautions to stay safer, and we just can't take that risk. Our number one priority is keeping students and our wider Macalester community safe and healthy until we are able to gather again in person. 

What's more is that we believe that Reunion just wouldn't be the same without the friendly hugs, talks around the table, golf cart rides, and other activities that we can't guarantee until we are able to control the current COVID-19 pandemic. All of these factors led us to make the decision to maintain safety and hold Reunion 2021 online. 

Wanted: Imagination and Help

By announcing our plans for an online Reunion now, we will have more time to create interesting and community-minded programming that works online. We're confident that we can carry out an online Reunion that's fun and meaningful, but we need your help. What do you want to see at Reunion 2021? Do you know a great speaker, a great topic for discussion, or a great online activity to bring us all together? 

We want to hear from you! Share your ideas for Reunion 2021 and sign up to help bring your class together. 

The Future

At this time, we don't know when our next in-person Reunion will be held, but please know that gathering together is top of mind for our team. We are very eager to celebrate together in person—with bagpipes, food, dancing, alumni taxi (i.e. golf cart) service, and many, many high fives and big hugs—when it is safe to do so. 

We are so grateful for your continued engagement and support, and we look forward to hearing your thoughts and ideas about Reunion 2021. And please look for invitations to other upcoming events as well. 

Be well. 

The 2021 Reunion Team