Coronavirus/COVID-19 Information
Please visit our COVID-19 website for the latest information about Macalester's response, including a section with answers to frequently asked questions. Recent updates sent via email are posted here for your reference.
macalester.edu/covid-19/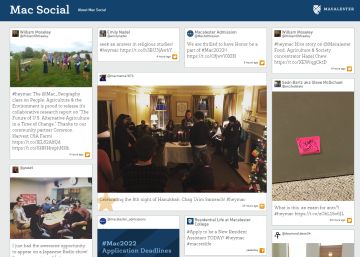 Mac Social brings together content posted on social media networks about things happening at Macalester or about members of the Macalester community. The page changes frequently and provides a wonderful opportunity for parents and families to get a sense of what is happening on and around campus.
Featured Events
Commencement: May 15
First Day of Class (Module 5): May 19
New Student Orientation: August 27-30
Fall 2021 Classes Begin: September 1
---
Log in to Student Account Suite to pay your student's bill. You must be set up as an authorized user.
College News