Volunteering your time and talents for the college is a rewarding and fulfilling way to connect with and support the larger Macalester community. Unsurprisingly for a school known for our emphasis on service to society, over 1,000 alumni volunteer their time and talents to the college each year in a variety of areas. Whether you are looking to reconnect with the Macalester community, take your volunteer engagement to the next level or gain experience in mentorship, advising, fundraising or leadership development, there are opportunities for all alumni.
How to volunteer
Please complete this brief form
 and let us know how you would like to help. Please make sure we have the most up-to-date mailing address and employment information for you, as many volunteer opportunities tend to be either location or major/industry-specific.
Interested in serving as a resource for students? Sign up to be a Career Helper and indicate your availability for informational interviews. Learn More
Interested in connecting with other members of the Macalester community in your area? Sign up to organize alumni events in your region, like the annual MAC in the City gatherings in October.
Interested in reconnecting with your classmates? Sign up to plan your next milestone Reunion.
Interested in encouraging classmates to support the Macalester Fund? Sign up to be a Class Agent.
Interested in talking to high school students applying to Macalester?  Sign up to be an Admissions volunteer.
The Alumni Engagement office works closely with other departments and student organizations to develop other volunteer opportunities throughout the year; these tend to change annually depending on student interest.
More about alumni volunteering at Macalester
Currently, alumni volunteer in four main areas for Macalester: supporting students, admissions, Class Agents, and leadership. Learn More
Interested in the demographics of alumni volunteers? Learn More
Alumni volunteers are recognized in the Honor Roll of Donors for their contribution of time and energy. Learn More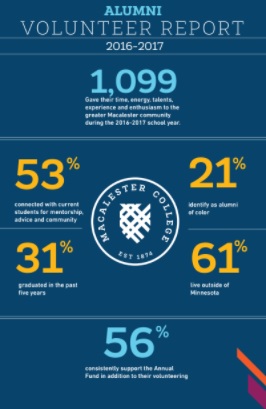 Questions?