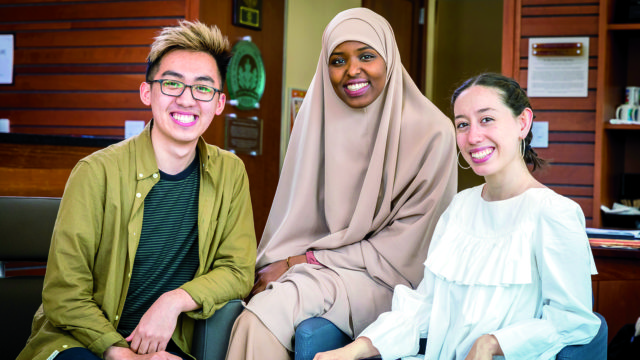 Three seniors—Kevin Xiong, Tasneem Issa, and Miranda Harris— received the college's Global Citizenship Student Award this spring in honor of their dedication to high academic performance, internationalism, multiculturalism, and civic engagement.
Kevin Xiong '18
Minneapolis, Minn.
American studies and educational studies majors
A first-generation college student himself, Kevin Xiong was dedicated to expanding
access to education since he first set foot on campus—working as the Civic Engagement Center's college access coordinator, volunteering with the Hmong American Partnership's before-school reading program, tutoring middle schoolers in the St. Paul Public Schools, and joining Breakthrough Twin Cities as a teaching fellow, intern supervisor, and mentor to high schoolers.
"I think when people think of global citizenship, they think abroad. But for me, I think of it in terms of, how can we solve global issues like education accessibility in a local context? My dream is to become a school counselor in an urban area to keep practicing reciprocity and learning from students."
Tasneem Issa '18
Minneapolis, Minn.
Biology major, chemistry and data science minors, community and global health concentration
Tasneem Issa's campus leadership included roles on the Multifaith Council, Strategic Planning Committee, and Muslim Student Association (for which she served as president). She also worked as the Civic Engagement Center's health and wellness issue-based organizer and conducted autism research—a subject of personal passion given the high rates of autism in Somali children and her own Somali heritage—at the University of Minnesota, where she's also been able to help share that research with the local community.
"My plan for the future is to continue to contribute professionally through a career in medicine and to mentor future generations, so the knowledge reaches the individuals who tend to miss out."
Miranda Harris '18
Delray Beach, Fla.
Biology major (pre-med track),
French minor
In her four years at Mac, Miranda Harris conducted lab research, interviewed rural villagers in Ecuador about their experience with chikungunya virus, mentored first-year students as a writing assistant, produced a documentary about artists along the U.S.–Mexico border, and collaborated with Professor Devavani Chatterjea to incorporate dance movements into biology lessons to promote better understanding of cell movement.
"I believe global citizenship is about continually challenging borders. It's about questioning what is known. The women who came before me—my grandmother and my mother especially—have consistently crossed these artistic and academic borders, and I follow that line."